Jennifer Lamont Leo
The author blog of Jennifer Lamont Leo.
UPDATE: We have our winners! Congratulations to readers Rebekah Jones and "VBB"! Ladies, please send an email to jenny@jenniferlamontleo.com with your mailing address.
Big thanks to everyone who commented. There'll be another giveaway coming up soon, so let's stay in touch!
It's the day every author anticipates with heart-pounding, icy-palmed anticipation. Say hello to MOONDROP MIRACLE!
During the Great Depression, a rich, spoiled socialite must suddenly find a way to support herself and her child. With few marketable skills and more cleverness than cash, she parlays a homemade recipe for skin tonic into a livelihood. In the process she find faith, friendships, and strength of character that run far more than skin deep.
MOONDROP MIRACLE is available in e-book and paperback, and there's even a large-print edition in case you need a Mother's Day gift for Grandma.
To celebrate, I'd like to give away 2 signed copies of MOONDROP MIRACLE to my favorite readers (that'd be you!) To enter, just pop on down below and leave a comment. I'll draw two winners at random on Tuesday, May 5.
May 2020 New Releases
More in-depth descriptions of these books can be found on the ACFW Fiction Finder website.
Children's:
The Edge of Everywhen by A.S. Mackey — Begin with an ancient, mysterious, self-aware book. Add two heartbroken children, reeling from the loss of their mother. Mix in a cantankerous aunt, dreams that see the future, and a father trying to make his way home and you get "The Edge of Everywhen," a captivating tale of loss, hope, revelation, and unexplained mystery. "The Edge of Everywhen" is a book-lover's book, a story of intrigue in which two children embark upon a life-changing journey of faith. (Middle Grade from B & H Publishing)
Contemporary Romance:
A Mother's Homecoming by Lisa Carter — Charmed by the two-year-old twins in her toddler tumbling class, Maggie Arledge is shocked to learn they're the children she gave up for adoption. And when Bridger Hollingsworth—the uncle caring for the boys—needs an emergency nanny, she fits the bill. But with sparks flying between her and Bridger, can she let herself get attached…and risk exposing secrets from her past? (Romance from Love Inspired [Harlequin])
Love is in the Air by Tanya Eavenson, Candee Fick, Kathleen Friesen, Laura V. Hilton, and Kathleen Rouser — This collection of five brand new Christian romances is sure to send your heart soaring. Journey from Canada to Georgia and Colorado to Paris by way of Michigan as these couples find love is in the air. All they had to do was look up. (Contemporary Romance, Independently Published)
The Trouble With Love by Toni Shiloh — I, Holiday Brown, have it all. A platinum record. Multi-million dollar home in Manhattan that I share with my two best friends. Life is looking fantastic until my roommate's brother decides to bunk in our guestroom while his house gets renovated. W. Emmett Bell has always been the bane of my existence. He's annoying, stubborn, a know it all, and just might be the most gorgeous man I've ever laid eyes on. But I refuse to fall for him. But when his sister's threatened by a stalker, dynamics change. His unwavering faith isn't quite as self-righteous as I'd always thought, and maybe he has a good side I've overlooked all these years. Or maybe it's all too much trouble. (Contemporary Romance, Independently Published)
Hadley Beckett's Next Dish by Bethany Turner — Hadley Beckett became the star of the Culinary Channel following hot-tempered celebrity chef Max Cavanagh's public fall from grace. But when Max returns, career in shambles, his only chance for redemption is to work alongside the beloved host of "At Home with Hadley." Will these two polar opposites burn down the kitchen—or fall in love? (Contemporary Romance from Revell – A Division of Baker Publishing Group)
Stay with Me by Becky Wade — When acclaimed Bible study author Genevieve Woodward receives an anonymous letter referencing her parents' past, she returns to her hometown in the Blue Ridge mountains to chase down her family's secret. However, it's Genevieve's own secret that catches up to her when Sam Turner, owner of an historic farm, uncovers the source of shame she's worked so hard to hide. (Contemporary Romance from Bethany House [Baker])
General:
Within Golden Bands by Norma Gail — Newly married Bonny MacDonell finds the transition from American college professor to Scottish sheep farmer's wife more difficult than she expected. When her miracle pregnancy ends in a devastating miscarriage, she fears her husband's reaction will hurt more than the loss of their child. But Kieran never shows up at the hospital. When found, he is beaten and unconscious. The only memory of his attacker is the words, "Get off my land." Reeling from the threat to her husband and the loss of their child, Bonny struggles to hold her marriage together. When faith in love is not enough, where do you turn? (Contemporary, Independently Published)
The Society of Second Chances by Deborah Raney — The Society of Second Chances faces a real challenge, as they try to uncover a way to help Harmoni Branaham—a young woman just released from prison. (Women's Fiction from Guideposts Publications)
Unveiling the Past by Kim Vogel Sawyer — Newlywed cold-case detectives Sean Eagle and Meghan DeFord struggle between past wounds and their desire for a family when one of them takes on a case involving parental abandonment. (Women's Fiction from Waterbrook/Multnomah [Random House])
Historical:
Moondrop Miracle by Jennifer Lamont Leo — Chicago, 1928. Pampered socialite Connie Shepherd lives the kind of glossy life other women read about in the society pages. Engaged to a handsome financier, she spends her days and nights in a dizzying social round. When eccentric Aunt Pearl, an amateur chemist, offers her an unusual wedding present—the formula for a home-brewed skin tonic—Connie laughs it off. But when the Great Depression flings her privileged world into chaos and rocks her marriage to the core, will Aunt Pearl's strange gift provide the key to survival for Connie and her baby? (Historical from Mountain Majesty Media)
Tranquility Point by Pamela S. Meyers — Hannah's life couldn't be sweeter—a marriage proposal and law school. Then the Great War intrudes and everything sours. (Historical from Mantle Rock Publishing)
Historical Romance:
A Mosaic of Wings by Kimberly Duffy — A driven entomologist travels to India in an attempt to win a coveted scholarship and save her late father's scientific journal. But in this enchanting land, she discovers that there are some things more important than success. (Historical Romance from Bethany House [Baker])
Rocky Mountain Redemption by Lisa J. Flickinger — Fleeing a broken engagement, Isabelle Franklin joins her aunt to feed a camp of lumberjacks in the Rocky Mountains. She doesn't expect to fall for camp foreman Charles Bailey, nicknamed "Preach," who is struggling between his hard past and his newfound faith. When the ghosts from her past return to haunt her, the choices she will make change the course of her life forever—and that of the man she's come to love. (Historical Romance from Wild Heart Books)
Pretending to Wed by Melissa Jagears — It's a match made in heaven…as long as they don't fall in love! The ranch Nolan Key has spent decades working for, even lost a leg for, is now his—or at least it should be. But an absurd clause in his father's will means he's in danger of losing the place to his lazy, undeserving cousin. Nolan finds himself scrambling to save his home—by proposing marriage to the town laundress. Corinne Stillwater's hands have betrayed her. Numb from hours of doing the same work over and over, her hands will only heal, according to the town doctor, if she gives up the laundry and marries. But she's been stung repeatedly by love before, so that is one remedy she can't swallow. When Nolan offers Corinne a marriage in name only, how can she refuse? Such a partnership could give them the security they seek, but what if the ranch isn't as secure as they believe, and their lives—and dreams—aren't quite as compatible as they thought? (Historical Romance, Independently Published)
The Sinner in Mississippi by D.L. Lane — The story of Mississippi Singletary, born to a fearful mother and an abusive father in a rundown shack outside of Baton Rouge, Louisiana. (Historical Romance from By Faith Publishing)
The Mechanic & The MD by Linda Shenton Matchett — Woman mechanic Doris Strealer has a hard time finding love until she joins the Red Cross Motor Corps and comes face to face with her past in the form of Van Toppel, an old classmate. On the brink of a successful career as a surgeon, Van's plans crumble when he's drafted and assigned to an evacuation hospital in England, the last place he expects to run into a former schoolmate. The gangly tomboy who was four years behind him in high school has transformed into a statuesque beauty, but a broken engagement in college leaves him with no desire to risk his heart ever again. Will the hazards of war make or break a romance between this unlikely couple? (Historical Romance from Shortwave Press)
Masquerade at Middlecrest Abbey by Abigail Wilson — In this new Regency romance, Elizabeth knows she must protect her heart from the charm of her new husband, Lord Torrington. She is not, however, prepared to protect her life. (Historical Mystery from HarperCollins Christian Publishing)
Romantic Suspense:
Standoff (Natchez Trace Park Rangers) by Patricia Bradley — The Natchez Trace National Parkway stretches 444 miles from Nashville to Natchez, the oldest town on the Mississippi River. It's the perfect road for a relaxed pleasure drive. Unfortunately for park ranger Luke Fereday, lately it's being used to move drugs. Sent to Natchez to infiltrate the organization at the center of the drug ring, Luke arrives too late to a stakeout and discovers the body of his friend, park ranger John Danvers. John's daughter Brooke is determined to investigate her father's murder, but things are more complicated than they first appear, and Brooke soon finds herself the target of a killer who will do anything to silence her. Luke will have his hands full keeping her safe. But who's going to keep him safe when he realizes he's falling–hard–for the daughter of the man he failed to save? (Romantic Suspense from Revell – A Division of Baker Publishing Group)
Untraceable Evidence by Sharee Stover — Someone's after a deadly weapon…and only she can stop them. It's undercover ATF agent Randee Jareau's job to make sure the government's 3-D printed "ghost gun" doesn't fall into the wrong hands. So when someone goes after scientist Ace Steele, she must protect him…before she loses the undetectable weapon and its creator. But with a mole inside Ace's company and everyone a suspect, this assignment could become Randee's last. (Romantic Suspense from Love Inspired [Harlequin])
Medieval Fantasy:
The Story Hunter by Lindsay A. Franklin — In this epic conclusion to The Weaver Trilogy, Tanwen and the Corsyth weavers must rescue the queen and rid Tir of the Master once and for all, but the success of their hunt depends upon an ally no one trusts, and the fate of the kingdom rests in the hands of a volatile, shattered girl. (Medieval Fantasy from Enclave Publishing)
Suspense:
Purgatory, A Progeny's Quest by T. M. Brown — A teenage girl arrives in Shiloh seeking to reconnect with her estranged mother, the only remaining family member she has ever known, only to learn she too has died, but she learns of family she never knew about. All the while a limo with a dark past arrives in town along with unwanted interest by a stranger that puts lives at risk. (Thriller from Southern Fried Karma LLC/Hearthstone Press)
Young Adult:
You're Brilliant by Julie Arduini — Amazing things happen when a group of high school students and women discover they are more than competent. (Young Adult from Surrendered Scribe Media)
Plus check out these recent additions to Fiction Finder published within the past month:
Lost Down Deep by Sara Davidson, Romantic Suspense
Son of Mary by R.S. Ingermanson, Biblical
Then There Was You by D. L. Lane, Romantic Suspense
Love's Silver Bullet by Julie Lessman, Historical Romance
Tug of War by Brenda C. Poulos, Thriller/Suspense
The Scholar's Quest: The Way by Brad Rucker, Adventure
Illusions by Jennifer Sienes, General Contemporary
The Lost Lieutenant by Erica Vetsch, Historical Romance
A Beautiful Arrangement by Beth Wiseman, Amish Romance

April 2020 New Releases
More in-depth descriptions of these books can be found on the ACFW Fiction Finder website.
Biblical:
Claiming Canaan: Milcah's Journey by Barbara M. Britton — When the tribal elders make marriage a requirement for claiming her land, Milcah bat Zelophehad must find a betrothed straightaway. The only problem in finding a husband is that all her suitors were slain while conquering the land of Canaan. Men avoid her in order to stay alive. After praying to God to send her a bold suitor, a man from her father's clan plummets from a tree right on top of her. Is this God answering prayer, or a foolish antic by Eli, the war-scarred brother from one of her clan's rival families. Will settling in Canaan sort out Milcah's troubles, or have her woes just begun? (Biblical Fiction from Harbourlight Books [Pelican])
Contemporary Romance:
Ryan's Father by June Foster — The rippling influence of Ryan Reid's less than moral mother and absent father made a mark on his soul. Yet everything changed when the young school teacher accepted Christ—almost everything. An earthquake hurls the beautiful Sandy Arrington into his life, tossing his world upside down. When God calls him to build an annex for needy teens at his church, Ryan must face the carefully guarded secret he's held deep in his heart. Though Sandy falls in love with him, Ryan's forbidden affections lie elsewhere, and he must depend on the Lord to see him through a struggle he always hoped he'd never have to face. Sandy's wealthy cardiologist father and the battle Ryan is powerless to win are hurtles to their romance. Can he dig his way out to find Sandy's love? (Contemporary Romance from Winged Publications)
Historical Romance:
The House at the End of the Moor by Michelle Griep — What Can a London Opera Star and an Escaped Dartmoor Prisoner Have in Common? Opera star Maggie Lee escapes her opulent lifestyle when threatened by a powerful politician who aims to ruin her life. She runs off to the wilds of the moors to live in anonymity. All that changes the day she discovers a half-dead man near her house. Escaped convict Oliver Ward is on the run to prove his innocence, until he gets hurt and is taken in by Maggie. He discovers some jewels in her possession—the very same jewels that got him convicted. Together they hatch a plan to return the jewels, clearing Oliver's name and hopefully maintaining Maggie's anonymity. (Historical Romance from Barbour Publishing)
Spies & Sweethearts by Linda Shenton Matchett — A secret mission. A fake bride. A run for their lives. According to the OSS training manual, the life expectancy of a radio operator in Nazi-occupied France is six weeks. Partnered with one of the agency's top spies, Gerard Lucas, newly-minted agent Emily Strealer plans to beat those odds. Then their cover is blown and all bets are off. The border to neutral Switzerland is three hundred miles away-a long way to run with SS soldiers on their heels.
Will Emily and Gerard survive the journey and get home? And what about their hearts? Nothing in the manual prepared them for falling in love. (Historical Romance from Shortwave Press)
Devyn's Dilemma by Susan G Mathis — 1910, Thousand Islands, New York. Others may consider The Towers castle on Dark Island an enchanting summer retreat, but to Devyn McKenna, it's a prison. Yet as she works as a maid for Frederick Bourne, former president of the Singer Sewing Machine Company, her life blossoms under the kindness of his family and fascinating entrepreneurs such as J.P. Morgan, Thomas Lipton, and Captain Vanderbilt. But more than anything, the growing friendship of Mr. Bourne's valet, Brice McBride, begins to pry away the painful layers that conceal Devyn's heart. Brice is drawn to the mysterious Devyn even though he's certain she's hiding a secret, one far more dangerous than the clues they find in The Towers that hint of a treasure on the island. When Devyn is accused of stealing Bourne's investment in Vanderbilt's New York City subway expansion, he might not be able to protect her. (Historical Romance from Lighthouse Publishing of the Carolinas)
A Life Renewed by Olivia Rae — In 1554, Lady Jane Grey, "The Nine Days' Queen" was executed for high treason. But what if, instead of feeling the blade on her neck she secretly survived? Escaping execution, Lady Jane hides as a peasant girl in a principality in Germany. She loves the simple life and never wants to return to England. But her benefactor, a power-hungry German prince, wants to march on London and place her on the English throne again, thereby increasing his dominance in Europe. If she doesn't agree to his plan, her beloved childhood nurse will be put to death. Desperate for help, Jane must put her trust in the mysterious spy Asher Hayes. Asher Hayes is done rounding up Protestants for "Bloody Mary" and wants nothing more than to live a quiet life as a farmer and expunge the blood of many from his hands. Except Queen Mary isn't done with him yet. She throws his father, mother, and sister into prison on false charges in order to force him to accept one last mission – find and kill Lady Jane Grey. But when Asher discovers Lady Jane isn't a threat to the throne as he believed her to be, he faces a devastating decision – does he sacrifice his family for the woman who reigns in his heart? (Historical Romance from HopeKnight Press LLC)
The Chisholm Trail Bride by Kathleen Y'Barbo — Stubborn Hearts Clash on a Cattle Drive Eliza Gentry's pursuit of marriage to the son of her family's sworn enemy has cost her greatly. Furious at his daughter's choices, her father sends her off with the cattle drive heading toward Fort Worth and the Barnhart ranch, but under the watchful eye of Wyatt Creed, a Pinkerton man he has hired to see to her safety. With danger at every turn—not the least of which to his heart—can Wyatt Creed keep his focus with Eliza Gentry around? Is the Chisholm Trail a place for falling in love or a place to die at the hands of cattle thieves? (Historical Romance from Barbour Publishing)
Mystery:
Cooking Up A Mystery by Gail Pallotta — In this romantic mystery Laney Eskridge battles insecurities, loss and a criminal who attempts to destroy her tea house and catering business. (Cozy Mystery from Inspired [Prism Book Group])
Romantic Suspense:
Flight Risk by Cara Putman — Savannah Daniels has worked hard to establish a small law practice, and her early career gambles have paid off with a life that she loves. Jett Mason Glover has almost reached the pinnacle of the journalism ladder in Washington, DC. He just needs one breakout story to seal his destiny. When a plane crashes into the 14th Street Bridge during take-off from Reagan National, everyone thinks it's a freak accident—until the passenger list is released and the black box is compromised. Savannah does not expect to be connected to the crash until she learns her ex-husband was piloting the plane. She must manage his estate while his name is under a fog of accusations leveled by a journalist named Jett who now claims he wants to help Savannah find the truth. As the threads untangle, Savannah begins to question what she knows and whether she'll survive the investigation. Maybe she's as deceived as everyone else, but someone believes she's closer to the truth than she is. And that belief may just kill her. (Romantic Suspense from HarperCollins Christian Publishing)
Border Breach by Darlene L. Turner — When drugs are smuggled across the border, it's their duty to stop the culprits…at any cost. Forming a joint task force, Canada border officer Kaylin Poirier and police constable Hudson Steeves have one objective: take down a drug-smuggling ring trying to sell a new lethal product. But when the smugglers come after Kaylin and Hudson, this mission becomes more than just a job. Can they live long enough to solve the case? (Romantic Suspense from Love Inspired [Harlequin])
Plus check out these recent additions to Fiction Finder published within the past month:
Only a Glimpse by LuAnn K. Edwards, Contemporary Romance
Fugitive Trail by Elizabeth Goddard , Romantic Suspense
Critical Decision by Richard L. Mabry, MD, Medical Mystery
Glacier of Secrets by J Carol Nemeth, Romantic Suspense
A Perfect Fit by Christine Schimpf, Contemporary Romance
Riven by H.L. Wegley, Romantic Suspense (Historical)

I'm excited to report that my latest novel, Moondrop Miracle, is now available for pre-order on Amazon.
If you've been struggling these days with the events of our world (and who hasn't?), Moondrop Miracle is the kind of story that will resonate with you. It follows a young woman's transformation from a pampered life of ease to the widespread hardship of the Great Depression. The focus, though, is not the sudden and unexpected shift of fortune, but what she does with the few resources she has left.
Here's the full description:
Chicago, 1928. Pampered socialite Connie Shepherd lives the kind of glossy life other women read about in the society pages. Engaged to a handsome financier, she spends her days and nights in a dizzying social round. When eccentric Aunt Pearl, an amateur chemist, offers her an unusual wedding present—the formula for a home-brewed skin tonic—Connie laughs it off. But when the Great Depression flings her privileged world into chaos and rocks her marriage to the core, will Aunt Pearl's strange gift provide the key to survival for Connie and her baby?
By turns heartbreaking and hope-filled, Moondrop Miracle tells the story of an extraordinary and unforgettable woman whose determination to succeed changes her life forever.
You can pre-order your eBook copy today. As of May 1, it will also be available in paperback and large-print editions.
January 2020 New Releases
More in-depth descriptions of these books can be found on the ACFW Fiction Finder website.
Contemporary Romance:
A Rancher to Trust by Laurel Blount — After learning his ex-wife isn't so ex after all, rebel turned rancher Dan Whitlock is determined to prove he's a changed man…but Bailey Quinn is just as set on finally ending their marriage. When tragedy makes Dan the guardian of little orphaned twins, he and Bailey are drawn back together. But can she forgive the past and open her heart to the family she's always wanted? (Contemporary Romance from Love Inspired (Harlequin))
Star Rising by Janet W. Ferguson — Star Youngblood tries to protect her employer, Mrs. Priscilla Kelly, from the woman's neglectful son, an aspiring flight instructor who has issues with religion, but finds her own heart is at the greatest risk. (Contemporary Romanc, Independently Published)
A Promise to Keep by Melony Teague — Savannah, a widowed research librarian, goes to her twenty year class reunion and gets reacquainted with Michael, a former troublemaker who is now a professional technical rescuer. Before the night is over, a pact between these two old friends will lead them on an adventure into uncharted emotional territory where Michael must confront his past regrets and find the courage to reveal the truth. But can Savannah fly from her sheltered nest and risk her heart on a real-life hero? (Contemporary Romance from Anaiah Press)
General Contemporary:
A Long Time Comin by Robin W. Pearson — To hear Beatrice Agnew tell it, she entered the world with her mouth tightly shut. Just because she finds out she's dying doesn't mean she can't keep it that way. If any of her children have questions about their daddy and the choices she made after he abandoned them, they'd best take it up with Jesus. There's no room in Granny B's house for regrets or hand-holding. Or so she thinks. Her granddaughter, Evelyn Lester, shows up on Beatrice's doorstep anyway, burdened with her own secret baggage. Determined to help her Granny B mend fences with her far-flung brood, Evelyn turns her grandmother's heart and home inside out. Evelyn's meddling uncovers a tucked-away box of old letters, forcing the two women to wrestle with their past and present pain as they confront the truth Beatrice has worked a lifetime to hide. (General Contemporary from Tyndale House)
Historical Romance:
Freedom in the Mountain Wind by Misty M. Beller — A young woman faces overwhelming odds to make her father's dream come true before he dies of lung cancer, but paddling upriver through fierce rapids and fighting hungry grizzlies to follow the Lewis and Clark trail isn't what terrifies her the most. Beaver Tail endured more than he can stand from the women in his Blackfoot camp, but the last disaster gave him the final shove he needed to join this band of brothers searching for one of their group who's gone missing. The last thing he expected was to find a white woman and her sick father stranded at the base of a massive waterfall. His plan is to help them carry their oversize canoe and supplies, then leave them to their strange mission. Yet, the more he learns about the pair, the more he realizes his life is about to be derailed—again. (Historical Romance, Independently Published)
Uncharted Promises by Keely Brooke Keith — Sybil Roberts uses the warmth of delicious meals to lift the spirits of road-weary travelers at The Inn at Falls Creek. Her life at the inn would be perfect if she could just get her brothers and mother to move back home. And if she could see Isaac Owens again. He visited the inn once when he interviewed for the farm manager job, and she's dreamed of his return to Falls Creek ever since. Isaac Owens knows how to run a farm. His family might not have faith in him, but if he succeeds at Falls Creek, he'll prove them wrong. He arrives at the inn thinking the job is his, but the inn's senile owner offered the position to another man too. Isaac must spend the winter competing if he wants to win the job… and Sybil's heart. It will take more than warm meals on cold nights for Sybil and Isaac to find love while working at the isolated inn. (Historical Romance from Edenbrooke Press)
Forever Hidden by Kimberley Woodhouse, Tracie Peterson — Sybil Roberts uses the warmth of delicious meals to lift the spirits of road-weary travelers at The Inn at Falls Creek. Her life at the inn would be perfect if she could just get her brothers and mother to move back home. And if she could see Isaac Owens again. He visited the inn once when he interviewed for the farm manager job, and she's dreamed of his return to Falls Creek ever since. Isaac Owens knows how to run a farm. His family might not have faith in him, but if he succeeds at Falls Creek, he'll prove them wrong. He arrives at the inn thinking the job is his, but the inn's senile owner offered the position to another man too. Isaac must spend the winter competing if he wants to win the job… and Sybil's heart. It will take more than warm meals on cold nights for Sybil and Isaac to find love while working at the isolated inn. (Historical Romance from Bethany House [Baker])
The Gray Chamber by Grace Hitchcock — On Blackwell Island, New York, a hospital was built to keep its patients from ever leaving. With her late father's fortune under her uncle's care until her twenty-fifth birthday in the year 1887, Edyth Foster does not feel pressured to marry or to bow to society's demands. She freely indulges in eccentric hobbies like fencing and riding her velocipede in her cycling costume about the city for all to see. Finding a loophole in the will, though, her uncle whisks Edyth off to the women's lunatic asylum just weeks before her birthday. Do any of Edyth's friends care that she disappeared? At the asylum she meets another inmate, who upon discovering Edyth's plight, confesses that she is Nellie Bly, an undercover journalist for The World. Will either woman find a way to leave the terrifying island and reclaim her true self? (Historical Romance from Barbour Publishing)
Romantic Suspense:
Secret Mountain Hideout by Terri Reed — Staying hidden has kept her alive… But now she's been found. A remote Colorado mountain town and a fake identity have been Ashley Willis's safe haven since fleeing after she witnessed a murder—but now the killer has found her trail. Desperate and terrified, she's prepared to run again…but Deputy Sheriff Chase Fredrick won't let her. With the lawman by her side, can she face danger head-on…and live long enough to bring a murderer to justice? (Romantic Suspense from Love Inspired [Harlequin])
Plus check out these recent additions to Fiction Finder published within the past month:
50-50 by Roger Bruner, Contemporary
Shattered Treasure by Cindy Patterson, Romantic Suspense
The Contessa Is Missing by Linda Siebold, Romantic Suspense
The Forever Sky by Janalyn Voigt, Western Romance
Northern Hearts by Laurie Wood, Romantic Suspense
More in-depth descriptions of these books can be found on the ACFW Fiction Finder website.
Contemporary Romance:
Stranded for the Holidays by Lisa Carter — Running away led her right where she belonged. A new mom for Christmas? She's everything they've wished for. Runaway bride AnnaBeth Cummings needs shelter for the holidays when a blizzard leaves her stranded, and rancher Jonas Stone's happy to help. But his son's been wishing for a mommy for Christmas, and town matchmakers are convinced Annabeth and Jonas are perfect for each other. As the storm clears, city girl AnnaBeth will have to decide: does her heart now belong in the country? (Contemporary Romance from Love Inspired [Harlequin])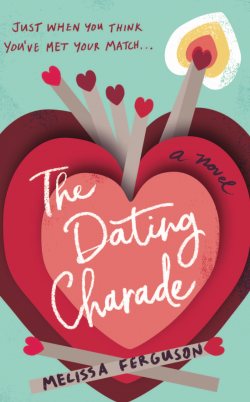 The Dating Charade by Melissa Ferguson — After a knockout first date where Cassie Everson and Jett Bentley claim to not want kids, both come home to find three children dropped in their laps. . . each. While struggling to keep their heads above the parental waters, and without wanting to break up their relationship, they decide to do the mature thing: hide the kids from each other while sorting it all out. What could go wrong? (Contemporary Romance from HarperCollins Christian Publishing)
Home for Christmas by Candee Fick — After an embarrassing failure, a prodigal retreats to a secluded cabin in backwoods Missouri where he encounters an intriguing young woman and an old guitar. When the message in the music touches his heart, will he make it home in time for Christmas? (Contemporary Romance, Independently Published)
Getting Out of the Comfort Zone: Ayanna by Barbara James — While interning as a hospital chaplain, a young military officer falls for an EMT who is an antiwar activist. (Contemporary Romance, Independently Published)
Children's:
Battle In The Valley by Susanne Blumer — The church bell tower transports Chip, Caroline and Billy back thousands of years to an ancient battlefield. There they meet a young shepherd destined to be king and a giant warrior bent on his destruction. Will the children survive the upcoming fight and make it back to Palmetto Island in one piece? (Middle-grade from Sutton Avenue Press)
Historical:
Hope Unchained by Carol Ashby — When a former legionary and a gladiator are hired to escort a young woman on her quest to rescue her brother and sister from slavery, more chains are broken by forgiveness and love than any of them thought possible. (Historical from Cerrillo Press)
Historical Romance:
The Major's Daughter by Regina Jennings — In a western land run, an adventurous socialite stakes a claim on an orphaned outlaw's chosen land, so he decides to stake a claim on her heart. (Historical Romance from Bethany House [Baker])
Sew In Love by Debby Lee, Jacquolyn McMurray, Darlene Panzera, and Kimberley Woodhouse — When four women put needle and thread to fabric, will their sewing lead to love? In Hearts Sewn with Love, during the California gold rush, a beautiful seamstress finds her heart torn between the men who want to marry her and the one fortune hunter who won't. In Woven Hearts, a shirtwaist factory fire survivor struggles to provide for her family despite the disastrous misguided intentions of the handsome union organizer who tries to help. In A Language of Love, a milliner with thick Irish accent and a renowned baseball player with speech impediment meet at the office of a language teacher. But the issues with their backgrounds that first brought them together will also drive them apart. In Tailored Sweethearts, a parachute seamstress struggles with her faith in desperate circumstances. A fighter pilot teaches her to hope in her darkest hours. (Historical Romance from Barbour Publishing)
The Rebel Bride by Shannon McNear — During the clash between Union and Confederacy, quiet Tennessean Pearl MacFarlane is compelled to nurse both Rebel and Yankee wounded who seek refuge at her family's farm. She is determined to remain unmoved by the Yankee cause—until she faces the silent struggle of Union soldier Joshua Wheeler, a recent amputee. The MacFarlane family fits no stereotype Joshua believed in; still he is desperate to regain his footing—as a soldier, as a man, as a Christian—in the aftermath of his debilitating injury. He will use his time behind enemy lines to gather useful intelligence for the Union—if the courageous Rebel woman will stay out of the line of danger. (Historical Romance from Barbour Publishing)
Romantic Suspense:
Silent Night Suspect by Sharee Stover — Suspected of a crime she knows she didn't commit… All she wants for Christmas is to remember. Blood on her blouse. A gun in her hand. A cartel leader's dead body in front of her. Widow Asia Stratton can't remember what happened—just that she's been framed. The only way to prove her innocence is to work with her ex-sweetheart, Nebraska state trooper Slade Jackson. But can they clear her name before this Christmas turns even deadlier? (Romantic Suspense from Love Inspired [Harlequin])
Speculative:
Brand of Light by Ronie Kendig — After a catastrophic explosion, Kersei Dragoumis awakens in a derelict shuttle, alone, injured, and ignorant of the forbidden technology that has swept her into a nightmare. The brand she's borne since childhood burns mysteriously, but the pain is nothing to that when she learns her family is dead and she is accused of their murders. Across the quadrants, Marco Dusan responds to the call of a holy order-not to join them, but to seek a bounty. Gifted-or cursed-with abilities that mark him a Kynigos, a tracker sworn to bring interplanetary fugitives to justice, Marco discovers this particular bounty has nothing to do with justice and everything to do with prophecy. One that involves the hunter as much as the hunted. (Speculative from Enclave Publishing)
Thriller/Suspense:
Laynie Portland, Renegade Spy by Vikki Kestell — Laynie must fight to earn her place on the task force—even as unfolding events expose a looming danger. Wolfe's task force has a leak . . . one that threatens them all. (Suspense, Independently Published)
Plus check out these recent additions to Fiction Finder published within the past month:
Promise for Tomorrow by Michelle De Bruin, Historical Romance
Call to Love by Mary A. Felkins, Contemporary Romance
Joy's Song by Ruth Kyser, Contemporary Romance
Hope Between Us by Christy LaShea, Contemporary Romance
The Trouble in Willow Falls by Pat Nichols, Contemporary
Off the Ground by Catherine Richmond, Historical Romance
Crinoline Cowboys by Patty Smith Hall, Cynthia Hickey, Marilyn Turk, Kathleen Y'Barbo, Historical Romance
A High-Country Christmas by Davalynn Spencer, Historical Romance
The Christmas Gazebo by Marilyn Turk, Lenora Worth, Historical Romance
Edited on Dec. 2 to add: WE HAVE A WINNER! Patricia Wilson's name was selected at random to win the cross necklace. Congratulations, Patricia! Check your in-box for an e-mail from me.
Thank you so much to everyone who took the time to comment. Your interest means the world to me! There will be more giveaways coming up in 2020, so stay tuned! If you're not yet subscribed to my newsletter, that's the best way to stay informed of new posts, giveaways, and book news. Just click on the box to the right to subscribe.
Hello, Sparklers! To celebrate the release of our new historical romance collection, The Highlanders, I'm giving away this stunning Celtic cross necklace from 1928 Jewelry to one cherished reader.
Here's how 1928's catalog describes this gorgeous piece:
A cross created using four intertwined Celtic trinity knots (triquetra) is called a Carolingian Cross necklace. Used here, the pendant is looped in the classic lovely lines known to adorn the famous Book of Kells. Suspended from a rope style chain, this is a gorgeous way to represent your Faith.
Made in USA
Length: 16″ adjustable
It's part of 1928's Symbols of Faith Collection. "Symbols Of Faith is an inspirational line of faith oriented jewelry and gifts. The collection is proudly designed and made in the U.S.A. This inspirational collection offers pieces that are sure to uplift your spirit."
If you'd like an opportunity to win this Celtic cross necklace, simply leave a comment below answering this question: What's your favorite thing about Scottish culture? The tartans? The kilts? The bagpipes? The songs? Ewan McGregor? Haggis? 🙂
Simply name something you like (or think you would like) about Scottish culture and I'll put your name in a drawing for the necklace. I'll do the drawing in early December, in plenty of time for you to give it to someone as a Christmas gift, if you want to. Or just let it adorn your own swanlike neck as you cuddle up with the romantic stories in The Highlanders.
Today I have the pleasure of visiting with Naomi Musch, author of "A Tender Siege," one of four novellas in The Highlanders collection which releases this week!
Set during Pontiac's War in August 1763, "A Tender Siege" tells the story of a Scotsman fighting in colonial Pennsylvania.
"I beg Ye to take me." Wounded in battle in the American wilderness, Lachlan McRea of His Majesty's 42nd Highlanders pleads with God, yearning to be reunited with his lost wife and child. As death hovers hear, he is discovered by Wenonah, a native widow doing all she can to survive alone while avoiding the attentions of a dangerous Shawnee warrior. In aiding one another, their perils increase. If Lachlan can let go of the woman he once loved, he might find healing for both body and soul.
Welcome, Naomi!
Jennifer Lamont Leo: First the basics. Where are you from, who's in your family, and all that good stuff?
Naomi Musch: Hi, everyone. I'm a wife to Jeff (almost 39 years), mom of five, grandma of fourteen, and farm girl from northern Wisconsin, very near Lake Superior.
JLL: Tell us briefly about your writing journey and how you got started as an author.
NM: It's almost embarrassing to say how long ago I started writing, because I was 10 when I decided that authorship was for me. I didn't get my first novel published until I was in my 40s. I finally published when the e-book world opened and an independent press took a chance on me (for which I am ever grateful). I did spend a lot of time writing during those earlier years though. I published articles, newsletters, blogs, and more while my husband and I homeschooled our kids (which, in itself, took almost 30 years with their age spread). My first novel, The Green Veil, was published in 2010. I hope to re-release it along with its full 3-book series again next year.

JLL: What inspired you to write "A Tender Siege"?
NM: After my novel Mist O'er the Voyageur released last year, and I started working on a possible sequel, I fell into some really interesting historical tidbits about Pontiac's War (on the tail of the French and Indian Wars). It got me thinking of some possibilities about a story set during that time. When I was approached about the possibility of joining three other authors in a compilation of Highlander novellas, I was told I could pick any historical era and locale that worked. Right then I knew exactly what I wanted to write about.
JLL: Why did you choose to set your story in the 1763?
NM: Pontiac's War covered a very brief period of time, from 1763 to 1766, with the heaviest of the action taking place in the first year. Once I knew I wanted to write about the Battle so I didn't pick the time period as much as the time period was a given, plus that's when the Battle of Bushy Run took place.
JLL: Tell us about your research process for "A Tender Siege".
Historical fiction writers loooove research, but it's easy for us to run too far down bunny trails. Once I picked Pontiac's War as my period of interest, I knew I had to select a very specific part of it for the sake of the length a novella covers. Truthfully, I usually write full-length novels, and I always find novellas a particular challenge. But I do like a challenge.
I was really drawn to an incident that happened farther north in the war, but no Highlanders fought in that battle, from what I could discover. So I had to accept that there must be a different setting. You see, I was also researching the various Highland regiments that were involved in the wars here on the American continent. The 42nd famed "Black Watch" really appealed to me (though they hadn't received that moniker yet). Nevertheless, the 42nd were heavily involved in the Battle of Bushy Run, so that battle became my way into the story. After determining my hero would be from that regiment, I then had to learn more about his backstory, and what brought him from Scotland to fighting in the Pennsylvania wilderness. A person can get lost for weeks looking at that kind of history!
JLL: Does the story reflect some aspect of your own life and/or faith journey?
NM: I think the stories I write always reflect my faith journey in some way. Not because of experience, but more because of theme. I haven't experienced anything similar to what my hero or heroine experience physically in "A Tender Siege," but I have experienced the deep need to trust God with the future, despite how I feel about it, so in that way I think it resonates with me as well as others.
JLL: Are there any particular challenges you faced while writing this story?
NM: Hm…not sure my memory is good enough to recall. I think for me, time is usually the biggest factor. Writing under a deadline, which I was, kept me on task. But I usually have multiple irons in the fire—the main one being family needs. Did I say I had 14 grandchildren? ? We're a very groupie bunch.
JLL: How do you stay spiritually grounded as you write?
NM: When I'm writing a book, I'm on high alert to themes the Lord might be pointing out to me. Sometimes he does that directly through my characters, sometimes through a sermon at church or on the radio, and sometimes through my life's own uncertainties.
Also, the Lord has taught me that what I do is not about me getting published and selling books, even though I have the obligation to market my material if it does get published. He's taught me that often its about teaching me something. When it comes to me publishing, I know now that all I need to do is my best, and that the outcome is up to Him. That's the spiritual battle, because sometimes I forget and stress. I'm getting better though at really letting the projects go.
JLL: What reading material is next to your favorite reading spot?
NM: Oh my! I'm a book stacker! (Thank goodness for e-readers!) For fiction, I'm currently reading Danielle Thorne's The Privateer of San Madrid. I've been acquainted with Danielle in the book world for some years, but this is my first time reading a book by her. She's good! Her writing is very in-depth and eloquent. Her characters very defined and unique.
I'm also going back and forth between two non-fiction works: Discipleship Counseling by Dr. Neil T. Anderson and Extreme Grandparenting by Dr. Tim & Darcy Kimmel. There are a few different writing craft books I'm meandering through. I tend to hop around in those, from plotting to marketing to grammar.   
JLL: What's on your music playlist?
NM: I don't really have one. On any given day I might want to hear Mercy Me singing "Happy Dance" or the full soundtrack of Last of the Mohicans. However, when I needed some mood music during the early writing stages of A Tender Siege I listened to Scocha – Scots Wha Hae and The Lonely Grenadier quite a few times. (Thanks, Youtube.)
JLL: Any can't-miss movies, TV series, blogs, vlogs, podcasts, etc., that you'd recommend?
Podcasts: Novel Marketing; TV series- I'm currently hooked on Heartland; My favorite movies are mostly historical: Last of the Mohicans, The Count of Monte Cristo, Far and Away, and some are sweet chick flicks: Return to Me; Always. Then there are the real classics (i.e. anything with James Stewart, Gregory Peck, or Cary Grant in it.)
JLL: Interesting about Cary Grant! My husband and I just watched Notorious last night. What do you do for fun?
NM: I love to go camping. We used to rough it when the kids were growing up. Now we have a vintage camper that we repainted this fall so it looks like a Dreamsicle (orange and cream). I also adore spending time with my grandkids and teaching them things around the farm, from gardening to woods lore. Speaking of which…we used to raise beef and goats and pigs—the usual farm critters—but now my sons have taken over and turned the property into a whitetail deer farm and hunting preserve. Seeing little fawns running around every spring? Now that's fun!
JLL: What's the next project coming up from Naomi Musch?
NM: My agent is shopping around three possibilities: an historical romance novella set in northern Wisconsin featuring a blacksmith hero and a newly arrived Norwegian immigrant girl, another historical romance novella featuring a lumberjack—but I don't  I'll tell much about that one yet, also set in Wisconsin. Finally, I'm working to finish a full-length novel called Letters From the Red Arrow, a WWI romance between a non-Native teacher working in a Native American boarding school and a Native widower gone to war, who leaves his daughter behind at the school. There are perils on both fronts.
 In the meantime, I'm going to turn my attention to re-issuing my out-of-print Empire in Pine series starting with The Green Veil that I mentioned earlier. I'm excited to look at those books again after a decade.
Here's something funny. Tonight, as I was writing my answers to this interview, a lady called me and asked me if I still had copies of books one and two to that series, because her sister had just finished book one and she needed them. Good thing I still have some!
JLL: Is there anything else you'd like to tell readers that I haven't asked?
NM: Yes! I would like to just say how much I appreciate every reader. These days the world is swamped with books. Anyone can pick up a book and put it down again ten minutes later to move onto something else. Every time a reader chooses to read one of my books, cover to cover, they're giving me their most valuable commodity—their time. I wish every reader knew how much that means to me. <3

JLL: Where can we find you on social media?
NM: I love connecting! And I'm happy to meet with or speak to your group too. Give me a wave at:
Website: NaomiMusch.com
Amazon Author Page: Naomi Musch
FB: Naomi Musch – Author
Bookbub: Naomi Musch
Goodreads: Naomi Dawn Musch
Twitter: @NMusch
Instagram: NaomiMusch
Pinterest: Naomi Musch
Monthly Newsletter: News of the Northwoods
That's it. Thanks, Naomi!
Naomi Musch is an award-winning author who crafts her stories from a deer farm in the pristine north woods of Wisconsin, where she and her husband Jeff live as epically as God allows near the families of their five adult children. She enjoys roaming around on the farm, snacking out of the garden, relaxing in her vintage camper, and loving on her passel of grandchildren. Naomi is a member of the American Christian Fiction Writers, the Wisconsin Writers' Association, and the Lake Superior Writers. Though she has written in a variety of venues, her great love is historical fiction. She would love to connect with readers around the web at the sites listed above.