Jennifer Lamont Leo
The author blog of Jennifer Lamont Leo.
October 2019 New Releases
More in-depth descriptions of these books can be found on the ACFW Fiction Finder website.
Biblical Fiction:
Lioness: Mahlah's Journey by Barbara M. Britton — To keep her orphaned sisters together, Mahlah must seek what has never been granted to girls, an inheritance of God's Promised Land. (Biblical from Harbourlight Books [Pelican])
Contemporary Romance:
Hiding from Christmas by Alice K. Arenz — No matter how hard she tries, Maddie Kelley can't seem to fit in at Ornamental, a company founded by her great grandfather and his best friend. Now, after yet another screw-up, she's been sent into the "enemy's" camp—two hours away from home for the next two months. A punishment or a blessing? Her life is turned upside down when the mundane turns unexpected, and she finally discovers where her heart truly lies. (Contemporary Romance from Forget Me Not Romances [Winged Publications])
Practically Married by Karin Beery — Ashley Johnson moved to northern Michigan to finally meet her fiancé face-to-face, but she arrived in time to attend his funeral. With no home back in Ohio, she decides to stay in what would have been their house, except his cousin Russ lives there too, and Russ has never heard of Ashley. To complicate matters, her fiancé accidentally willed her the family farm house. Eager to please everyone and desperate to disappoint no one, she proposes a marriage of convenience that could solve her and Russ' problems, if they can get past her aunt, his sisters, and an ex-girlfriend. (Contemporary Romance from Lighthouse Publishing of the Carolinas)
Once Upon a Christmas by Andrea Boyd, Mikal Dawn, Toni Shiloh, Angela Ruth Strong, and Jaycee Weaver — Embrace the magic of the Christmas season with these contemporary twists on timeless tales. Upon a Dream: A rare sleeping disorder keeps Talia from performing, but when Philip recognizes her gift, he'll do whatever it takes to see her onstage. Claim My Heart: Li Na and Colin Wen face off in a Mulan-esque courtroom battle where the real win might be losing their hearts. A Snow White Christmas: Sheltered heiress Amala White flees her conniving stepmother's plans and finds refuge with a handsome orchard owner and his seven quirky uncles. Christmas Ella: Reality TV meets Cinderella story when a location director is swept off her feet by a rising star. A Splash of Love: Las Vegas glitz meets Land of Enchantment culture in A Splash of Love, a modern twist on the Little Mermaid. (Contemporary Romance, Independently Published)
The Twin Bargain by Lisa Carter — A mutually beneficial temporary arrangement…But can they keep it strictly professional? Nursing student Amber Fleming couldn't be more stunned when ex-marine Ethan Green makes an offer: he'll babysit her twin girls if she cares for his injured grandmother. Amber knows it's temporary. Ethan isn't one for roots—or their hometown. But his steadfast caring has her wanting more than friendship. And with help from Amber's mischievous twins, can they risk becoming a forever family? (Contemporary Romance from Love Inspired [Harlequin])
The Amish Christmas Matchmaker by Vannetta Chapman — With her wedding business thriving, Annie Kauffmann could never leave her beloved Amish community. So when handsome Amish cowboy Levi Lapp tries to convince her father to move the family to Texas, she must put a stop to it. If Annie finds Levi a wife, he might forget his dream of moving…but can she keep from falling for him herself? (Amish Romance from Love Inspired [Harlequin])
Sara's Gift by Kimberly Rose Johnson — Christmas is the season of giving, but Sara isn't sure she is up to the task. Playing secret angel in high school was fun, and now, years later, Sara has the opportunity to do it once more on a bigger scale. She enlists the help of Gabe, her long-time best friend, to come up with a deserving recipient. But something is off with Gabe—he's more attentive than usual.
The Christmas season has put Gabe in a reflective mood. His evaluation of his life has left him lonely and wanting more. But can his heart have its desire? That's up to Sara. Can these two long-time best friends navigate their changing relationship, or will the romance Grinch steal their Christmas joy? (Contemporary Romance, Independently Published)
Their Christmas Prayer by Myra Johnson — Searching for a new start, Pastor Shaun O'Grady can't wait for his next foreign missionary assignment…until he begins working with Brooke Willoughby on the church's Christmas outreach program. Even as they clash over program specifics, Shaun and Brooke are drawn to each other. Now Shaun's not sure where he belongs: overseas for his ministry, or at home by Brooke's side… (Contemporary Romance from Love Inspired [Harlequin])
Her Amish Holiday Suitor by Carrie Lighte — Lucy Knepp has no time for heartbreaker Nick Burkholder…until a pretend courtship means she can finish her embroidery for a Christmas fund-raiser in peace. Nick's arrangement with the too-reserved Lucy is the perfect cover while he repairs the cabin his brother damaged. But once Nick sees how vibrant Lucy really is, can he prove himself—and show their love is for all seasons? (Amish Romance from Love Inspired [Harlequin])
General/Contemporary:
Chasing Dreams by Deborah Raney — Reconsidering her dream of law school, Joanna Chandler finds promise in a possible wedding planning career—especially when she meets wedding DJ Lukas Blaine. But there's more to Luke than meets the eye. The angry young boy he's been mentoring has lost his mother and become Luke's ward. How can Luke possibly find the time to start a new relationship or saddle someone else with a wounded child? He may have to let go of the woman of his dreams–and crush her dreams at the same time. (General/Contemporary from Kregel Publications)
Historical Romance:
Unwrapping Hope by Sandra Ardoin — When Phoebe receives a handcrafted cigar box by mistake, her desperation to give her daughter something special for Christmas drives her to suggest a trade with Spence Newland, a man she views as no more principled than her daughter's late father. But the more time she spends with the department store heir, the more Phoebe struggles to keep up her guard against him. Spence believes the cigar box will help him gain a reclusive investor's financial support for his proposed five-and-ten-cent stores. Yet he hesitates to bargain with a widow who mistrusts him for no apparent reason…until he meets a charming little girl at the train station who awaits the arrival of a prince. Will a betrayal in Phoebe's past and Spence's unraveling business plans derail their hope for happiness and keep a child's fairy tale from coming true? (Historical Romance from Corner Room Books)
Hope's Highest Mountain by Misty M. Beller — Ingrid Chastain travels readily with her father to deliver vaccines to a mining town in the Montana Territory. But after a tragic accident leaves her alone and injured, Ingrid finds rescue in the form of a mysterious mountain man who tends her wounds. Micah Bradley gave up his own medical career after unintentionally bringing home the smallpox disease that killed his wife and daughter. With Ingrid dead set on trekking through the mountains to deliver the medicine as soon as she's well enough, he has no choice but to accompany her through the treacherous, snow-covered Rocky Mountains. The risk-laden journey ahead will change their lives more than they could have known. (Historical Romance from Bethany House [Baker])
Aiming for Love by Mary Connealy — Josephine Nordegren is one of three sisters who grew up nearly wild in southwestern Colorado. She has the archery skills of Robin Hood and the curiosity of the Little Mermaid, fascinated by but locked away from the forbidden outside world–a world she's been raised to believe killed her parents. When David Warden, a rancher, brings in a herd much too close to the girls' secret home, her older sister especially is frightened, but Jo is too interested to stay away. David's parents follow soon on his heels, escaping bandits at their ranch. David's father is wounded and needs shelter. Josephine and her sisters have the only cabin on the mountain. Do they risk stepping into the world to help those in need? Or do they remain separated but safe in the peaks of Hope Mountain? (Historical Romance from Bethany House [Baker])
Lessons on Love by Susanne Dietze, Rita Gerlach, Kathleen L. Maher, and Carrie Fancett Pagels — Step back into the classroom alongside four new teachers who face unexpected tests. In 1840 New York, Gilda's religious beliefs are challenged. In 1870 Kansas, Mary helps ostracized immigrant children. In 1894 Michigan, Jesse discovers an unlikely friendship. And in 1904 Virginia, Margaret wants to make controversial changes. Will these tests teach the teachers about faith and love? (Historical Romance from Barbour Publishing)
Mystery:
The Silver Lode by Suzanne J Bratcher — A dying child and a seventy-year-old cold case draw historian Paul Russell and antiques expert Marty Greenlaw into a desperate search for the silver lode, a rich deposit of silver and gold one person considers worth murdering to keep. (Mystery from Mantle Rock Publishing)
Romantic Suspense:
Deadly Commitment by Kathy Harris — When Danielle Kemp walks out of her downtown Nashville condominium, she gets the eerie feeling that someone is watching her. She's convinced that the homeless man outside her building is stalking her. But after learning the real identity of the intimidating stranger, she faces something even more threatening?the truth about her fiancé. (Romantic Suspense from New Hope Publishing)
Cold Pursuit by Gayla K. Hiss — A December tour of Yellowstone National Park sounded like the perfect escape from Faith Chandler's problems at home—until she discovers her tour guide is her jilted childhood sweetheart, Jake Mitchell. (Romantic Suspense from Mountain Brook Ink)
Legacy Restored by Robin Patchen — She's a new Christian working to take down an art thief and murderer. He's a grieving artist who refuses to let another woman die needlessly. When their desires clash, will it lead to hostility… or fireworks? (Romantic Suspense, Independently Published)
Young Adult:
Heart of a Royal by Hannah Currie — Brought to the palace as a newborn, the royal life bestowed upon Mackenna Sparrow was never meant to last forever. With Princess Alina engaged to be married, Mackenna's presence as companion is no longer required and, like it or not, she must return to the birthright which should have been hers – that of a commoner. But not everyone at the palace wants her gone. When the truths she's based her life on start crumbling as fast as her future, will she find the courage to trust, both herself and the prince she's fallen in love with? (Young Adult from WhiteFire Publishing)
Cue the bagpipes! The Highlanders are coming! Four historical-romance novellas, four authors, four fetching Scotsmen aiming to win your heart. And, yes, one of them is mine. 🙂
My story, "The Violinist," takes you to 1915 Idaho. Homesick lumberjack Callan MacTavish despairs of ever seeing his Scottish homeland again. With kindness and patience, music teacher Rose Marchmont reaches a part of Callan's heart he'd long ago locked away. She sees beyond his rough exterior to the artistic heart beneath. He longs for more than he can offer her, but she doesn't know about the secret trauma that keeps him from crossing the sea.
Coming this November–pre-order your copy today!
September 2019 New Releases
More in-depth descriptions of these books can be found on the ACFW Fiction Finder website.
Contemporary Romance:
Reunited in the Rockies
by
Mindy Obenhaus
— For widow Kayla Bradshaw, restoring a historic Colorado hotel means a better life for her and her soon-to-arrive baby. But she needs construction help from Jude Stephens, the love she lost through a misunderstanding. Working with Kayla, the police officer finds himself forgiving her—and longing to rebuild her shattered confidence. But can they trust each other enough to forge a future together? (Contemporary Romance from Love Inspired [Harlequin])
A Man to Trust by Carrie Turansky — After years spent helping manage her family's Christian bookstore, it's time for Adrie Chandler to give her own dream of playing her flute with a symphony orchestra a chance. But can she really trust the beloved shop to new manager Ross Peterson? The man is too handsome, too charming….and too much a reminder of another dream Adrie had to let go of – marriage. Yet Ross surprises her by knowing a thing or two about making sacrifices. Suddenly, Adrie is questioning what she really wants. And whether the dreams she once thought unlikely are within reach after all. (Contemporary Romance from Flowing Stream Books)
Fall Flip by Denise Weimer — The tragic death of Shelby Dodson's husband–her partner in a successful Home Network house flipping business–stole love, status, and career. Now a bungalow redesign thrusts Shelby into the company of a new contractor. Scott Matthews remembers high-and-mighty Shelby from high school, and her prissy, contemporary style goes against his down-to-earth grain. When the house reveals a mystery, will its dark secrets–and their own mistakes–cost them a second chance at love? (Contemporary Romance from Lighthouse Publishing of the Carolinas)
Listening to Love by Beth Wiseman — Lucas is Amish. Natalie's Englisch. They are best friends—and friends only. Despite what the gossips say. Besides, they couldn't be together even if they wanted to be. Lucas would never leave the Amish faith, and Natalie is pursuing a degree in veterinary medicine. But when a terrifying accident happens, Natalie and Lucas are forced to confront their true feelings and decide if they can stay true to themselves and each other. (Contemporary Romance from HarperCollins Christian Publishing)
General Contemporary:
The Christmas Portrait
by
Phyllis Clark Nichols
— A family facing their first holiday season without Mama finds a way to celebrate Christmas. (General Contemporary from Gilead Publishing)
Historical:
Memories of Glass
by
Melanie Dobson
— 1942. As war rips through the heart of Holland, childhood friends Josie van Rees and Eliese Linden partner with a few daring citizens to rescue Eliese's son and hundreds of other Jewish children who await deportation in a converted theater in Amsterdam. But amid their resistance work, Josie and Eliese's dangerous secrets could derail their friendship and their entire mission. When the enemy finds these women, only one will escape. Seventy-five years later, Ava Drake begins to suspect that her great-grandfather William Kingston was not the World War II hero he claimed to be. Her work as director of the prestigious Kingston Family Foundation leads her to Landon West's Ugandan coffee plantation, and Ava and Landon soon discover a connection between their families. As Landon's great-grandmother shares the broken pieces of her story, Ava must confront the greatest loss in her own life?and powerful members of the Kingston family who will do anything to keep the truth buried. (Historical from Tyndale Publishing)
Historical Romance:
Treasured Christmas Brides
by
Amanda Cabot
, Rebecca Germany, Cathy Marie Hake,
Colleen L. Reece
,
MaryLu Tyndall
, and
Michelle Ule
— Six historical Christmas romances prove life's most priceless gifts come not in the form of polished gold or silver—but from the vast riches of a loving heart. (Historical Romance from Barbour Publishing)
Thankful for the Cowboy by Mary Connealy — Hero Tom MacKinnon rides up driving a wagon with a second wagon trailing him. He and his sister want to be hired to build windmills. They'll ask for very little money and, in exchange heroine, Lauren Drummond, newly widowed mother of four nearly grown sons, will help them learn to survive in the Sandhills of Nebraska. What to grow, what to hunt, how to build a sod house.
Tom's windmills will save her ranch. Lauren needs three windmills on this drought year or her growing herd of cattle is going to die of thirst. She agrees to teach him the ways of the Sandhills, and to give him fifteen head of cattle. She's not ready to think of another man. But Tom changes her mind. His little sister and one of her sons find love together before Tom and Lauren do. (Historical Romance, Independently Published)
The Return of the King's Ranger by Angela K. Couch — The war is over…for everyone but him. The war for American freedom is over, and the British have gone back to England. Not knowing what has become of his family since he was forced into the Continental Army nine years earlier, Myles Cunningham wants to go home as well. He returns to the Mohawk Valley with the understanding that he is believed to have been shot for deserting—fiction that might be made real if anyone recognizes him as the son of a Tory and a King's Ranger. Everything is wonderful in the growing community along the Mohawk River, except Nora Reid is still alone. With her brother happily settled and both her younger sisters starting families of their own, Nora feels the weight of her twenty-four years. A long walk leads her to the overgrown rubble of the Cunningham homestead where a bearded stranger begins to awaken feelings she'd lost hope of ever experiencing. With secrets abounding—including whether Myles even cares for her—Nora must determine what she is ready to give up and how far she will go to secure his affections. She begins to break through his defenses, but Myles can't risk staying. Not if he loves her. (Historical Romance from White Rose Publishing [Pelican])
Christmas Next Door by Susan Page Davis and Vickie McDonough — Visit an Old West Texas town where a mysterious benefactor leaves gifts each Christmas, but also where four pairs of neighbors battle over hearsay, secrets, and mysteries. (Historical Romance from Barbour Publishing)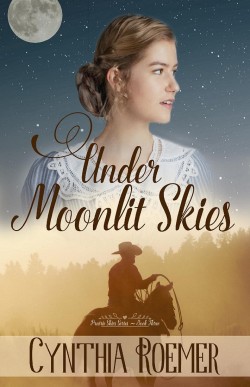 Under Moonlit Skies by Cynthia Roemer — Esther meets Stewart, her brother-in-law's ranch hand, when helping her sister recover from childbirth. Any interest she may have in the cowboy is hopeless, since she must return home to Cincinnati and the man her overbearing mother intends her to wed. till reeling from a hurtful relationship, Stew is reluctant to open his heart to Esther. But when he faces a life-threatening injury with Esther tending him, their bond deepens. Heartbroken when she leaves, he sets out after her and inadvertently stumbles across an illegal slave-trade operation, the knowledge of which puts him, as well as Esther and her family, in jeopardy. (Historical Romance from Mantle Rock Publishing)
Mail-Order Misfire by Davalynn Spencer — Preacher Bern Stidham is a peacemaker—when he's not carrying one on his hip. His little girl wants a helper for her widowed father and a mama for herself, so she writes for a mail-order bride. Without telling him. Recently widowed dressmaker Etta Collier is a half-step ahead of the banker who carries a lustful eye for her as well as the note on her home. When her pastor encourages her to answer an unusual letter from a little girl, hope opens an unexpected door. Running from one man's lecherous pursuit into the home of another she knows nothing about, Etta may have to risk everything to ease a little girl's loneliness and find a second chance at love. (Historical Romance, Independently Published)
The Witness Tree by Denise Weimer — Past betrayal has turned John Kliest's passion to his work as a builder and surveyor in the Moravian town of Salem, North Carolina. Now, to satisfy the elders' edict and fulfill his mission in Cherokee Territory, he needs a bride. But the one woman qualified to record the Cherokee language longs for a future with his younger brother. Clarissa Vogler's dream of a life with Daniel Kliest is shattered when she is chosen by lot to marry his older brother and venture into the uncharted frontier. Can she learn to love this stoic man who is now her husband? Her survival hinges on being able to trust him—but they both harbor secrets. (Historical Romance from Lighthouse Publishing of the Carolinas)
Romantic Suspense:
Don't Give Up On Me
by
Jodi Artzberger
— When Cragge Automotive Group's heiress, Amanda Cragge is left for dead, the only man she's ever loved finds her. As the threats continue, will she accept help from the man who left her eight years ago without explanation? When Ryker Scott returns to Otter Bay, he is brought face to face with his past. He thought he could handle coming back but he might have been wrong. As a trained Army Ranger, he's going to have to use his skills if he wants to keep the only woman he's ever loved alive.
Will their past become their future or will their futures be destroyed forever?(Romantic Suspense, Independently Published)
Breaking Point by Marji Laine — Ever since her father's death, Alynne Stone has had a series of strange "accidents." Police Lieutenant Jason Danvers believes her father was murdered. He tries to connect the attempts on Alynne's life, but things just don't add up. Even in a small town, the mere rumor of treasure can change lives, end friendships…maybe even kill? Still dealing with the pain of his own wife's death, he can't allow an innocent woman's life to be snuffed out on his watch. Especially one who shines as bright as Alynne. (Romantic Suspense, Write Integrity Press)
Fatal Strike by DiAnn Mills — FBI Agents Leah Riesel and Jon Colbert team up to track down a killer on the loose in Galveston, targeting law enforcement officials and using a fatal injection of snake venom to take them down. (Romantic Suspense, Tyndale House)
Thriller:
The Gryphon Heist
by
James R. Hannibal
— Talia Inger is a rookie CIA case officer assigned not to the Moscow desk as she had hoped but to the forgotten backwaters of Eastern Europe–a department only known as "Other." When she is tasked with helping a young, charming Moldovan executive secure his designs for a revolutionary defense technology, she figures she'll be back in DC within a few days. But that's before she knows where the designs are stored–and who's after them. With her shady civilian partner, Adam Tyler, Talia takes a deep dive into a world where only criminal minds and unlikely strategies will keep the Gryphon, a high-altitude data vault, hovering in the mesosphere. Even Tyler is more than he seems, and Talia begins to wonder: Is he helping her? Or using her access to CIA resources to pull off an epic heist for his own dark purposes? (Techno-thriller from Revell – A Division of Baker Publishing Group)
August 2019 New Releases
More in-depth descriptions of these books can be found on the ACFW Fiction Finder website.
Contemporary Romance:
The Butterfly Recluse by Therese Heckenkamp — Lila finds solace in her sheltered world by raising butterflies and surrounding herself with their gentle beauty. They're all she needs—until a motorcycle-riding stranger roars up her driveway, invading her safe haven, throwing her life off-kilter, and forcing her to question everything. What exactly is he after, and what is he not telling her? In one intense night of desperation and revelation, Lila must confront her darkest fears—and hopefully discover that with faith and courage, shattered dreams can be restored, damaged hearts can love again, and broken wings can heal . . . maybe even fly. (Contemporary Romance from Ivory Tower Press)
A Glitter of Gold by Liz Johnson — Anne Norris moved to Savannah, Georgia, for a fresh start. Now her pirate-tour business is flagging and paying the rent requires more than wishful thinking. When she discovers evidence of a shipwreck off the coast of Tybee Island, she knows it could be just the boon she needs to stay afloat. She takes her findings to local museum director Carter Hale for confirmation, but things do not go as planned. Carter is fascinated with the wreck, the discovery of which could open the door to his dream job at a prestigious museum. But convincing Anne to help him fill in the missing pieces of the puzzle is no easy task. And working with Carter means that Anne will have to do the one thing she swore she'd never do again: trust a man. (Contemporary Romance from Revell-A Division of Baker Publishing Group)
Hometown Healing by Jennifer Slattery — She's home again, but not for long… Unless this cowboy recaptures her heart Returning home with a baby in tow, Paige Cordell's determined her stay is only temporary. But to earn enough money to leave, she needs a job—and her only option is working at her first love's dinner theater. With attraction once again unfurling between her and Jed Gilbertson, can the man who once broke her heart convince her to stay for good? (Contemporary Romance from Love Inspired [Harlequin])
General Contemporary/Women's Fiction:
Grace in Deep Waters by Christine Dillon — William Macdonald is at the pinnacle of his career. Pastor of a growing megachurch and host of a successful national radio programme. Clever and respected, he's a man with everything, including a secret. His wife has left him and he can't risk anyone finding out. Blanche Macdonald is struggling. Her once rock-solid marriage is showing cracks. She promised to love her husband for better or for worse, but does loving always mean staying? Blanche desires to put God first. Not William. Not her daughter. Not herself. When is a marriage over? When do you stand and fight? (Women's Fiction, Independently Published)
When Mountains Sing by Stacy Monson — Mikayla Gordon loves nothing more than sleeping under the stars, reeling in the "big one," and long hikes in the wilderness. A medical crisis reveals a 30-year-old secret that turns everything she's known and believed upside down, unraveling her dreams and her identity. In search of answers, she follows a trail from Minnesota to Colorado and discovers more unwelcome secrets even as she falls in love with the majestic beauty of the Rocky Mountains, and a wilderness camp leader who shares the greatest secret of all. Knowing her life can never go back to what it was, she must make decisions that will impact far more than just her future. (Contemporary from His Image Publications)
All In by L. K. Simonds — Cami Taylor: a blackjack dealer, a bestselling author, and a fraud. Cami's boyfriend, Joel, loves her in spite of her flaws. He wants to marry her, buy a house on Long Island, and raise a family–a life that's a million miles from Cami's idea of happiness. Her therapist suggests compromise and trust, but Cami bolts like a deer. She breaks off the relationship and launches on a new quest for happiness, not knowing that a nasty surprise waits around the corner. What follows is a fight to the death. Who will be the one left standing? (Contemporary from Morgan James Fiction)
Historical:
Finding Lady Enderly by Joanna Davidson Politano — A rag girl accepts an invitation to become the lady she's always dreamed of being, but some dreams turn out to be nightmares. (Historical from Revel – A Division of Baker Publishing Group)
Historical Romance:
Lady and the Lawman by Crystal L. Barnes, Vickie McDonough, Annette OHare, and Kathleen Y'Barbo — Four historic stories of lawmen and the ladies who love them. (Historical Romance from Barbour Publishing)
The Farmer's Daughter by Mary Davis, Kelly Eileen Hake, Tracie J. Peterson, Jill Stengl, and Susan May Warren — Enjoy five historical novels by some of Christian fiction's bestselling authors. Meet daughters of prairie farms from Montana south to Kansas who find love in the midst of turbulent life changes. Marty's nieces are kidnapped. Rosalind's town is overrun by a railroad company. Amy's jealousy comes between her and her twin. Beulah's answer is needed to a marriage proposal. Lilly's choice puts her at odd with her neighbors. Into each of their lives rides a man who may only make their situations worse. (Historical Romance from Barbour Publishing)
The Cowboys by Sandra Merville Hart, Cindy Ervin Huff, Jennifer Uhlarik, and Linda W. Yezak — Taming the West–one heart at a time. Healing Heart: A physically scarred cowboy finds solace with a ranch girl who is hiding from her past. Becoming Brave: A cattle drover wants to get his boss's heard safely through Indian Territory…as soon he figures out why a bloodstained woman is holding a gun on him. Trails End: Waiting for his boss's cattle to sell, a cowboy takes a kitchen job at a restaurant where the beautiful and prickly owner adds spice to his workday. Loving a Harvey Girl: To improve the local preacher's opinion of career women, a Harvey Girl makes it her mission to redeem a wayward cowboy, but finds herself longing for a husband, hearth, and home. (Historical Romance from Lighthouse Publishing of the Carolinas)
Lost in the Storm by Tamera Lynn Kraft — Lavena, a journalist during the Civil War, wants to become a war correspondent. She finally gets her chance, but there's a catch. She has to get an interview from a war hero who has refused to tell his story to every other journalist, and she has to accomplish this impossible task in a month or she'll lose her job. Captain Cage, the war hero, has a secret that will destroy his military career and reputation. Now, a new journalist wants him to reveal what he's been hiding. He'd prefer to ignore her, but from the moment she came into camp, he can't get her out of his mind. Leading up to the turbulent Battles for the city of Chattanooga, will Lavena and Cage find the courage to love and forgive, or will they be swept away by their past mistakes that don't want to stay buried? (Historical Romance from Mt Zion Ridge Press)
Love's Allegiance by Linda Shenton Matchett — Inspired by the biblical love story of Rebekkah and Isaac, Love's Allegiance explores the struggles and sacrifices of those whose beliefs were at odds with a world at war. (Historical Romance from Shortwave Press)
The Brightest Hope by Naomi Musch — Five years after the Great War, Holly Allen is a well-adjusted war widow with a knack for running the family press. She's over the days of waiting for a white knight to ride in and sweep her away from her cares. Besides, if Hugh Phelps is a knight, he's certainly a black one—with his prison record, personal demons, and the ghosts of war that haunt him. When Holly hires Hugh, despite her reservations, it isn't long before she sees the man he could really be, and as Hugh finds his niche at Allen's Printing, he finds his lady boss equally appealing. Despite the attraction, however, Holly won't let herself fall for a faithless man, and Hugh isn't on gracious terms with God. Then, just when new beginnings seem possible, old heartaches from the war come calling. Now it might only be in letting go of everything dear that they both discover what real love is. (Historical Romance, Independently Published)
Annabelle's Joy by Betty Thomason Owens — She's waited too long. When Tom proposed last year, Annabelle wasn't ready to open her heart to another man. Pain still held a thin crust around it. Time has healed her heart, but with a new woman in town, one who clearly has her sights set on Tom, does it matter if Annabelle's heart is ready to love again? Folks in town are keeping a close eye on their pharmacist, hoping to be the first to hear the good news. He's been courting the widow Cross for nigh on two years now. Annabelle Cross better wake up and put her dancing shoes on. Mr. Tom is prime real estate. (Historical Romance from Write Integrity Press)
Mystery/Cozy Mystery:
Hidden Secrets by Janet Sketchley — When an online vendetta against the Green Dory Inn escalates to physical threats, a cryptic message about a tunnel points to the property's original owner, a notorious Prohibition-era sea captain rumoured to have left hidden wealth. (Mystery, Independently Published)
Murder at Rendsburg Resort by C. L. Wells — Trapped in a remote resort with a killer on the loose, the body count piling up, and no one else to save them, mystery writer Jill Pemberton must help find the killer before they claim their next victim. (Cozy Mystery, Independently Published)
Romantic Suspense:
Two Steps Forward by Luana Ehrlich — When CIA operative Titus Ray has an unexpected encounter with a Jihadi terrorist while he and Nikki are on their honeymoon in Morocco, he assumes it's a coincidence, but when they travel to Israel for the second half of their honeymoon and encounter him again, he takes action, which takes him to Baghdad to prevent the assassination of a high-profile government official. (Romantic Suspense, Independently Published)
Edge of Truth by Kimberly Rose Johnson — The DEA sends two of its best agents, Kara Nelson and Jeff Clark, to Central Oregon, to shut down a major drug ring. Kara and Jeff usually work alone, but Operation Trail Ride throws them undercover together in a way neither of them expected. A notorious Miami drug lord wants Kara dead. Can these agents pull off the greatest acting job of their lives—and manage the sparks flying between them? Or will they die trying? (Romantic Suspense, Independently Published)
Speculative:
Redemption by Jacques R. Pye — Sterling Newman and Armena Sandal face death as they struggle to help the Alesandrans and the Kirilleans combat a force seeking the destruction of both worlds. (Speculative, Independently Published)
Young Adult:
Shards of Light by Susan Miura — Sometimes the pieces of a shattered dream can transform into something extraordinary. (Young Adult from Vinspire Publishing)
July 2019 New Releases
More in-depth descriptions of these books can be found on the ACFW Fiction Finder website.
Contemporary Romance:
Hometown Hope by Laurel Blount — In the three years since her mother's death, widower Hoyt Bradley's daughter, Jess, hasn't spoken—until she suddenly begs him to save her favorite bookstore from closing. Hoyt is desperate to hear his daughter's voice again, but he and the bookstore's pretty owner, Anna Delaney, share a less-than-friendly past. Working together is complicated enough…but can they avoid falling in love? (Contemporary Romance from Love Inspired [Harlequin])
A Heart Surrendered by Joy K. Massenburge — Since her teens, pastor's daughter Sharonda Peterson devoted her life to church service and solitude after the one night she gave Carl Ray Everhart everything. Sobered by a near-death experience, prodigal Carl returns home from an acting and singing career to serve as the worship leader at Sheronda's church, and she finds that it takes every ounce of her resolve to resist his pursuits … not to mention memories that threaten to overturn the delicate balance she's created. Can she finally surrender the one thing she's tried all these years to protect: her heart? (Contemporary Romance from Harambee Press [Lighthouse Publishing of the Carolinas])
Starting Anew by Melanie D. Snitker — He's afraid to trust. She has a secret that could change everything between them. Will they let go of their fear, or allow it to rob them of their chance at happiness? (Contemporary Romance, Independently Published)
Historical:
Underestimating Miss Cecilia by Carolyn Miller — Can shy, sweet Cecilia overcome her family's prejudice to see a future with the recently returned prodigal son from next door? (Historical from Kregel Publications)
Benaiah: Might Man of God by PH Thompson — A novel of Biblical, historical fiction about Benaiah, one of King David's mighty men, examining the premise: What happens when the king's most obedient soldier is issued a wicked command? (Historical/Biblical from Word Alive Press)
Historical Romance:
Waltz with Destiny by Catherine Ulrich Brakefield — When the men and women of World War II marched off to war, they didn't know what lay ahead. All they knew was that upon their young and inexperienced shoulders rested the plight of the free world. (Historical Romance from CrossRiver Media Group)
Thimbles and Threads by Mary Davis, Grace Hitchcock, Suzanne Norquist, and Liz Tolsma — Enjoy four historical romances that celebrate the arts of sewing and quilting. When Tilly, a schoolteacher; Alice, a bridal shop owner; Sarah, a seamstress; and Melissa, a rag doll designer, put needle and thread to fabric, will their talents lead to the surprising gift of love? (Historical Romance from Barbour Publishing)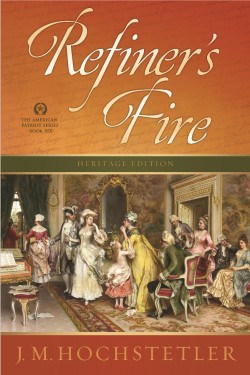 Refiner's Fire by J.M. Hochstetler —
Will the promise their hearts cling to finally find joyful fulfillment, or will war's refining fire separate them forever? (Historical Romance from Sheaf House Publishers)
Where Dandelions Bloom by Tara Johnson — To escape an arranged marriage, Cassie Kendrick enlists in the Union army as a man, taking the name Thomas Turner. On the battlefields of the Civil War, keeping her identity a secret is only the beginning of her problems, especially after she meets Gabriel Avery, a handsome young photographer. Anxious to make his mark on the world and to erase past guilt, Gabriel works with renowned photographer Matthew Brady to capture images from the front lines of the war. As Gabriel forges friendships along the way, he wonders what the courageous, unpredictable Thomas Turner is hiding. Battling betrayal, their own personal demons, and a country torn apart by war, can Cassie and Gabriel forgive themselves and trust their futures to the God who births hope and healing in the darkest places? (Historical Romance from Bethany House [Baker])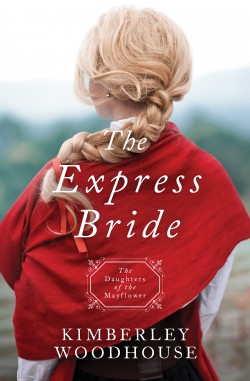 The Express Bride by Kimberly Woodhouse — Jacqueline Rivers manages a Pony Express station in 1860 Utah territory after her father's death. There are daily stresses placed on her in this unconventional role—and now a government official is asking her to sniff out counterfeiters. When Elijah Johnson passes through on the stage while on an exhausting quest to find his boss's heir, he doesn't want to leave the beguiling station manager. In fact, he may never leave when caught in the crossfire of the territory's criminal activities. Can she remain strong when secrets of the past and present are finally unearthed? (Historical Romance from Barbour Publishing)
Romantic Suspense:
Legacy Rejected by Robin Patchen — She's not giving up her home, no matter what threats come against her. Realtor Ginny Lamont's family has abandoned her, leaving her with nothing but a warning that she's in danger. But Ginny's built a home in New Hampshire. After a childhood of nomadic living, she's not running again, certainly not because of some nameless, baseless threat. Real estate developer Kade Powers is thrilled to go out with Nutfield's beautiful new real estate agent. But the prowler they surprise after their first date offers a glimpse into Ginny's past and the legacy of lies her parents left her with. She brings a mystery, one he's determined to help her solve. With Kade's help, Ginny searches for the truth of her parents' criminal activity while her enemies close in. When mobsters show up in her quaint New England town, will she find a way to bring them down, or will she lose the home—and the man—she's come to love? (Romantic Suspense, Independently Published)
Suspense:
Storm Rising by Ronie Kendig — Mentioned in the pages of the Old Testament but lost to history, the Book of the Wars has resurfaced, and its pages hold secrets–and dangers–never before seen on earth. Tasked with capturing the ancient text, former Navy SEAL Leif Metcalfe is once more given command of his own team. But their best efforts are ruined when a notorious Bulgarian operative known as Viorica snatches the volume right out from under them. Iskra "Viorica" Todorova is determined to use the book to secure the thing that matters most–freedom. But a series of strange storms erupts around the globe, and the coming dangers foretold in the text threaten crops, lives, and entire nations. Though both are haunted by secrets of their past and neither trusts the other, Leif and Iskra must form an uneasy alliance to thwart impending disaster. However, the truth hidden in centuries-old words could unleash a storm of their own destruction. (Suspense from Bethany House [Baker])
Speculative:
The Story Raider by Lindsay A. Franklin — Deceiving an empire is a treacherous game. Tanwen and the Corsyth weavers race to collect the strands of an ancient cure that might save Gryfelle. But Tanwen has a secret–Gryfelle isn't the only one afflicted by the weaver's curse. As Queen Braith struggles to assert her rule, a new arrival throws her tenuous claim to the Tirian throne into question. Braith's heart is turned upside down, and she's not sure she can trust anyone–least of all herself. The puppet master behind Gareth's rise to power has designs on Tanwen and the story weavers, and will stop at nothing to reclaim the throne. A plot to incite the angry peasants of Tir takes shape, and those dearest to Tanwen will be caught in the crossfire. As the fight for Tir consumes the realm, no one can remain innocent. (Speculative from Enclave Publishing)
We have a winner! In the recent giveaway on the Sparkling Vintage Life podcast, the winner of the beautiful rose pin (pictured above) from 1928 Jewelry Company is Jenny Manzke! (I'm afraid mispronounced the name in the podcast…my deepest apologies!) Thank you to Jenny and to everyone who entered the drawing. There will be another giveaway soon, so stay tuned in to the podcast. Meanwhile, subscribe to my newsletter at right so you know when the next one's coming up!
April 2019 New Releases
More in-depth descriptions of these books can be found on the
ACFW Fiction Finder website
.
Children's:
The Heart Changer
by
Jarm Del Boccio
— Miriam is asked to do the impossible: serve the wife of Naaman, commander of the Syrian army. Clinging to treasured memories of home and faith, Miriam faces captivity with bitterness. Little does she know the Heart Changer is preparing her for a greater mission — far beyond what she could imagine. (Children's from Ambassador International)
Contemporary Romance:
Faith and Hope
by
Amy R. Anguish
— Younger sister Hope has lost her job, her car, and her boyfriend all in one day. Her well-laid plans for life have gone sideways, as has her hope in God. Older sister Faith is finally getting her dream-come-true after years of struggles and prayers. But when her mom talks her into letting Hope move in for the summer, will the stress turn her dream into a nightmare? Is her faith in God strong enough to handle everything? For two sisters who haven't gotten along in years, this summer together could be a disaster…or it could lead them to a closer relationship with each other and God. Can they overcome all life is throwing at them? Or is this going to destroy their relationship for good? (Contemporary Romance from Mantle Rock Publishing)
Match Made in Heaven
by
Julie Arduini
— Beth Prescott wants to make a difference with the senior citizens she serves as a volunteer coordinator, but their matchmaking efforts leave her guarded. She's experienced too much pain to make that leap again. Dean Kellerman returns to the Finger Lakes area to help his grandfather and heal his own broken heart. He's recommitted his life to Christ, and doesn't want any distractions. When his grandfather needs assistance with a senior program, it places Dean right in Beth's path. Can these two surrender their pasts to Christ and have faith in each other and their future? (Contemporary Romance from Surrendered Scribe Media)
An Amish Reunion
by
Amy Clipston
,
Kathleen Fuller
,
Kathleen Irvin
, and
Beth Wiseman
—
Their True Home
by Amy Clipston: Marlene Bawell's new friendship with an old crush is threatened when change once again disrupts the home she's tried to make in Bird-in-Hand.
A Reunion of Hearts
by Beth Wiseman: Separated after tragic grief, husband and wife Ruth and Gideon Beiler are reunited when they accept an invitation to a family reunion they each believe the other has declined.
A Chance to Remember
by Kathleen Fuller: Cevilla Schlabach, Birch Creek's resident octogenarian matchmaker, is surprised when Richard, a man from her Englisch past, arrives in Birch Creek for a visit. While he and Cevilla take several walks down memory lane, they wonder what the future holds for them at this stage of life—friendship, or the possibility of something else?
Mended Hearts
by Kelly Irvin: Abandoned by her father, penitent single mother Hannah Kauffman finds support in her old friend Phillip, who has loved her for years, but fears risking another mistake by opening herself up to love. (Contemporary Romance from HarperCollins Christian Publishing [Thomas Nelson and Zondervan])
Her New Amish Family
by
Carrie Lighte
— Widower Seth Helmuth needs a mother for his sons, but for now, hiring the Englischer next door as their nanny will have to do. Trina Smith plans to stay in Amish country only long enough to claim her inheritance and sell her grandfather's house. But as she falls for Seth, his twin boys and Amish life, will she inherit a home and a family? (Contemporary Romance from Love Inspired [Harlequin])
Beauty for Ashes
by
Kathleen Neely
— Well-known novelist Nathan Drummond revisits painful memories when family responsibilities force him to return to his home town. Although he'd intended the living situation to be temporary, Nathan didn't count on falling in love. As guilty memories threaten a return of panic attacks, Nathan begins to write a novel paralleling the tragic event from his youthful folly. Will the novel be seen as a work of fiction, or will it expose his secret? (Contemporary Romance from Harbourlight Books [Pelican])
Restoring Her Faith
by
Jennifer Slattery
— An artist fighting to save her career must find a way to work with the handsome yet stubborn cowboy overseeing a church restoration project–without falling for his southern charm. (Contemporary Romance from Love Inspired [Harlequin])
Sweet On You
by
Becky Wade
— Britt Bradford and Zander Ford have been the best of friends since they met thirteen years ago. Unbeknown to Britt, Zander has been in love with her for just as long. As they work together to investigate Zander's uncle's mysterious death, will the truth of what lies between them also, finally, come to light? (Contemporary Romance from Bethany House [Baker])
General Contemporary:
The Edge of Mercy
by
Heidi Chiavaroli
— A dying request from an elderly neighbor forces a woman in a troubled marriage to find the 300-year-old story of a young colonial woman—one forced into an unwanted betrothal but drawn to a man forbidden to her by society. (General Contemporary from Hope Creek Publishers)
All My Tears
by
Kathy McKinsey
— Meet five women who struggle with life's deep sorrows. Beth fights to recover from alcoholism and to mend her relationships with her family. Ann doesn't believe God will forgive her. Kathleen wrestles with a years-old fear and with saving her marriage. Cassie needs to learn to deal with chronic depression. Martie finds herself the single parent of the eight-year-old niece she barely knows when the child's parents die in a car wreck. See how God gives them the gifts of hope, healing, and love. (General Contemporary from Mantle Rock Publishers)
Historical:
The Refuge
by
Ann H Gabhart
— Can Darcie Goodwin find love and a way to keep her baby in a community that doesn't believe in marriage or individual family units? (Historical from Revell – A Division of Baker Publishing Group)
Historical Romance:
The Artful Match
by
Jennifer Delamere
— At loose ends in London after a near-tragedy, Cara Bernay finds herself at odds with the Earl of Morestowe after she befriends his brother, a talented but troubled young artist. Soon she finds herself drawn to the earl as she becomes more involved with his family. Like Cara, they are suffering from unresolved mistakes in their past. Can they form an unlikely alliance and find a way to a new beginning? (Historical Romance from Bethany House [Baker])
The Golden Bride
by
Kimberley Woodhouse
— Olivia Brighton finds herself widowed and working her brother's restaurant in San Francisco during the height of the 1849 Gold Rush. Even though she receives at least twenty marriage proposals a day, she will never marry a gold miner. Her brother's friend Joseph Sawyer has gotten caught up in local politics and the plight of Chinese in forced labor. The more Joseph gets pulled into investigating crime in the city, the less Olivia sees of the compassionate man. And just when she thinks she could love again, a fire threatens to steal all hope. (Historical Romance from Barbour Publishing)
Romantic Suspense:
Justice Delivered
by
Patricia Bradley
— An escaped victim of sex trafficking must find the courage to report her captors to the authorities—some of whom could be corrupt—when her niece is kidnapped by the ringleader. (Romantic Suspense from Revell – A Division of Baker Publishing Group)
You Shouldn't Have
by
Susan Page Davis
— "I SAW MY NEIGHBOR MURDER HIS WIFE!" But the police don't believe Petra Wilson. There's no body, no evidence, no murder. But Petra knows what she saw. And now her dangerous neighbor knows it, too. Her sisters introduce her to private investigator Joe Tarleton. Petra tells Joe her story, expecting him to decide there is no case. But the dedicated P.I. accepts her word, and he vows to uncover the truth. Still, he can't guard Petra twenty-four hours a day. In spite of her precautions, her neighbor makes inroads in her vulnerability. Petra is left open to a killer intent on silencing the only living witness. (Romantic Suspense from Tea Tin Press)
Beauty in Battle
by
Robin Patchen
— Harper doesn't want to return to Maryland to face the police. The mess she left behind makes her look guilty of the worst, but it's too late to run again. Red is safe and the authorities are waiting. At least Jack is by her side. Now that Jack knows the truth, his feelings for Harper are deeper than ever. He's not about to leave her side, especially knowing a killer is after her. But Derrick is on their trail, and he's come unhinged. And he may not be the biggest threat lurking. (Romantic Suspense, Independently Published [ACFW QIP])
Speculative:
Flight of the Raven
by
Morgan L. Busse
— Selene Ravenwood, once the heir to House Ravenwood, is now an exile. On the run and free of her family's destiny, Selene hopes to find the real reason her family was given the gift of dreamwalking. But first she must adapt to her new role as wife to Lord Damien Maris, the man she was originally assigned to kill. While adjusting to her marriage and her home in the north, her power over dreams begins to grow. As the strongest dreamwalker to exist in ages, her expanding power attracts not only nightmares but the attention of the Dark Lady herself. With a war looming on the horizon and a wicked being after her gift, Selene is faced with a choice: accept the Dark Lady's offer or search out the one who gave her the gift of dreamwalking. One path offers power, the other freedom. But time is running out, and if she doesn't choose soon, her decision will be made for her. (Speculative Fantasy from Bethany House [Baker])
Snow Globe Travelers: Samuel's Legacy
by
K.A. Cummins
— Transported into another world, an Austrian girl must face a genetically-engineered warrior with an army of vicious hybrids. (Hard Science Fiction (for Children), Independently Published)
The Baggage Handler
by
David Rawlings
— A hothead businessman coming to the city for a showdown meeting to save his job. A mother of three hoping to survive the days at her sister's house before her niece's wedding. And a young artist pursuing his father's dream so he can keep his own alive. When David, Gillian, and Michael each take the wrong suitcases from baggage claim, the airline directs them to retrieve their bags at a mysterious facility in a deserted part of the city. There they meet the enigmatic Baggage Handler, who shows them there is more in their baggage than what they have packed, and carrying it with them is slowing them down in ways they can't imagine. And they must deal with it before they can leave. (Speculative Allegory from HarperCollins Christian Publishing [Thomas Nelson and Zondervan])
***UPDATE*** The winner is CHRIS KEMP-PHILP of the UK. Congratulations, Chris!
Welcome to Historytellers Scavenger Hunt! This is a hunt dedicated to novels historically set in the 1910s, 1920s and 1930s where all genres are welcome. You'll get the opportunity to discover new authors, new stories and to meet and talk to other readers who love this time period, not to mention that you'll have the opportunity to win the grand prize which include a digital copy of all the novels participating in the hunt.
—————————————————-
The hunt will be online only today 17 March 2019 from 00:00 to 23:59 EST.
Go to the Historytellers Scavenger Hunt page to find out all about the hunt.

How to hunt
Authors participating in the hunt
Entry form
Here's how it works:
***THE SCAVENGER HUNT***
Directions: I've included my lucky number on this post (You will spot it!). All my fellow authors participating in the hunt will include a lucky number on their posts. Collect the these numbers and add them up.
Entry Form: When you have that lucky total number, make sure you fill out the form here to officially qualify for the grand prize. Only entries that have the correct number will qualify.
Rules: Anyone can take part. To be eligible for the grand prize, you must submit the completed entry form by Sunday 17 March 23:59 EST. Entries sent without the correct number or without contact information will not be considered.
LET THE HUNT BEGIN!
ABOUT ME:
Hi! I'm Jennifer Lamont Leo.
My goal in writing historical fiction is to capture readers' hearts through stories set in times gone by. My first novel, You're the Cream in My Coffee, won an ACFW Carol Award for debut novel, and the sequel, Ain't Misbehavin', is a finalist for a Selah Award. My latest book, Songbird and Other Stories, is a collection of short stories penned in the same Roaring Twenties series as the novels. In addition to writing fiction, I'm a freelance writer, copywriter, and editor. Although I'm a native of the Chicago area, I now live on a remote mountain in beautiful northern Idaho with my husband, two cats, and abundant wildlife.

Introducing SONGBIRD and Other Stories
A speakeasy singer longs for a better life than the one she's always known.

A department-store clerk finds that the robe of her dreams may cost more than she bargained for.

A young girl wrestles with the pangs of growing up as she reunites with an old friend.
In Songbird and Other Stories, you'll find a delightful array of charming stories set in simpler times. From the grand department stores and smoky speakeasies of Prohibition-era Chicago to the pristine shores of Lake Coeur d'Alene, these winsome characters will capture your heart and sweep you back to the Jazz Age.

Look for it on Amazon or your favorite online retailer.
What the well-dressed jazz singer is wearing in 1928!
Meet Dot Rodgers, the heroine of Songbird. Let's take a sneak peek into Dot's closet. She won't mind!
My lucky number is 32!
Add up all the lucky numbers in the Scavenger Hunt and you'll have the secret code to enter for the grand prize!
***CONTINUE THE HUNT***
To keep going on your quest for the hunt, you need to check out the next author, CHRYSTYNA LUCYK-BERGER!
GOOD LUCK!!