novels
June 2020 New Releases
More in-depth descriptions of these books can be found on the ACFW Fiction Finder website.
Contemporary Romance:
Forever Home by Amy Grochowski — A Canadian Amish farmer proposes a convenient marriage to a Lancaster Amish businesswoman so they can join a new community welcoming married couples only. They are both surprised when a Prince Edward Island foster child finds her way to them in need of a home. Yet what will happen when the English world and the Amish world collide? (Romance from Ambassador International)
Start With Me by Kara Isaac — A professional woman and her old flame, who doesn't remember her, are forced to work together when the companies they work for merge. (Romance, Independently Published)
A Father's Promise by Mindy Obenhaus — Is he ready for fatherhood? He doesn't think he deserves a family… But now he has a daughter. Stunned to discover he has a child, Wes Bishop isn't sure he's father material. But his adorable daughter needs him, and he can't help feeling drawn to her mother, Laurel Donovan—a woman he's finally getting to know. But can this sudden dad overcome a past tragedy that has him convinced he's not meant to be a husband or a father…and make a promise of forever? (Romance from Love Inspired [Harlequin])
Historical:
Until June by Barbara M. Britton — When a young seamstress agrees to take care of a WWI amputee in a remote Alaskan lodge, there's enough friction to melt a glacier. (Historical from Inspired [Prism Book Group])
A Cord of Three Strands by Christy Distler — As 1756 dawns, Isaac Lukens is torn between loyalty to his Lenape heritage and a childhood friend who needs to marry in order to raise her siblings after her father was killed by his people. (Historical from Avodah Books)
Persuaded: The Story of Nicodemus by David Harder — From the prison colony on Patmos, the Apostle John entrusts Nicodemus with manuscripts for the Christian fellowships increasing throughout the Roman Empire. While transcribing the manuscript, Nicodemus is prompted to recall his former life and his encounter with Yeshua – a man of mystery, a healer, a teacher, and a prophet. An encounter that changed everything. Under the cover of darkness, risking his reputation and endangering his life even further, it is here that Nicodemus realizes the world-changing power of the Good News . . . and what being a follower of Yeshua truly means. (Historical from Ambassador International)
Historical Romance:
Love's Mountain Quest by Misty M. Beller — When a Rocky Mountain widow returns home from work to find her son and the woman watching him missing–and the sheriff dead–she enlists a man she prays has enough experience in this rugged country to help. (Historical Romance from Bethany House [Baker])
The Damsel's Intent by Mary Davis — Washington State 1893. Nicole Waterby has lived her whole life in the hills away from town due to her grandfather's mistrust of people. But now he's passed away, and Nicole is left to care for her two younger cousins. Feeling inadequate to handle the responsibility, she heads down the mountain to fetch herself a husband. She doesn't realize women don't wear trousers, buckskins, or carry a gun. She has a lot to learn about being a lady if she's going to catch a husband. And the quilting circle is just the group of women to help her. Rancher Shane Keegan has drifted from one location to another to find a place to belong. He longs to have a family of his own but feels doomed to live a life alone. When Nicole crosses his path, he wonders if he can have love, but he soon realizes she's destined for someone better than a saddle tramp. Even though he knows there's no future for him with the intriguing mountain girl, he still steps in to help her at every opportunity. Will love stand a chance while both Nicole and Shane try to be people they are not? (Historical Romance from Mountain Brook Ink)
Line By Line by Jennifer Delamere — Since she was young, Alice McNeil has seen success as a telegrapher as the best use for her keen and curious mind. Years later, she has yet to regret her freedom and foregoing love and marriage, especially when she acquires a coveted position at an important trading firm. But when the company's ambitious junior director returns to London, things begin to change in ways Alice could never have imagined. For Douglas Shaw, years of hard work and ingenuity enabled him to escape a life of grinding poverty. He's also determined to marry into high society—a step that will ensure he never returns to the conditions of his past. He immediately earns Alice's respect by judging her based on her skills and not her gender, and a fast camaraderie forms. However, when Alice accidentally angers a jealous coworker and his revenge threatens both their reputations, Alice and Douglas are forced to confront what is truly important in their lives. Will their growing bond give them the courage to see the future in a different light? (Historical Romance from Bethany [Baker])
An Appalachian Summer by Ann H Gabhart — After the market crash of 1933, the last thing Piper Danson wants is to flaunt her family's fortune while so many suffer. Although she reluctantly agrees to a debut party at her parents' insistence, she still craves a meaningful life over the emptiness of an advantageous marriage. When an opportunity to volunteer with the Frontier Nursing Service arises, Piper jumps at the chance. But, her spontaneous jaunt turns into something unexpected when she falls in love with more than just the breathtaking Appalachian Mountains. (Historical Romance from Revell – A Division of Baker Publishing Group)
The Widow & The War Correspondent by Linda Shenton Matchett — Are a new life and new love possible in a country devastated by war? Barely married before she was widowed after Pearl Harbor three years ago, journalist Cora Strealer travels to England where she's assigned to work with United Press's top reporter who thinks the last place for a woman is on the front lines. Can she change his opinion before D-Day? Or will she have to choose her job over her heart? A sought-after journalist, Van Toppel deserves his pick of assignments, which is why he can't determine the bureau chief's motive for saddling him with a cub reporter. Unfortunately, the beautiful rookie is no puff piece. Can he get her off his beat without making headlines…or losing his heart? (Historical Romance from Shortwave Press)
An Impossible Price by Davalynn Spencer — With no husband of her own, midwife Sophie Price lives to keep others calm in their hour of need. But when a handsome horse handler steps off the train with a fiery stallion, he brings anything but calm as he looks her dead in the eye and clear through to her soul. Clay Ferguson returns to the place he once called home, hunting a fresh start and the one woman who could draw him back. If he can hide his battered heart and the brutality of his past, maybe she'll take another look and give him a second chance. Both bear scars from their fathers. Both fight for life. Together, they may learn that love is worth its impossible price. (Historical Romance, Independently Published)
Mystery:
Pride and Pettiness by Elizabeth Ludwig — A hairdresser fears she may lose her business when appointments go terribly wrong. (Mystery from Guidepost Publications)
Romantic Suspense:
Don't Keep Silent by Elizabeth Goddard — Investigative reporter Rae Burke will do anything to find her missing sister-in-law, even if it means facing Liam McKade, a man who almost lost his life saving hers. (Romantic Suspense from Revell – A Division of Baker Publishing Group)
Closer Than She Knows by Kelly Irvin — Court reporter Teagan O'Rourke thinks her job taught her everything she needed to know about murder until a serial killer decides to teach her a new lesson–up and personal. (Romantic Suspense from HarperCollins Christian Publishing)
Direct Threat by Kimberly Rose Johnson — One little girl. Two bodyguards. Only one chance to guard their hearts. Protection Inc. co-owner, Carissa Jones, an ex-cop turned bodyguard, has one goal—keep her young client safe. When her business partner brings in a new guy to help, she discovers her heart desires more. Can she still do her job and follow her heart without compromising her client's safety? Marc Olsen, a former Military Police officer, struggles to find his way as a civilian. He agrees to help out an old friend for the summer. He gets more than he bargained for when he's assigned to work with the feisty co-owner of Protection Inc. When sparks fly faster than bullets, will the bodyguards be distracted from their task, or will they work together as an even stronger team? (Romantic Mystery, Independently Published)
Imminent Threat by Kimberly Rose Johnson — The Protection Inc. team is growing, and so is their client list. Former cop and new team member, Peter King, seeks to solve the mystery surrounding threatening notes being sent to Jenna Walsh. Facing an uncertain future, Jenna is afraid for her life. Will the team at Protection Inc., specifically Peter, be able to stop the threats before things escalate, or will tragedy strike before Peter is willing to face his growing attraction to Jenna? The team must divide and conquer when two big cases present themselves at the same time. Carissa Jones and Marc Olsen work to protect a young college student who is staying in the home of a federal judge. All work and no play has put a strain on their relationship. Can they find balance or will their fragile bond be extinguished? (Romantic Suspense, Independently Published)
Plain Refuge by Dana R. Lynn — On the run from hired gunmen, can she find safety in Amish country? After overhearing an illegal weapons deal, Sophie Larson knows two things: her uncle's a dangerous criminal…and he wants her dead. Now undercover cop Aiden Forster has no choice but to blow his cover and protect Sophie by hiding her and her deaf sister in Amish country. But with a mole in the police force, danger isn't far behind. (Romantic Suspense from Love Inspired [Harlequin])
Speculative:
Evocatus by Burke Speed — Jamie is a young veteran with a painful history. He's done battling for others…until the whole "fight for your life in a mini-mart" thing. Without warning, Jamie is attacked by a sword-wielding man and warned to stay away. From what, he's not sure. Unexpectedly, he is invited to join a covert band of brothers that fights to keep these evil beings, called Malum, at bay. To accept their invitation is to add death matches against evil to his resume. To decline is to live . . . at least for a while. Kate is a beautiful barista and an important member of this undercover organization. She just might have the key to victory over the Malum but is kidnapped before she can tell what she knows. Everything hinges on a timely rescue of Kate as Jamie's past and present collide. Now an Evocatus, a veteran called again to duty, Jamie must decide how far he's willing to go to fight-and love-again. (Speculative from Ambassador International)
Plus check out these recent additions to Fiction Finder published within the past month:

Three Steps Away by Luana Ehrlich, Romantic Suspense
Perfect in His Eyes by Linda Goodnight, Contemporary Romance
Cross Shadow by Andrew Huff, Thriller/Suspense
That Place Called Home by D. L. Lane, Romance
Then There Was You by D. L. Lane, Romantic Suspense
The Same River Twice by Mark Medley, Adventure
Fade to White by Tara Ross, Young Adult
Doubly Dead by Lisa Wessel, Cozy Mystery
More in-depth descriptions of these books can be found on the ACFW Fiction Finder website.
Contemporary Romance:
Stranded for the Holidays by Lisa Carter — Running away led her right where she belonged. A new mom for Christmas? She's everything they've wished for. Runaway bride AnnaBeth Cummings needs shelter for the holidays when a blizzard leaves her stranded, and rancher Jonas Stone's happy to help. But his son's been wishing for a mommy for Christmas, and town matchmakers are convinced Annabeth and Jonas are perfect for each other. As the storm clears, city girl AnnaBeth will have to decide: does her heart now belong in the country? (Contemporary Romance from Love Inspired [Harlequin])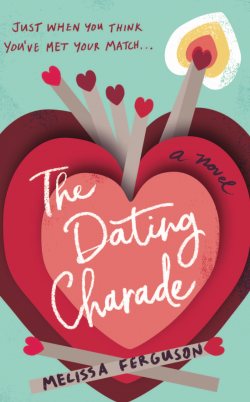 The Dating Charade by Melissa Ferguson — After a knockout first date where Cassie Everson and Jett Bentley claim to not want kids, both come home to find three children dropped in their laps. . . each. While struggling to keep their heads above the parental waters, and without wanting to break up their relationship, they decide to do the mature thing: hide the kids from each other while sorting it all out. What could go wrong? (Contemporary Romance from HarperCollins Christian Publishing)
Home for Christmas by Candee Fick — After an embarrassing failure, a prodigal retreats to a secluded cabin in backwoods Missouri where he encounters an intriguing young woman and an old guitar. When the message in the music touches his heart, will he make it home in time for Christmas? (Contemporary Romance, Independently Published)
Getting Out of the Comfort Zone: Ayanna by Barbara James — While interning as a hospital chaplain, a young military officer falls for an EMT who is an antiwar activist. (Contemporary Romance, Independently Published)
Children's:
Battle In The Valley by Susanne Blumer — The church bell tower transports Chip, Caroline and Billy back thousands of years to an ancient battlefield. There they meet a young shepherd destined to be king and a giant warrior bent on his destruction. Will the children survive the upcoming fight and make it back to Palmetto Island in one piece? (Middle-grade from Sutton Avenue Press)
Historical:
Hope Unchained by Carol Ashby — When a former legionary and a gladiator are hired to escort a young woman on her quest to rescue her brother and sister from slavery, more chains are broken by forgiveness and love than any of them thought possible. (Historical from Cerrillo Press)
Historical Romance:
The Major's Daughter by Regina Jennings — In a western land run, an adventurous socialite stakes a claim on an orphaned outlaw's chosen land, so he decides to stake a claim on her heart. (Historical Romance from Bethany House [Baker])
Sew In Love by Debby Lee, Jacquolyn McMurray, Darlene Panzera, and Kimberley Woodhouse — When four women put needle and thread to fabric, will their sewing lead to love? In Hearts Sewn with Love, during the California gold rush, a beautiful seamstress finds her heart torn between the men who want to marry her and the one fortune hunter who won't. In Woven Hearts, a shirtwaist factory fire survivor struggles to provide for her family despite the disastrous misguided intentions of the handsome union organizer who tries to help. In A Language of Love, a milliner with thick Irish accent and a renowned baseball player with speech impediment meet at the office of a language teacher. But the issues with their backgrounds that first brought them together will also drive them apart. In Tailored Sweethearts, a parachute seamstress struggles with her faith in desperate circumstances. A fighter pilot teaches her to hope in her darkest hours. (Historical Romance from Barbour Publishing)
The Rebel Bride by Shannon McNear — During the clash between Union and Confederacy, quiet Tennessean Pearl MacFarlane is compelled to nurse both Rebel and Yankee wounded who seek refuge at her family's farm. She is determined to remain unmoved by the Yankee cause—until she faces the silent struggle of Union soldier Joshua Wheeler, a recent amputee. The MacFarlane family fits no stereotype Joshua believed in; still he is desperate to regain his footing—as a soldier, as a man, as a Christian—in the aftermath of his debilitating injury. He will use his time behind enemy lines to gather useful intelligence for the Union—if the courageous Rebel woman will stay out of the line of danger. (Historical Romance from Barbour Publishing)
Romantic Suspense:
Silent Night Suspect by Sharee Stover — Suspected of a crime she knows she didn't commit… All she wants for Christmas is to remember. Blood on her blouse. A gun in her hand. A cartel leader's dead body in front of her. Widow Asia Stratton can't remember what happened—just that she's been framed. The only way to prove her innocence is to work with her ex-sweetheart, Nebraska state trooper Slade Jackson. But can they clear her name before this Christmas turns even deadlier? (Romantic Suspense from Love Inspired [Harlequin])
Speculative:
Brand of Light by Ronie Kendig — After a catastrophic explosion, Kersei Dragoumis awakens in a derelict shuttle, alone, injured, and ignorant of the forbidden technology that has swept her into a nightmare. The brand she's borne since childhood burns mysteriously, but the pain is nothing to that when she learns her family is dead and she is accused of their murders. Across the quadrants, Marco Dusan responds to the call of a holy order-not to join them, but to seek a bounty. Gifted-or cursed-with abilities that mark him a Kynigos, a tracker sworn to bring interplanetary fugitives to justice, Marco discovers this particular bounty has nothing to do with justice and everything to do with prophecy. One that involves the hunter as much as the hunted. (Speculative from Enclave Publishing)
Thriller/Suspense:
Laynie Portland, Renegade Spy by Vikki Kestell — Laynie must fight to earn her place on the task force—even as unfolding events expose a looming danger. Wolfe's task force has a leak . . . one that threatens them all. (Suspense, Independently Published)
Plus check out these recent additions to Fiction Finder published within the past month:
Promise for Tomorrow by Michelle De Bruin, Historical Romance
Call to Love by Mary A. Felkins, Contemporary Romance
Joy's Song by Ruth Kyser, Contemporary Romance
Hope Between Us by Christy LaShea, Contemporary Romance
The Trouble in Willow Falls by Pat Nichols, Contemporary
Off the Ground by Catherine Richmond, Historical Romance
Crinoline Cowboys by Patty Smith Hall, Cynthia Hickey, Marilyn Turk, Kathleen Y'Barbo, Historical Romance
A High-Country Christmas by Davalynn Spencer, Historical Romance
The Christmas Gazebo by Marilyn Turk, Lenora Worth, Historical Romance
April 2019 New Releases
More in-depth descriptions of these books can be found on the
ACFW Fiction Finder website
.
Children's:
The Heart Changer
by
Jarm Del Boccio
— Miriam is asked to do the impossible: serve the wife of Naaman, commander of the Syrian army. Clinging to treasured memories of home and faith, Miriam faces captivity with bitterness. Little does she know the Heart Changer is preparing her for a greater mission — far beyond what she could imagine. (Children's from Ambassador International)
Contemporary Romance:
Faith and Hope
by
Amy R. Anguish
— Younger sister Hope has lost her job, her car, and her boyfriend all in one day. Her well-laid plans for life have gone sideways, as has her hope in God. Older sister Faith is finally getting her dream-come-true after years of struggles and prayers. But when her mom talks her into letting Hope move in for the summer, will the stress turn her dream into a nightmare? Is her faith in God strong enough to handle everything? For two sisters who haven't gotten along in years, this summer together could be a disaster…or it could lead them to a closer relationship with each other and God. Can they overcome all life is throwing at them? Or is this going to destroy their relationship for good? (Contemporary Romance from Mantle Rock Publishing)
Match Made in Heaven
by
Julie Arduini
— Beth Prescott wants to make a difference with the senior citizens she serves as a volunteer coordinator, but their matchmaking efforts leave her guarded. She's experienced too much pain to make that leap again. Dean Kellerman returns to the Finger Lakes area to help his grandfather and heal his own broken heart. He's recommitted his life to Christ, and doesn't want any distractions. When his grandfather needs assistance with a senior program, it places Dean right in Beth's path. Can these two surrender their pasts to Christ and have faith in each other and their future? (Contemporary Romance from Surrendered Scribe Media)
An Amish Reunion
by
Amy Clipston
,
Kathleen Fuller
,
Kathleen Irvin
, and
Beth Wiseman
—
Their True Home
by Amy Clipston: Marlene Bawell's new friendship with an old crush is threatened when change once again disrupts the home she's tried to make in Bird-in-Hand.
A Reunion of Hearts
by Beth Wiseman: Separated after tragic grief, husband and wife Ruth and Gideon Beiler are reunited when they accept an invitation to a family reunion they each believe the other has declined.
A Chance to Remember
by Kathleen Fuller: Cevilla Schlabach, Birch Creek's resident octogenarian matchmaker, is surprised when Richard, a man from her Englisch past, arrives in Birch Creek for a visit. While he and Cevilla take several walks down memory lane, they wonder what the future holds for them at this stage of life—friendship, or the possibility of something else?
Mended Hearts
by Kelly Irvin: Abandoned by her father, penitent single mother Hannah Kauffman finds support in her old friend Phillip, who has loved her for years, but fears risking another mistake by opening herself up to love. (Contemporary Romance from HarperCollins Christian Publishing [Thomas Nelson and Zondervan])
Her New Amish Family
by
Carrie Lighte
— Widower Seth Helmuth needs a mother for his sons, but for now, hiring the Englischer next door as their nanny will have to do. Trina Smith plans to stay in Amish country only long enough to claim her inheritance and sell her grandfather's house. But as she falls for Seth, his twin boys and Amish life, will she inherit a home and a family? (Contemporary Romance from Love Inspired [Harlequin])
Beauty for Ashes
by
Kathleen Neely
— Well-known novelist Nathan Drummond revisits painful memories when family responsibilities force him to return to his home town. Although he'd intended the living situation to be temporary, Nathan didn't count on falling in love. As guilty memories threaten a return of panic attacks, Nathan begins to write a novel paralleling the tragic event from his youthful folly. Will the novel be seen as a work of fiction, or will it expose his secret? (Contemporary Romance from Harbourlight Books [Pelican])
Restoring Her Faith
by
Jennifer Slattery
— An artist fighting to save her career must find a way to work with the handsome yet stubborn cowboy overseeing a church restoration project–without falling for his southern charm. (Contemporary Romance from Love Inspired [Harlequin])
Sweet On You
by
Becky Wade
— Britt Bradford and Zander Ford have been the best of friends since they met thirteen years ago. Unbeknown to Britt, Zander has been in love with her for just as long. As they work together to investigate Zander's uncle's mysterious death, will the truth of what lies between them also, finally, come to light? (Contemporary Romance from Bethany House [Baker])
General Contemporary:
The Edge of Mercy
by
Heidi Chiavaroli
— A dying request from an elderly neighbor forces a woman in a troubled marriage to find the 300-year-old story of a young colonial woman—one forced into an unwanted betrothal but drawn to a man forbidden to her by society. (General Contemporary from Hope Creek Publishers)
All My Tears
by
Kathy McKinsey
— Meet five women who struggle with life's deep sorrows. Beth fights to recover from alcoholism and to mend her relationships with her family. Ann doesn't believe God will forgive her. Kathleen wrestles with a years-old fear and with saving her marriage. Cassie needs to learn to deal with chronic depression. Martie finds herself the single parent of the eight-year-old niece she barely knows when the child's parents die in a car wreck. See how God gives them the gifts of hope, healing, and love. (General Contemporary from Mantle Rock Publishers)
Historical:
The Refuge
by
Ann H Gabhart
— Can Darcie Goodwin find love and a way to keep her baby in a community that doesn't believe in marriage or individual family units? (Historical from Revell – A Division of Baker Publishing Group)
Historical Romance:
The Artful Match
by
Jennifer Delamere
— At loose ends in London after a near-tragedy, Cara Bernay finds herself at odds with the Earl of Morestowe after she befriends his brother, a talented but troubled young artist. Soon she finds herself drawn to the earl as she becomes more involved with his family. Like Cara, they are suffering from unresolved mistakes in their past. Can they form an unlikely alliance and find a way to a new beginning? (Historical Romance from Bethany House [Baker])
The Golden Bride
by
Kimberley Woodhouse
— Olivia Brighton finds herself widowed and working her brother's restaurant in San Francisco during the height of the 1849 Gold Rush. Even though she receives at least twenty marriage proposals a day, she will never marry a gold miner. Her brother's friend Joseph Sawyer has gotten caught up in local politics and the plight of Chinese in forced labor. The more Joseph gets pulled into investigating crime in the city, the less Olivia sees of the compassionate man. And just when she thinks she could love again, a fire threatens to steal all hope. (Historical Romance from Barbour Publishing)
Romantic Suspense:
Justice Delivered
by
Patricia Bradley
— An escaped victim of sex trafficking must find the courage to report her captors to the authorities—some of whom could be corrupt—when her niece is kidnapped by the ringleader. (Romantic Suspense from Revell – A Division of Baker Publishing Group)
You Shouldn't Have
by
Susan Page Davis
— "I SAW MY NEIGHBOR MURDER HIS WIFE!" But the police don't believe Petra Wilson. There's no body, no evidence, no murder. But Petra knows what she saw. And now her dangerous neighbor knows it, too. Her sisters introduce her to private investigator Joe Tarleton. Petra tells Joe her story, expecting him to decide there is no case. But the dedicated P.I. accepts her word, and he vows to uncover the truth. Still, he can't guard Petra twenty-four hours a day. In spite of her precautions, her neighbor makes inroads in her vulnerability. Petra is left open to a killer intent on silencing the only living witness. (Romantic Suspense from Tea Tin Press)
Beauty in Battle
by
Robin Patchen
— Harper doesn't want to return to Maryland to face the police. The mess she left behind makes her look guilty of the worst, but it's too late to run again. Red is safe and the authorities are waiting. At least Jack is by her side. Now that Jack knows the truth, his feelings for Harper are deeper than ever. He's not about to leave her side, especially knowing a killer is after her. But Derrick is on their trail, and he's come unhinged. And he may not be the biggest threat lurking. (Romantic Suspense, Independently Published [ACFW QIP])
Speculative:
Flight of the Raven
by
Morgan L. Busse
— Selene Ravenwood, once the heir to House Ravenwood, is now an exile. On the run and free of her family's destiny, Selene hopes to find the real reason her family was given the gift of dreamwalking. But first she must adapt to her new role as wife to Lord Damien Maris, the man she was originally assigned to kill. While adjusting to her marriage and her home in the north, her power over dreams begins to grow. As the strongest dreamwalker to exist in ages, her expanding power attracts not only nightmares but the attention of the Dark Lady herself. With a war looming on the horizon and a wicked being after her gift, Selene is faced with a choice: accept the Dark Lady's offer or search out the one who gave her the gift of dreamwalking. One path offers power, the other freedom. But time is running out, and if she doesn't choose soon, her decision will be made for her. (Speculative Fantasy from Bethany House [Baker])
Snow Globe Travelers: Samuel's Legacy
by
K.A. Cummins
— Transported into another world, an Austrian girl must face a genetically-engineered warrior with an army of vicious hybrids. (Hard Science Fiction (for Children), Independently Published)
The Baggage Handler
by
David Rawlings
— A hothead businessman coming to the city for a showdown meeting to save his job. A mother of three hoping to survive the days at her sister's house before her niece's wedding. And a young artist pursuing his father's dream so he can keep his own alive. When David, Gillian, and Michael each take the wrong suitcases from baggage claim, the airline directs them to retrieve their bags at a mysterious facility in a deserted part of the city. There they meet the enigmatic Baggage Handler, who shows them there is more in their baggage than what they have packed, and carrying it with them is slowing them down in ways they can't imagine. And they must deal with it before they can leave. (Speculative Allegory from HarperCollins Christian Publishing [Thomas Nelson and Zondervan])
April 2017 New Releases
More in-depth descriptions of these books can be found on the ACFW Fiction Finder website.
Contemporary Romance:
Sandpiper Cove by Irene Hannon — When a police chief and an ex-con join forces to keep a young man from falling into a life of crime, sparks fly. Given their backgrounds, it's not a promising match—but in Hope Harbor, anything is possible. (Contemporary Romance from Revell [Baker])
Oh Baby by Delia Latham — Dawni Manors seeks peace in Angel Falls, Texas. What she finds is a cowboy, an abandoned infant, and emotional chaos. If the Heart's Haven angels really are there, what in the world are they thinking? (Contemporary Romance from White Rose Publishing [Pelican])
General:
A Fragile Hope by Cynthia Ruchti — Where does a relationship expert turn when his wife leaves him and carries a tiny heartbeat with her? (General from Abingdon Press)
Waiting for Butterflies by Karen Sargent — When tragedy strikes, Maggie discovers a mother's love never ends–not even when her life does. Longing for her family after her sudden death, she becomes a lingering spirit and returns home where she helplessly witnesses her family's downward spiral in the aftermath of her passing. Her husband is haunted by past mistakes and struggles to redeem himself. Her teenage daughter silently drowns in her own guilt, secretly believing she caused her mother's death. Only her five-year-old, full of innocence, can sense her presence. Although limited by her family's grief and lack of faith, Maggie is determined to keep a sacred promise and save her family before her second chance runs out. (General from Walrus Publishing [Amphorae Publishing Group])
Mystery:
Sunset in Old Savannah by Mary Ellis — When a philandering husband turns up dead, two crack detectives find more suspects than moss-draped oaks in charming old Savannah, including a scheming business partner, a resentful mistress, and a ne'er-do-well brother. (Mystery from Harvest House Publishers)
Historical:
Above Rubies by Keely Brooke Keith — In 1863, young teacher Olivia Owens establishes the first school in the remote settlement of Good Springs while finding love. (Historical, Independently Published)
Historical Romance:
A Rose So Fair by Myra Johnson — Caleb Wieland would give anything to win farm girl Rose Linwood's heart, but Rose's stubborn independence is proving as thorny as the flower for which she's named. (Historical Romance, Independently Published)

Under the Same Sky by Cynthia Roemer — In 1854 Illinois, Becky Hollister wants nothing more than to live out her days on the prairie, building a life for herself alongside her future husband. But when a tornado rips through her parents' farm, killing her mother and sister, she must leave the only home she's ever known and the man she's begun to love to accompany her injured father to St. Louis.
Catapulted into a world of unknowns, Becky finds solace in corresponding with Matthew Brody, the handsome pastor back home. But when word comes that he is all but engaged to someone else, she must call upon her faith to decipher her future. (Historical Romance from Mantle Rock Publishing)

The Pony Express Romance Collection by Barbara Tifft Blakey, Mary Davis, Darlene Franklin, Cynthia Hickey, Maureen Lang, Debby Lee, Donna Schlachter, Connie Stevens and Pegg Thomas — Nine historical romances revive the brief era of the Pony Express. Join the race from Missouri, across the plains and mountains to California and back again as brave Pony Express riders and their supporters along the route work to get mail across country in just ten days. It is an outstanding task in the years 1860 to 1861, and only a few are up to the job. Faced with challenges of terrain, weather, hostile natives, sickness, and more, can these adventurous pioneers hold fast, and can they also find lasting love in the midst of daily trials? (Historical Romance from Barbour Publishing)
Romantic Suspense:
Plain Target
by
Dana R. Lynn
— Horse trainer Jess McGrath only wants to clear her disgraced brother's name, but enemies keep coming out of the woodwork and danger only gets closer. Jess soon learns that no place is safe—and no one can be trusted…except for the last white knight she'd ever expect to ride to her rescue. Paramedic Seth Travis was the boy behind her high school humiliation, but he's also the man keeping her alive. When they find sanctuary in the Amish community, can they uncover answers in time to stop a killer—and resolve their past in time to build a future together? (Romantic Suspense from Love Inspired [Harlequin])
Dangerous Testimony by Dana Mentink — Four weeks before she's set to testify at a gang murder trial, someone is determined to make sure that Candace Gallagher Andrews never takes the stand. When nowhere is safe for the private investigator or her little girl, Candace turns to the only person she can trust—longtime friend and former navy SEAL Marco Quidel. For Marco, protecting Candace is not just another duty. As the trial date nears and the killer stalks ever closer, Marco knows fear for the first time—the fear of losing Candace and her daughter. But while Marco begins seeing Candace as more than just a friend, her late husband's memory is never far from her mind. So he must keep Candace alive—and not get emotionally involved—long enough to put away a killer. (Romantic Suspense from Love Inspired [Harlequin])
Deep Extraction by DiAnn Mills — Special Agent Tori Templeton is determined to find who killed her best friend's husband. Tori finds an unexpected ally in the newest member of the task force, recently reinstated Deputy US Marshal Cole Jeffers. As Tori and Cole dig deeper into Nathan's personal and business affairs, they uncover more than they bargained for. And the closer they get to finding the real killer?and to each other?the more intent someone is on silencing them for good. (Romantic Suspense from Tyndale House)
Final Verdict by Jessica R. Patch — When Aurora Daniels becomes the target of someone seeking their own twisted justice, Sheriff Beckett Marsh is the only one who can rescue her. As a public defender, Aurora has angered plenty of people in town—and in her past. And while Beckett constantly clashes with the feisty lawyer professionally, it's his duty to protect and serve. Guarding her 24/7 is now his sole assignment. He may not have been able to save his fiancée from a dangerous felon, but he'll do whatever it takes to keep Aurora alive. Even if working with her to catch and convict this ruthless killer puts his heart in the crosshairs. (Romantic Suspense from Love Inspired [Harlequin])

Guardian by Terri Reed — When a fellow FBI agent is kidnapped and a protected witness vanishes, Leo Gallagher will stop at nothing to find them both. So when he discovers a link between the case and a single mother in Wyoming, Leo and his trusty K-9 partner rush to question Alicia Duncan. Could she be the key to locating the missing persons? Not if a killer has anything to say about it. Someone is determined to keep Alicia from talking, so Leo and his chocolate Lab must keep her and her little boy safe on their family ranch. With danger lurking around every corner, Leo must work overtime to not lose another person who's important to him. (Romantic Suspense from Love Inspired [Harlequin])

Witch by Denise Weimer — Having restored Michael Johnson's ancestors' house and apothecary shop and begun applying the lessons of family and forgiveness unearthed from the past, Jennifer Rushmore expects to complete her first preservation job with the simple relocation of a log home. But as her crew reconstructs the 1787 cabin, home to the first Dunham doctor, attacks on those involved throw suspicion on neighbors and friends alike. And while Jennifer has trusted God and Michael with the pain of her past, it appears Michael's been keeping his own secrets. Will she use a dream job offer from Savannah as an escape, or will a haunting tale from a Colonial diary convince her to rely on the faithfulness of his love? (Romantic Suspense from Canterbury House Publishing)
Speculative Romance/Fantasy:
The Fairetellings Series (Books 1 through 3) by Kristen Reed — Discover a trio of enchanting novellas inspired by three beloved fairy tales: Cinderella, Snow White, and Beauty and the Beast. (Speculative Romance/Fantasy, Independe
Save
Save
Save
Sign up for my Reader Community