new releases
June 2020 New Releases
More in-depth descriptions of these books can be found on the ACFW Fiction Finder website.
Contemporary Romance:
Forever Home by Amy Grochowski — A Canadian Amish farmer proposes a convenient marriage to a Lancaster Amish businesswoman so they can join a new community welcoming married couples only. They are both surprised when a Prince Edward Island foster child finds her way to them in need of a home. Yet what will happen when the English world and the Amish world collide? (Romance from Ambassador International)
Start With Me by Kara Isaac — A professional woman and her old flame, who doesn't remember her, are forced to work together when the companies they work for merge. (Romance, Independently Published)
A Father's Promise by Mindy Obenhaus — Is he ready for fatherhood? He doesn't think he deserves a family… But now he has a daughter. Stunned to discover he has a child, Wes Bishop isn't sure he's father material. But his adorable daughter needs him, and he can't help feeling drawn to her mother, Laurel Donovan—a woman he's finally getting to know. But can this sudden dad overcome a past tragedy that has him convinced he's not meant to be a husband or a father…and make a promise of forever? (Romance from Love Inspired [Harlequin])
Historical:
Until June by Barbara M. Britton — When a young seamstress agrees to take care of a WWI amputee in a remote Alaskan lodge, there's enough friction to melt a glacier. (Historical from Inspired [Prism Book Group])
A Cord of Three Strands by Christy Distler — As 1756 dawns, Isaac Lukens is torn between loyalty to his Lenape heritage and a childhood friend who needs to marry in order to raise her siblings after her father was killed by his people. (Historical from Avodah Books)
Persuaded: The Story of Nicodemus by David Harder — From the prison colony on Patmos, the Apostle John entrusts Nicodemus with manuscripts for the Christian fellowships increasing throughout the Roman Empire. While transcribing the manuscript, Nicodemus is prompted to recall his former life and his encounter with Yeshua – a man of mystery, a healer, a teacher, and a prophet. An encounter that changed everything. Under the cover of darkness, risking his reputation and endangering his life even further, it is here that Nicodemus realizes the world-changing power of the Good News . . . and what being a follower of Yeshua truly means. (Historical from Ambassador International)
Historical Romance:
Love's Mountain Quest by Misty M. Beller — When a Rocky Mountain widow returns home from work to find her son and the woman watching him missing–and the sheriff dead–she enlists a man she prays has enough experience in this rugged country to help. (Historical Romance from Bethany House [Baker])
The Damsel's Intent by Mary Davis — Washington State 1893. Nicole Waterby has lived her whole life in the hills away from town due to her grandfather's mistrust of people. But now he's passed away, and Nicole is left to care for her two younger cousins. Feeling inadequate to handle the responsibility, she heads down the mountain to fetch herself a husband. She doesn't realize women don't wear trousers, buckskins, or carry a gun. She has a lot to learn about being a lady if she's going to catch a husband. And the quilting circle is just the group of women to help her. Rancher Shane Keegan has drifted from one location to another to find a place to belong. He longs to have a family of his own but feels doomed to live a life alone. When Nicole crosses his path, he wonders if he can have love, but he soon realizes she's destined for someone better than a saddle tramp. Even though he knows there's no future for him with the intriguing mountain girl, he still steps in to help her at every opportunity. Will love stand a chance while both Nicole and Shane try to be people they are not? (Historical Romance from Mountain Brook Ink)
Line By Line by Jennifer Delamere — Since she was young, Alice McNeil has seen success as a telegrapher as the best use for her keen and curious mind. Years later, she has yet to regret her freedom and foregoing love and marriage, especially when she acquires a coveted position at an important trading firm. But when the company's ambitious junior director returns to London, things begin to change in ways Alice could never have imagined. For Douglas Shaw, years of hard work and ingenuity enabled him to escape a life of grinding poverty. He's also determined to marry into high society—a step that will ensure he never returns to the conditions of his past. He immediately earns Alice's respect by judging her based on her skills and not her gender, and a fast camaraderie forms. However, when Alice accidentally angers a jealous coworker and his revenge threatens both their reputations, Alice and Douglas are forced to confront what is truly important in their lives. Will their growing bond give them the courage to see the future in a different light? (Historical Romance from Bethany [Baker])
An Appalachian Summer by Ann H Gabhart — After the market crash of 1933, the last thing Piper Danson wants is to flaunt her family's fortune while so many suffer. Although she reluctantly agrees to a debut party at her parents' insistence, she still craves a meaningful life over the emptiness of an advantageous marriage. When an opportunity to volunteer with the Frontier Nursing Service arises, Piper jumps at the chance. But, her spontaneous jaunt turns into something unexpected when she falls in love with more than just the breathtaking Appalachian Mountains. (Historical Romance from Revell – A Division of Baker Publishing Group)
The Widow & The War Correspondent by Linda Shenton Matchett — Are a new life and new love possible in a country devastated by war? Barely married before she was widowed after Pearl Harbor three years ago, journalist Cora Strealer travels to England where she's assigned to work with United Press's top reporter who thinks the last place for a woman is on the front lines. Can she change his opinion before D-Day? Or will she have to choose her job over her heart? A sought-after journalist, Van Toppel deserves his pick of assignments, which is why he can't determine the bureau chief's motive for saddling him with a cub reporter. Unfortunately, the beautiful rookie is no puff piece. Can he get her off his beat without making headlines…or losing his heart? (Historical Romance from Shortwave Press)
An Impossible Price by Davalynn Spencer — With no husband of her own, midwife Sophie Price lives to keep others calm in their hour of need. But when a handsome horse handler steps off the train with a fiery stallion, he brings anything but calm as he looks her dead in the eye and clear through to her soul. Clay Ferguson returns to the place he once called home, hunting a fresh start and the one woman who could draw him back. If he can hide his battered heart and the brutality of his past, maybe she'll take another look and give him a second chance. Both bear scars from their fathers. Both fight for life. Together, they may learn that love is worth its impossible price. (Historical Romance, Independently Published)
Mystery:
Pride and Pettiness by Elizabeth Ludwig — A hairdresser fears she may lose her business when appointments go terribly wrong. (Mystery from Guidepost Publications)
Romantic Suspense:
Don't Keep Silent by Elizabeth Goddard — Investigative reporter Rae Burke will do anything to find her missing sister-in-law, even if it means facing Liam McKade, a man who almost lost his life saving hers. (Romantic Suspense from Revell – A Division of Baker Publishing Group)
Closer Than She Knows by Kelly Irvin — Court reporter Teagan O'Rourke thinks her job taught her everything she needed to know about murder until a serial killer decides to teach her a new lesson–up and personal. (Romantic Suspense from HarperCollins Christian Publishing)
Direct Threat by Kimberly Rose Johnson — One little girl. Two bodyguards. Only one chance to guard their hearts. Protection Inc. co-owner, Carissa Jones, an ex-cop turned bodyguard, has one goal—keep her young client safe. When her business partner brings in a new guy to help, she discovers her heart desires more. Can she still do her job and follow her heart without compromising her client's safety? Marc Olsen, a former Military Police officer, struggles to find his way as a civilian. He agrees to help out an old friend for the summer. He gets more than he bargained for when he's assigned to work with the feisty co-owner of Protection Inc. When sparks fly faster than bullets, will the bodyguards be distracted from their task, or will they work together as an even stronger team? (Romantic Mystery, Independently Published)
Imminent Threat by Kimberly Rose Johnson — The Protection Inc. team is growing, and so is their client list. Former cop and new team member, Peter King, seeks to solve the mystery surrounding threatening notes being sent to Jenna Walsh. Facing an uncertain future, Jenna is afraid for her life. Will the team at Protection Inc., specifically Peter, be able to stop the threats before things escalate, or will tragedy strike before Peter is willing to face his growing attraction to Jenna? The team must divide and conquer when two big cases present themselves at the same time. Carissa Jones and Marc Olsen work to protect a young college student who is staying in the home of a federal judge. All work and no play has put a strain on their relationship. Can they find balance or will their fragile bond be extinguished? (Romantic Suspense, Independently Published)
Plain Refuge by Dana R. Lynn — On the run from hired gunmen, can she find safety in Amish country? After overhearing an illegal weapons deal, Sophie Larson knows two things: her uncle's a dangerous criminal…and he wants her dead. Now undercover cop Aiden Forster has no choice but to blow his cover and protect Sophie by hiding her and her deaf sister in Amish country. But with a mole in the police force, danger isn't far behind. (Romantic Suspense from Love Inspired [Harlequin])
Speculative:
Evocatus by Burke Speed — Jamie is a young veteran with a painful history. He's done battling for others…until the whole "fight for your life in a mini-mart" thing. Without warning, Jamie is attacked by a sword-wielding man and warned to stay away. From what, he's not sure. Unexpectedly, he is invited to join a covert band of brothers that fights to keep these evil beings, called Malum, at bay. To accept their invitation is to add death matches against evil to his resume. To decline is to live . . . at least for a while. Kate is a beautiful barista and an important member of this undercover organization. She just might have the key to victory over the Malum but is kidnapped before she can tell what she knows. Everything hinges on a timely rescue of Kate as Jamie's past and present collide. Now an Evocatus, a veteran called again to duty, Jamie must decide how far he's willing to go to fight-and love-again. (Speculative from Ambassador International)
Plus check out these recent additions to Fiction Finder published within the past month:

Three Steps Away by Luana Ehrlich, Romantic Suspense
Perfect in His Eyes by Linda Goodnight, Contemporary Romance
Cross Shadow by Andrew Huff, Thriller/Suspense
That Place Called Home by D. L. Lane, Romance
Then There Was You by D. L. Lane, Romantic Suspense
The Same River Twice by Mark Medley, Adventure
Fade to White by Tara Ross, Young Adult
Doubly Dead by Lisa Wessel, Cozy Mystery
November 2019 New Releases
More in-depth descriptions of these books can be found on the ACFW Fiction Finder website.
Contemporary Romance:
Royally Yours by Betsy St. Amant, Ashley Clark, Liz Johnson, and Melissa Tagg — Tinsel, Vermont is known for its no-paparazzi policy and Christmas decorations that are fit for a queen. This holiday season, join four royals on a stroll through town square as they each find their Christmas wishes for a happily-ever-after…tiaras optional. (Contemporary Romance, Independently Published)
Restoring Christmas by Julie Arduini — A young woman overcome by grief teams up with a special education teacher to bring joy to the community through a Christmas-themed tourist attraction. (Contemporary Romance from Surrendered Scribe Media)
Valerie's Verdict by Hallee Bridgeman — Broken and battered, Valerie comes home and finds a lifetime of love waiting for her. (Contemporary Romance, Independently Published)
An Unexpected Family by June Foster — Grant Elliot leaves his father's veterinarian dynasty and overambitious twin brother to practice in the small town of Homedale, California. When local baker Kate Klein brings her ailing dog into the office, Grants's intrigued by the lab's gorgeous owner. He wants to get to know her but can't reveal his origins. What would she think if she knew his father's clinics cater only to the wealthy who spoil and pamper their pets instead of practicing genuine medicine? Kate Kline inherits Aunt Ella's Bake Shop when her aunt passes away and must make a success of the failing business or lose her father's respect. Now California Plastics, her major account, has moved their plant to Sacramento. She's faced with the possibility of closure and won't accept Grant's offer to bail her out. She doesn't need a man's help. (Contemporary Romance from Forget Me Not Romances [Winged Publications])
All is Bright by Chautona Havig, Toni Shiloh, Cathe Swanson, and Kari Trumbo — Four of your favorite contemporary romance authors join festive forces to bring you the fourth-annual Christmas Lights Collection. (Contemporary Romance, Independently Published)
Simply Smitten by Kimberly Rose Johnson — Business brought them together but will betrayal pull them apart? Michael Pierce co-owns a start-up software development company. They are well on their way to success when Michael discovers something that changes everything. Can the beautiful economist he hired fix the mess, or are they doomed to bankruptcy? Hailey is under a lot of pressure at work. Not the least of which comes directly from her new boss. She's dreamed of being a successful businesswoman, but now her heart wants more. Can she have love and a career, or will she have to choose? (Contemporary Romance, Independently Published)
By All Appearances by Dawn Kinzer — An attractive special events planner from a wealthy family and a disfigured musician find their lives entangled when he is hired as a caretaker on her family's estate. (Contemporary Romance from Mountainview Publishing)
Courting the Amish Nanny by Carrie Lighte — Embarrassed by an unrequited crush, Amish maedel Sadie Dienner needs a vacation from her life in Pennsylvania—and from romance. Until Christmas, she's working in Maine as a nanny to Amish widower Levi Swarey's twins. But Levi is frustratingly overprotective and they just can't see eye to eye on anything. And the worst part? Sadie can't seem to stop herself from losing her heart… (Contemporary Romance from Love Inspired [Harlequin])
General Contemporary/Women's Fiction:
Meant For Her by Joy Avery Melville — Kidnapped, raped, brutally beaten, and left for dead, Candi Reynolds becomes a prisoner of fear. Faced also with the impact of the unexpected break-up with her fiancé, and an unwanted pregnancy resulting from the attacks, she believes God has forsaken her. Choosing to move back to the Michigan horse farm owned by her older brother, Dr. Cam Reynolds, Candi goes into seclusion. Dr. Patrick (Mack) MacKevon, long-time friend of Cam's, watches from the sidelines at the farm where his horses are stabled, while Candi struggles to regain a sense of normalcy. His own big-brother tendencies develop into a much deeper emotion over the months he prays for her. Is it possible for Candi to put all of the pain and trauma behind her and renew her former relationship with the Lord? Will she allow her heart to open enough to discover authentic love, while making decisions of victory on her personal journey to joy? (General Contemporary, Independently Published)
When I Close My Eyes by Elizabeth Musser — A bestselling author, her daughter, and the perpetrator of her assassination attempt are brought together in a story about complicated choices, mental illness, forgiveness and grace. Set against the flaming hills of North Carolina and the peaceful shores of the Mediterranean Sea, When I Close My Eyes tells the story of two families, struggling with dysfunction and finding that love is stronger than death. (Contemporary from Bethany House [Baker])
A Beautiful Mess by Brenda S. Anderson — A single mother becomes guardian of her ex-husband's love child. (Women's Fiction, Independently Published)
Historical:
Wounded Heart
by
Colleen Hall
— Orphaned Della Hughes chafes at her strict Victorian upbringing and goes west with her uncle's family in order to find adventure and freedom. (Historical from Anaiah Press)
Misleading Miss Verity by Carolyn Miller — What happens when the hoydenish youngest daughter of the Viscount Aynsley is spirited off to Scotland and meets a kindhearted gardener of the mysterious Laird of Dungally? (Historical from Kregel Publications)
The Silk Merchant of Sychar by Cindy Williams — One woman, five husbands and a weary rabbi at the well who knows 'everything she ever did.' From the olive groves of Samaria to the bloodied sand of a Roman stadium to the exquisite silks brought from the East, The Silk Merchant of Sychar weaves color into the biblical account of the woman at the well. (Historical from Rhiza Press)
Historical Romance:
The Highlanders by J'nell Cieselski, Janet S. Grunst, Jennifer Lamont Leo, and Naomi Musch — Never underestimate the heart of a Highlander in these four romantic novellas set across two centuries from 1715 to 1915. (Historical Romance from Lighthouse Publishing of the Carolinas)
Marisol by Elva Cobb Martin — Alone and with child, Marisol Valentin flees Spain after murdering the nobleman who molested her. She is sold as an indentured servant at the Charles Town Harbor, but her ship is captured at sea by privateer Captain Ethan Becket, once a Charles Town minister, who is grieving his deceased wife. Ethan decides Marisol's elegant manners make her a perfect governess for his young son. But when he sets out on a quest to find his captured sister, said to be in Cartagena, little does he expect his new Spanish governess to stow away on his ship with her six-month-old child. Her offer of help to free his sister, however, is too tempting to pass up. As is her beauty and strength of character—until he learns she is a wanted murderess. Once their paths intertwine on a journey filled with danger, intrigue, and romance, only love and the grace of God can overcome their pasts and ignite a new beginning. (Historical Romance from Wild Heart Books)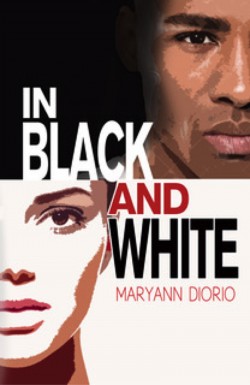 In Black and White by MaryAnn Diorio — When graduate student Tori Pendola and Jebuni Kalitsi, a Ghanaian exchange student and heir to his tribe's chieftaincy, fall deeply in love, they must face not only their own inner demons of rejection and guilt but also the demons of societal hatred bent on destroying their relationship. Will their love survive the cruel and bitter attacks against them? (Historical Romance from TopNotch Press)
Serving Up Love by Regina Jennings, Tracie Peterson, Jen Turano, and Karen Witemeyer — On the Menu for These Ladies? Adventure, Independence, and a Big Serving of Romance! A storied part of American history, Harvey Houses offered women a unique chance to gain independence and see amazing parts of this great country. (Historical Romance from Bethany House [Baker] Publishing)
While the Rain Whispered by Kim Williams — Clara Williams has a good life, but she would walk away from it if she could. She longs for adventure greater than both the confines her rural Texas town and the people she loves have to offer. Clara is certain the stories she writes for children contain more adventure than her reality. She cannot reconcile the internal frustration with her faith. When opportunity presents itself at last, Clara is faced with a choice between the life she's known and the life she longs to know, and the men who each belong in one but not the other. (Historical Romance, Independently Published)
Mystery/Thriller/Suspense:
Pocket Change by Debbie Archer — When Publisher's Clearing House winner, Mary Clare Casteel, decides to help rejuvenate her dying town, she has no idea she'll end up solving not one but two mysterious deaths. (Cozy Mystery from Mantle Rock Publishing)
Dead Wrong by Vannetta Chapman — When Agatha Lapp's brother and sister-in-law are tragically killed in a buggy accident, Agatha relocates to the new Amish community in Hunt Texas, nestled in the Texas Hill Country. She's there to make a success of her brother's dream–an Amish B&B. Agatha is friendly, efficient, and capable. She's also a fifty-five year old widow who has learned to be independent. When she discovers Russell Dixon's lifeless body in Cabin 3, she runs next door where retired detective Tony Vargas lives. The police determine that her guest died of natural causes, but as Agatha and Tony put together the events of the previous two days they become convinced that the police are Dead Wrong. (Cozy Mystery, Independently Published)
A Cross to Kill by Andrew Huff — John Cross is a small-town pastor, bent on leading his flock to follow God's calling. He's not the sort of man one would expect to have a checkered past. But the truth is that the man behind the pulpit preaching to his sheep was once a wolf–an assassin for the CIA. When John decided to follow Christ, he put that work behind him, determined to do penance for all the lives he took. He vowed never to kill again. Now someone wants the peaceful pastor to pay for his sins with his own life. And when a terrorist out for revenge walks into the church, John's secrets are laid bare. Can he keep his vow–even when the people he loves are in mortal danger? Will his congregation and the brave woman he's learning to care for be caught in the cross fire? In the end, John's life may be the only sacrifice he has left to offer. . . (Thriller/Suspense from Kregel Publications)
The Sleuth's Conundrum by Kimberly Rose Johnson — Danger lurks and suspicions abound when a librarian, her young assistant, and a local reporter try to solve the mysteries of both a dead woman and an abandoned child. (Cozy Mystery from Mountain Brook Ink)
Deadly Harmony by Marissa Shrock — Georgia Rae Winston's romance has broken up. But that's the least of her problems. Georgia and Detective Cal Perkins are through. Fine. Maybe it's an opportunity to give charmer Hamlet Miller a chance. But there's no time for romance when Georgia hosts her stepsister and her roommate, Quincy, during a college chorale tour—and Quincy steals Georgia's car and disappears. When her car turns up in a cemetery with a cryptic note lying on the front seat, Georgia decides to take action. As Georgia and her stepsister dig into the mystery, they uncover Quincy's tumultuous past. A past that points to a frightening present. They dig deeper and discover a web of deception they're determined to untangle, if they can stay alive long enough to bring the truth to light. (Cozy Mystery, Independently Published)
Romantic Suspense:
One Day Gone by Luana Ehrlich — Mylas Grey, the chief investigator for Senator Davis Allen, enlists the help of a beautiful photographer when he returns to his hometown to investigate the disappearance of Lizzie Allen, the senator's missing daughter. (Romantic Suspense, Independently Published)
Dangerous Christmas Memories by Sarah Hamaker — Hiding in witness protection is the only option for Priscilla Anderson after witnessing a murder. Then Lucas Langsdale shows up claiming to be her husband right when a hit man finds her. With partial amnesia, she has no memory of her marriage or the killer's identity. Yet she will have to put her faith in Luc if they both want to live to see another day. (Romantic Suspense from Love Inspired [Harlequin])
Speculative:
What If? by Roger E. Bruner — Three teens join forces with Holyland's outgoing president to prevent the inevitable election of a man who's determined to wipe out the remnant of New America's few remaining Christians. (Speculative, Independently Published)
Look what the March winds blew in! Whether your taste in fiction leans toward "lion" or "lamb," you'll find plenty to choose from among these brand-new novels. (Psst! Take a look at lucky #13!)
March 2018 New Releases
More in-depth descriptions of these books can be found on the ACFW Fiction Finder website.
Contemporary Romance:
Finally a Bride by Renee Andrews — Her dreams of love haven't worked out, but veterinarian Haley Calhoun intends to grant an orphaned boy's wish. She'll heal Eli's injured puppy—while resisting his charming counselor, Gavin Thomason, at the children's home. Still mourning the loss of his wife and baby, Gavin believes he can't commit again. But in losing their hearts to Eli, will Haley and Gavin discover they've found the family they need? (Contemporary Romance from Love Inspired [Harlequin])
Love and Roses by Sally Bayless — Looking for a fresh start, former Manhattan lawyer Nate Redmond agrees to arrange the sale of the outdated Rose Park in small-town Missouri, not realizing it has deep sentimental value to his new neighbor, Abby Kincaid—a beautiful widow he'd like to impress. When their plans for the park clash, he learns he's competing against the memory of her husband, a decorated war hero. With plenty of past mistakes hiding in the in the hedges, can Abby and Nate learn forgiveness and courage in time for love to grow? (Contemporary Romance from Kimberlin Belle Publishing)
Courting Her Amish Heart by Mary Davis — In this first book of the Prodigal Daughters series, Kathleen Yoder comes home after fourteen years in the Englisher world. Practicing medicine means sacrifice—no Amish man will want a doctor for a wife. Widowed Noah Lambright offers a cottage as her new clinic, seeing how much Kathleen's skills can help their community. But as their friendship deepens, could love and family become more than a forbidden dream? (Contemporary Romance from Love Inspired [Harlequin])
The Amish Nanny's Sweetheart by Jan Drexler — As nanny for her nephew, Judith Lapp is finally part of a vibrant, joyful Amish community instead of living on the outskirts looking in. But teaching her neighbors' Englischer farm worker to read Pennsylvania Dutch wasn't part of her plan. And the more time she spends with Guy Hoover, the more he sparks longings for a home and family of Judith's own. Guy figured he would never be truly accepted by his Amish employers' community – even though the Mast family treats him like a son. But Judith's steadfast caring shows him that true belonging could be within his reach…if he and Judith can reconcile their very different hopes – and hearts. (Contemporary Romance from Love Inspired [Harlequin])
The Reluctant Groom by Kimberly Rose Johnson — When Ray O'Brien's world is turned upside down, Katie Fairchild wants to help, but the personal cost is high. Neither desires a marriage of convenience, but when Katie blurts the first thing that comes to her mind Ray can't dismiss her offer of marriage. It would solve all his problems except for one thing—they aren't in love. Can these two friends team up for the greater good and perhaps find love along the way, or are their expectations impossible? (Contemporary Romance, Independently Published)
Anna's Forgotten Fiance by Carrie Lighte — An accident leaves Anna Weaver with no memory of her Amish hometown's newest arrival—her fiancé! After a whirlwind courtship, their wedding's in six weeks…but how can she marry a man she can't remember? Carpenter Fletcher Chupp takes her on a walk down memory lane, but there's one thing he wants to keep hidden: a secret that might just lose him the woman he loves. (Contemporary Romance from Love Inspired [Harlequin])
Grace Restored by Toni Shiloh — Michelle Thomas has it all. Beautiful and successful, she's just opened her own law firm in Freedom Lake. What more could she want? When her old flame rolls back into Freedom Lake, she's intent on ignoring him. But how can she give the widower and his precious twin girls the cold shoulder?
Still reeling from the death of his wife, Guy Pierre returns to Freedom Lake to take over as town sheriff and raise his twin daughters. Alone. Yet, life keeps throwing Michelle in his path and sparks of interest began to rise. Will old secrets tear them apart again or can they find the faith to let God's grace restore what has been broken? (Contemporary Romance, Independently Published)
General & Women's Fiction:
Justice by Emily Conrad — Jake thought he was meant to marry Brooklyn, but now she's pregnant, and he had nothing to do with it. Brooklyn can't bring herself to name the father as she wrestles with questions about what her pregnancy means and how it will affect her relationship with Jake. If Harold Keen, the man who owns the bookstore across from Jake's coffee shop, has anything to do with it, the baby will ruin them both. (General from White Rose Publishing [Pelican])
The Heart Between Us by Lindsay Harrel — When her heart donor's parents give Megan Jacobs their teenage daughter's journal—complete with an unfulfilled bucket list—Megan connects with the girl she meets between the pages and is inspired to venture out and check off each item. (General from HarperCollins Christian Publishing)
Sweet Meets by Deborah Raney — From short stories to novellas, from contemporary to historical, all of award-winning author Deborah Raney's short works have been gathered into one great collection for one low price.
Includes the following novellas and short stories: Going Once, Special Delivery, Haiti's Song, Prairie Lessons, Finally Home, Circle of Blessings. (Women's Fiction from Raney Day Press)
Historical Romance:
Seven Brides for Seven Texas Ranchers Romance Collection by Amanda Barratt, Susan Page Davis, Vickie McDonough, Gabrielle Meyer, Lorna Seilstad, Erica Vetsch, and Kathleen Y'Barbo — Join seven Texas Rangers on the hunt for a menacing gang, who run straight into romances with women who foil their plans for both the job and their futures. (Historical Romance from Barbour Publishing)
A Chance at Forever by Melissa Jagears — In early 1900s Kansas, Mercy McClain serves on the schoolboard, determined to protect Teaville's children from the bullying she experienced as a child. When Aaron Firebrook, the classmate who bothered her more than any other, petitions the board for a teaching position, she's dead set against him getting the job. Aaron has returned to his hometown a changed man and is seeking to earn forgiveness of those he wronged. He sets out to prove to Mercy he now has the best interests of the children at heart. Will resentment and old wounds hold them back, or can Mercy and Aaron put the past behind them in time to face the unexpected threats to everything they're working for? (Historical Romance from Bethany House [Baker])
Ain't Misbehavin' by Jennifer Lamont Leo — In Jazz Age Chicago, Dot Rodgers sells hats at Marshall Field while struggling to get her singing career off the ground. Independent and feisty, she's the life of the party. But underneath the glitter, she doesn't believe she's worth the love of a good man. Small-town businessman Charlie Corrigan carries scars from the Great War. After all he's been through, he wants nothing more than to marry and start a family. But the woman he loves is a flamboyant flapper, used to a more glamorous life than he can offer. As his fortunes climb with the stock market, it seems he's finally going to win her love. But what happens when it all comes crashing down? (Historical Romance from Lighthouse Publishing of the Carolinas)
A Most Noble Heir by Susan Anne Mason — A young man suddenly thrust into nobility is torn between the servant girl he hopes to marry and the father he's always longed for. (Historical Romance from Bethany House [Baker])
Safe Refuge by Pamela S. Meyers — Wealthy Chicagoan, Anna Hartwell, is about to wed a man she loathes. The Great Chicago Fire erupts, postponing the wedding. After escaping to Wisconsin with her family she realizes she loves Irish immigrant, Rory Quinn, and prepares to break the wedding plans, which are still on. Then she learns a dark family secret that changes her life forever. (Historical Romance from Mantle Rock Publishing)
Husband by Arrangement by Angel Moore — Abandoned by her secret fiancé, the mayor's pregnant daughter marries the sheriff. Can she overcome her past and help him save the town from corruption? (Historical Romance from Love Inspired [Harlequin])
Beneath A Prairie Moon by Kim Vogel Sawyer — Abigail Brantley grew up in affluence, but when she is cast from the social registers due to her father's illegal dealings, she finds herself forced into a role she never imagined: tutoring rough Kansas ranchers in manners and morals so they can "marry up" with their mail-order brides. Mack Cleveland, whose father was swindled by a mail-order bride, wants no part of the scheme to bring Eastern women to Spiveyville, Kansas, and he's put off by the snooty airs of the "little city gal" in their midst. But as time goes by, his heart goes out to the teacher who tries so diligently to smooth the rough edges from the grooms-to-be. How can he teach her that perfection won't bring happiness? (Historical Romance from Waterbrook/Multnomah [Random House])
Romantic Suspense:
Beneath the Surface by Lynn H. Blackburn — After a harrowing experience with an obsessed patient, oncology nurse practitioner Leigh Weston moves home to Carrington, North Carolina to leave behind her troubled past. But when someone tampers with her brakes, she fears the past has chased her into the present. Leigh reaches out for help from her high school friend and volunteer underwater investigator, Ryan Parker. But when Ryan finds the body of a wealthy businessman in Lake Porter, the investigation uncovers a possible serial killer—one with a terrifying connection to Leigh and deadly implications for them all. (Romantic Suspense from Revell – A Division of Baker Publishing)
Secret Service Setup by Jessica R. Patch — Secret Service agent Evan Novak becomes the target of multiple hit men when someone puts a two-million-dollar bounty on his head. Is it the gunrunner he's tracking…or a traitorous agent? Framed and wanted, Evan reluctantly accepts protection from bodyguard Jody Gallagher, his former love who lost her Agency career because of him. But then the bounty is raised to include Jody… (Romantic Suspense from Love Inspired [Harlequin])
Fugitive Spy by Jordyn Redwood — A spy with amnesia—and a mission he can't remember. When Casper English lands in her ER with amnesia, Dr. Ashley Drager learns he has a picture of her…and the same tattoo as her long-missing father. With a dangerous man after Casper, and his memories possibly holding the key to finding Ashley's father, she secretly whisks him away from the hospital. But can she keep him alive long enough to help him regain his memories? (Romantic Suspense from Love Inspired [Harlequin])
Sign up for my Reader Community