books
More in-depth descriptions of these books can be found on the ACFW Fiction Finder website.
Contemporary Romance:
Stranded for the Holidays by Lisa Carter — Running away led her right where she belonged. A new mom for Christmas? She's everything they've wished for. Runaway bride AnnaBeth Cummings needs shelter for the holidays when a blizzard leaves her stranded, and rancher Jonas Stone's happy to help. But his son's been wishing for a mommy for Christmas, and town matchmakers are convinced Annabeth and Jonas are perfect for each other. As the storm clears, city girl AnnaBeth will have to decide: does her heart now belong in the country? (Contemporary Romance from Love Inspired [Harlequin])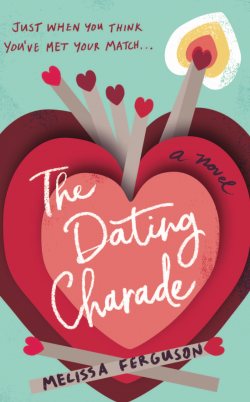 The Dating Charade by Melissa Ferguson — After a knockout first date where Cassie Everson and Jett Bentley claim to not want kids, both come home to find three children dropped in their laps. . . each. While struggling to keep their heads above the parental waters, and without wanting to break up their relationship, they decide to do the mature thing: hide the kids from each other while sorting it all out. What could go wrong? (Contemporary Romance from HarperCollins Christian Publishing)
Home for Christmas by Candee Fick — After an embarrassing failure, a prodigal retreats to a secluded cabin in backwoods Missouri where he encounters an intriguing young woman and an old guitar. When the message in the music touches his heart, will he make it home in time for Christmas? (Contemporary Romance, Independently Published)
Getting Out of the Comfort Zone: Ayanna by Barbara James — While interning as a hospital chaplain, a young military officer falls for an EMT who is an antiwar activist. (Contemporary Romance, Independently Published)
Children's:
Battle In The Valley by Susanne Blumer — The church bell tower transports Chip, Caroline and Billy back thousands of years to an ancient battlefield. There they meet a young shepherd destined to be king and a giant warrior bent on his destruction. Will the children survive the upcoming fight and make it back to Palmetto Island in one piece? (Middle-grade from Sutton Avenue Press)
Historical:
Hope Unchained by Carol Ashby — When a former legionary and a gladiator are hired to escort a young woman on her quest to rescue her brother and sister from slavery, more chains are broken by forgiveness and love than any of them thought possible. (Historical from Cerrillo Press)
Historical Romance:
The Major's Daughter by Regina Jennings — In a western land run, an adventurous socialite stakes a claim on an orphaned outlaw's chosen land, so he decides to stake a claim on her heart. (Historical Romance from Bethany House [Baker])
Sew In Love by Debby Lee, Jacquolyn McMurray, Darlene Panzera, and Kimberley Woodhouse — When four women put needle and thread to fabric, will their sewing lead to love? In Hearts Sewn with Love, during the California gold rush, a beautiful seamstress finds her heart torn between the men who want to marry her and the one fortune hunter who won't. In Woven Hearts, a shirtwaist factory fire survivor struggles to provide for her family despite the disastrous misguided intentions of the handsome union organizer who tries to help. In A Language of Love, a milliner with thick Irish accent and a renowned baseball player with speech impediment meet at the office of a language teacher. But the issues with their backgrounds that first brought them together will also drive them apart. In Tailored Sweethearts, a parachute seamstress struggles with her faith in desperate circumstances. A fighter pilot teaches her to hope in her darkest hours. (Historical Romance from Barbour Publishing)
The Rebel Bride by Shannon McNear — During the clash between Union and Confederacy, quiet Tennessean Pearl MacFarlane is compelled to nurse both Rebel and Yankee wounded who seek refuge at her family's farm. She is determined to remain unmoved by the Yankee cause—until she faces the silent struggle of Union soldier Joshua Wheeler, a recent amputee. The MacFarlane family fits no stereotype Joshua believed in; still he is desperate to regain his footing—as a soldier, as a man, as a Christian—in the aftermath of his debilitating injury. He will use his time behind enemy lines to gather useful intelligence for the Union—if the courageous Rebel woman will stay out of the line of danger. (Historical Romance from Barbour Publishing)
Romantic Suspense:
Silent Night Suspect by Sharee Stover — Suspected of a crime she knows she didn't commit… All she wants for Christmas is to remember. Blood on her blouse. A gun in her hand. A cartel leader's dead body in front of her. Widow Asia Stratton can't remember what happened—just that she's been framed. The only way to prove her innocence is to work with her ex-sweetheart, Nebraska state trooper Slade Jackson. But can they clear her name before this Christmas turns even deadlier? (Romantic Suspense from Love Inspired [Harlequin])
Speculative:
Brand of Light by Ronie Kendig — After a catastrophic explosion, Kersei Dragoumis awakens in a derelict shuttle, alone, injured, and ignorant of the forbidden technology that has swept her into a nightmare. The brand she's borne since childhood burns mysteriously, but the pain is nothing to that when she learns her family is dead and she is accused of their murders. Across the quadrants, Marco Dusan responds to the call of a holy order-not to join them, but to seek a bounty. Gifted-or cursed-with abilities that mark him a Kynigos, a tracker sworn to bring interplanetary fugitives to justice, Marco discovers this particular bounty has nothing to do with justice and everything to do with prophecy. One that involves the hunter as much as the hunted. (Speculative from Enclave Publishing)
Thriller/Suspense:
Laynie Portland, Renegade Spy by Vikki Kestell — Laynie must fight to earn her place on the task force—even as unfolding events expose a looming danger. Wolfe's task force has a leak . . . one that threatens them all. (Suspense, Independently Published)
Plus check out these recent additions to Fiction Finder published within the past month:
Promise for Tomorrow by Michelle De Bruin, Historical Romance
Call to Love by Mary A. Felkins, Contemporary Romance
Joy's Song by Ruth Kyser, Contemporary Romance
Hope Between Us by Christy LaShea, Contemporary Romance
The Trouble in Willow Falls by Pat Nichols, Contemporary
Off the Ground by Catherine Richmond, Historical Romance
Crinoline Cowboys by Patty Smith Hall, Cynthia Hickey, Marilyn Turk, Kathleen Y'Barbo, Historical Romance
A High-Country Christmas by Davalynn Spencer, Historical Romance
The Christmas Gazebo by Marilyn Turk, Lenora Worth, Historical Romance
September 2019 New Releases
More in-depth descriptions of these books can be found on the ACFW Fiction Finder website.
Contemporary Romance:
Reunited in the Rockies
by
Mindy Obenhaus
— For widow Kayla Bradshaw, restoring a historic Colorado hotel means a better life for her and her soon-to-arrive baby. But she needs construction help from Jude Stephens, the love she lost through a misunderstanding. Working with Kayla, the police officer finds himself forgiving her—and longing to rebuild her shattered confidence. But can they trust each other enough to forge a future together? (Contemporary Romance from Love Inspired [Harlequin])
A Man to Trust by Carrie Turansky — After years spent helping manage her family's Christian bookstore, it's time for Adrie Chandler to give her own dream of playing her flute with a symphony orchestra a chance. But can she really trust the beloved shop to new manager Ross Peterson? The man is too handsome, too charming….and too much a reminder of another dream Adrie had to let go of – marriage. Yet Ross surprises her by knowing a thing or two about making sacrifices. Suddenly, Adrie is questioning what she really wants. And whether the dreams she once thought unlikely are within reach after all. (Contemporary Romance from Flowing Stream Books)
Fall Flip by Denise Weimer — The tragic death of Shelby Dodson's husband–her partner in a successful Home Network house flipping business–stole love, status, and career. Now a bungalow redesign thrusts Shelby into the company of a new contractor. Scott Matthews remembers high-and-mighty Shelby from high school, and her prissy, contemporary style goes against his down-to-earth grain. When the house reveals a mystery, will its dark secrets–and their own mistakes–cost them a second chance at love? (Contemporary Romance from Lighthouse Publishing of the Carolinas)
Listening to Love by Beth Wiseman — Lucas is Amish. Natalie's Englisch. They are best friends—and friends only. Despite what the gossips say. Besides, they couldn't be together even if they wanted to be. Lucas would never leave the Amish faith, and Natalie is pursuing a degree in veterinary medicine. But when a terrifying accident happens, Natalie and Lucas are forced to confront their true feelings and decide if they can stay true to themselves and each other. (Contemporary Romance from HarperCollins Christian Publishing)
General Contemporary:
The Christmas Portrait
by
Phyllis Clark Nichols
— A family facing their first holiday season without Mama finds a way to celebrate Christmas. (General Contemporary from Gilead Publishing)
Historical:
Memories of Glass
by
Melanie Dobson
— 1942. As war rips through the heart of Holland, childhood friends Josie van Rees and Eliese Linden partner with a few daring citizens to rescue Eliese's son and hundreds of other Jewish children who await deportation in a converted theater in Amsterdam. But amid their resistance work, Josie and Eliese's dangerous secrets could derail their friendship and their entire mission. When the enemy finds these women, only one will escape. Seventy-five years later, Ava Drake begins to suspect that her great-grandfather William Kingston was not the World War II hero he claimed to be. Her work as director of the prestigious Kingston Family Foundation leads her to Landon West's Ugandan coffee plantation, and Ava and Landon soon discover a connection between their families. As Landon's great-grandmother shares the broken pieces of her story, Ava must confront the greatest loss in her own life?and powerful members of the Kingston family who will do anything to keep the truth buried. (Historical from Tyndale Publishing)
Historical Romance:
Treasured Christmas Brides
by
Amanda Cabot
, Rebecca Germany, Cathy Marie Hake,
Colleen L. Reece
,
MaryLu Tyndall
, and
Michelle Ule
— Six historical Christmas romances prove life's most priceless gifts come not in the form of polished gold or silver—but from the vast riches of a loving heart. (Historical Romance from Barbour Publishing)
Thankful for the Cowboy by Mary Connealy — Hero Tom MacKinnon rides up driving a wagon with a second wagon trailing him. He and his sister want to be hired to build windmills. They'll ask for very little money and, in exchange heroine, Lauren Drummond, newly widowed mother of four nearly grown sons, will help them learn to survive in the Sandhills of Nebraska. What to grow, what to hunt, how to build a sod house.
Tom's windmills will save her ranch. Lauren needs three windmills on this drought year or her growing herd of cattle is going to die of thirst. She agrees to teach him the ways of the Sandhills, and to give him fifteen head of cattle. She's not ready to think of another man. But Tom changes her mind. His little sister and one of her sons find love together before Tom and Lauren do. (Historical Romance, Independently Published)
The Return of the King's Ranger by Angela K. Couch — The war is over…for everyone but him. The war for American freedom is over, and the British have gone back to England. Not knowing what has become of his family since he was forced into the Continental Army nine years earlier, Myles Cunningham wants to go home as well. He returns to the Mohawk Valley with the understanding that he is believed to have been shot for deserting—fiction that might be made real if anyone recognizes him as the son of a Tory and a King's Ranger. Everything is wonderful in the growing community along the Mohawk River, except Nora Reid is still alone. With her brother happily settled and both her younger sisters starting families of their own, Nora feels the weight of her twenty-four years. A long walk leads her to the overgrown rubble of the Cunningham homestead where a bearded stranger begins to awaken feelings she'd lost hope of ever experiencing. With secrets abounding—including whether Myles even cares for her—Nora must determine what she is ready to give up and how far she will go to secure his affections. She begins to break through his defenses, but Myles can't risk staying. Not if he loves her. (Historical Romance from White Rose Publishing [Pelican])
Christmas Next Door by Susan Page Davis and Vickie McDonough — Visit an Old West Texas town where a mysterious benefactor leaves gifts each Christmas, but also where four pairs of neighbors battle over hearsay, secrets, and mysteries. (Historical Romance from Barbour Publishing)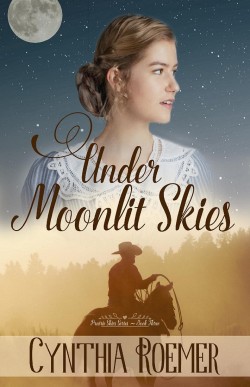 Under Moonlit Skies by Cynthia Roemer — Esther meets Stewart, her brother-in-law's ranch hand, when helping her sister recover from childbirth. Any interest she may have in the cowboy is hopeless, since she must return home to Cincinnati and the man her overbearing mother intends her to wed. till reeling from a hurtful relationship, Stew is reluctant to open his heart to Esther. But when he faces a life-threatening injury with Esther tending him, their bond deepens. Heartbroken when she leaves, he sets out after her and inadvertently stumbles across an illegal slave-trade operation, the knowledge of which puts him, as well as Esther and her family, in jeopardy. (Historical Romance from Mantle Rock Publishing)
Mail-Order Misfire by Davalynn Spencer — Preacher Bern Stidham is a peacemaker—when he's not carrying one on his hip. His little girl wants a helper for her widowed father and a mama for herself, so she writes for a mail-order bride. Without telling him. Recently widowed dressmaker Etta Collier is a half-step ahead of the banker who carries a lustful eye for her as well as the note on her home. When her pastor encourages her to answer an unusual letter from a little girl, hope opens an unexpected door. Running from one man's lecherous pursuit into the home of another she knows nothing about, Etta may have to risk everything to ease a little girl's loneliness and find a second chance at love. (Historical Romance, Independently Published)
The Witness Tree by Denise Weimer — Past betrayal has turned John Kliest's passion to his work as a builder and surveyor in the Moravian town of Salem, North Carolina. Now, to satisfy the elders' edict and fulfill his mission in Cherokee Territory, he needs a bride. But the one woman qualified to record the Cherokee language longs for a future with his younger brother. Clarissa Vogler's dream of a life with Daniel Kliest is shattered when she is chosen by lot to marry his older brother and venture into the uncharted frontier. Can she learn to love this stoic man who is now her husband? Her survival hinges on being able to trust him—but they both harbor secrets. (Historical Romance from Lighthouse Publishing of the Carolinas)
Romantic Suspense:
Don't Give Up On Me
by
Jodi Artzberger
— When Cragge Automotive Group's heiress, Amanda Cragge is left for dead, the only man she's ever loved finds her. As the threats continue, will she accept help from the man who left her eight years ago without explanation? When Ryker Scott returns to Otter Bay, he is brought face to face with his past. He thought he could handle coming back but he might have been wrong. As a trained Army Ranger, he's going to have to use his skills if he wants to keep the only woman he's ever loved alive.
Will their past become their future or will their futures be destroyed forever?(Romantic Suspense, Independently Published)
Breaking Point by Marji Laine — Ever since her father's death, Alynne Stone has had a series of strange "accidents." Police Lieutenant Jason Danvers believes her father was murdered. He tries to connect the attempts on Alynne's life, but things just don't add up. Even in a small town, the mere rumor of treasure can change lives, end friendships…maybe even kill? Still dealing with the pain of his own wife's death, he can't allow an innocent woman's life to be snuffed out on his watch. Especially one who shines as bright as Alynne. (Romantic Suspense, Write Integrity Press)
Fatal Strike by DiAnn Mills — FBI Agents Leah Riesel and Jon Colbert team up to track down a killer on the loose in Galveston, targeting law enforcement officials and using a fatal injection of snake venom to take them down. (Romantic Suspense, Tyndale House)
Thriller:
The Gryphon Heist
by
James R. Hannibal
— Talia Inger is a rookie CIA case officer assigned not to the Moscow desk as she had hoped but to the forgotten backwaters of Eastern Europe–a department only known as "Other." When she is tasked with helping a young, charming Moldovan executive secure his designs for a revolutionary defense technology, she figures she'll be back in DC within a few days. But that's before she knows where the designs are stored–and who's after them. With her shady civilian partner, Adam Tyler, Talia takes a deep dive into a world where only criminal minds and unlikely strategies will keep the Gryphon, a high-altitude data vault, hovering in the mesosphere. Even Tyler is more than he seems, and Talia begins to wonder: Is he helping her? Or using her access to CIA resources to pull off an epic heist for his own dark purposes? (Techno-thriller from Revell – A Division of Baker Publishing Group)
This episode is an introduction to a new podcast called A Sparkling Vintage Life Host Jennifer Leo explains how she came to love all things vintage and sometimes feels as if she was meant to live in an earlier era. Through A Sparkling Vintage Life she'll be celebrating the best of the past and discussing ways to incorporate vintage elements into a 21-century woman's life. She welcomes kindred spirits to join her on the journey!
(And, yes, the sound quality needs work. "She" is still learning… appreciate your patience!)


The Sparkling Vintage Ladies' Reading Circle

Jennifer's fiction:
You're the Cream in My Coffee
Ain't Misbehavin'

Jennifer's blog
Sign up for my Reader Community