Monthly Archives:
September 2019
It's football season! Listen in as Jennifer discusses vintage football etiquette for the fans in the stands, what the well-dressed football fan wore in 1943, and more.
If you prefer to read rather than listen, scroll down to find a transcript of this episode.
Show Notes:
The Highlanders preorder: Kindle edition
The Highlanders preorder: print edition
"What it Was, Was Football" by Andy Griffith
Transcript of Episode 22: Sparkling Vintage Football!
Welcome to A Sparkling Vintage Life, where we discuss all things vintage and celebrate the grace and charm of an earlier era. It's September 26, 2019, as I record this. There's not much to report this week in writing news, just a reminder that The Highlanders novella collection is now available for preorder on Amazon. I'll put a  link in the show notes.
We're officially a couple of days into fall, and less than three months away from Christmas. Up here in North Idaho there's no denying now that summer's gone. In fact, according to the forecast, we're facing an unseasonably chilly weekend coming up. For me, it's definitely time to pull out the soft blankets and woolly socks and hunker down with a good book and a cat on my lap. But I know for many of you, you won't let a few skin-searing winds or freezing temperatures stop you from heading to the nearest stadium to grab a spot on the bleachers and cheer your favorite team to victory.
That's right, it's football season! And we'll be taking a sparkling vintage look at football today. For those of you listening outside the United States, I'm talking about American football, those great hulking men in their pads and helmets charging each other across the field, not what the entire rest of the world calls football, which we call soccer.
Now, anyone who knows me will tell you I'm not a great football fan. On Super Bowl Sunday I'm more interested in the snacks than in what happens on the TV, except, possibly, if the Chicago Bears are playing. Hometown loyalty leads me to take at least a passing interest in how the Bears are doing. Nonetheless, football and fall go together like salsa and corn chips. American football's history goes back over 100 years. It has its roots in rugby, a game played in England and brought to these shores. Some major changes in the game are credited to Walter Camp of Yale University, who introduced such key changes as the line of scrimmage and the forward pass. The late 19th and early 20th centuries were the glory days of coaches like Amos Alonzo Stagg and Knute Rockne and Pop Warner. Football's popularity started in the colleges but quickly spread to professional teams. The predecessor of the National Football League formed in 1920, almost exactly 100 years ago.
So I did a little digging around to find out what watching football was like, back in the good old days.
First of all, perhaps you're wondering what to wear to the big game. You may think that wearing your team's colors is quite enough, but not if you were a lady of fashion in, say, 1943. For a taste of mid-20th-century elegance, forego the team jerseys and sweatpants and take a page from Grace Margaret Morton, who wrote a home economics text titled The Arts of Costume and Personal Appearance. About "spectator sports" like football, Miss Morton recommends attiring oneself thusly:
"Good taste for any spectator sport calls for clothes which are casual and nonchalant. Textures should be sturdy and practical, without glint or sheen. The girl on a limited budget will choose coats and suits which can do double duty as street clothes by change of accessories. . . . The coat may be an all-season coat with water-repellent finish and zip-in lining, a bulky knit coat of fingertip or shorter length, or a fur-lined cloth coat. It may be fashioned from tweed, cheviot, camel hair, boucle, fleece, suede, or leather. Plaids, stripes, and plain colors are used.
The suit that is tailored of sturdy tweed or similar fabric is an excellent choice. Warm-weather suits made of hopsacking, seersucker, cotton tweed, or cotton cord are appropriate.
The dress suitable for spectator sports and campus wear may be one from wool jersey, washable flannel, cotton jersey, or corduroy. Separate skirts of denim, seersucker, hopsacking, cotton tweed, cotton cord, and linen suiting are correct when worn with matching or contrasting shirts or blouses.
The hat in keeping with this casual wear will be a fabric or felt cap, beret, cloche, or any narrow-brimmed hat. Gay wool or silk is used in scarves or hoods. Your creativity will be expressed in the manner in which you wear your scarf; find an interesting way to wear it.
The shoe is generally flat. One may choose saddle shoes, brogues, moccasins, oxfords, or ghillies. They may be made of calf, pigskin, or buckskin. Pumps with low or medium heels and made of leather, straw, or linen are also proper choices.
The glove worn for spectator sports will be of capeskin, pigskin, or cotton suede. String gloves, gloves with leather palms, or gay woolen or angora mittens are other possibilities.
The handbag that is carried may have shoulder straps. Calf, novelty fabric, or saddle leather are often thought of in relation to this type of costume.
Jewelry must be very restrained in design. Metal, wood, or leather will express a harmonious relationship to the attire for these occasions."
So there you have it, ladies. Pigskin: it's not just for the football anymore.
Of course, once you're properly attired for the Big Game, it's all for nought if you don't know how to behave. With gridiron season upon us, let us not neglect our manners. Here are some ways to root without rudeness.
In her 1940 book This Way Please, Eleanor Boykin advised fans on how to conduct themselves  properly. She wrote:
It is unsportsmanlike for the friends of a team to try to rattle players on the other side by booing or shouting personal remarks. Hurling criticism at the referee is both useless and crude. Enthusiasm for your side is a fine thing, but don't let it carry you to bumptiousness.
The members of a visiting team are your guests. Treat them like friendly enemies, and show them the courtesies you would like to have shown to your team on a return visit. When a player is hurt, forget sides. Give him a cheer and all the assistance he needs.
Back up your cheerleaders. Some stirring Rah! Rah's and choruses at the right time are not an affront to the opposing team, and they put heart into the schoolmates you have chosen to arouse school spirit.
And from an article in Seventeen magazine back in 1971:
"Lots of words have been written on the subject, but good sportsmanship still depends on how you play the game, no matter what game you're playing. Whether you cheat on an exam or on a court, it's equally dishonest and distasteful to others. Whatever the game, follow the three "Be's." BE fair. BE a good loser. BE quick to congratulate winners."
Now that you're dressed to kill and have bowled over the opposing team with your exquisite manners, nothing beats an epic tailgate party, which takes place in the relatively neutral ground of a parking lot or nearby field. Typical picnic fare–burgers, brats, sandwiches, potato salad–is served up from the tailgates of vehicles ina  spirit of good sportsmanship. But it can be fancier. One suggested tailgate luncheon menu from an old Lexington, Virginia, cookbook included baby mint juleps, cheese lace, cold cour-cherry soup, cold fillet of beef with sour cream, rice salad, hot rolls, and banana bourbon cake with banana creme anglaise! How do your game day snacks stack up against that feast?
So the next time your favorite team hits the field, be sure to dig up your pigskin gloves and jaunty beret before you politely cheer them on in the spirit of good sportsmanship. May the best team win!
And I'll be back in a moment with today's grace note.
Today's grace note is a link to a delightful recording that's been a fall classic in my family for years. It's called "What it Was, Was Football," and it was recorded by Andy Griffith way back in 1953. Many of you may remember Andy Griffith, who played Sheriff Andy Taylor on The Andy Griffith Show and later was the star of Matlock. Well, when he was just a young comedian starting out, he recorded this piece, in which he portrays a country bumpkin who accidentally stumbles across a football game, which he's never seen before. I'll play just a little snippet of it for you, so you can get a taste."
"What it Was, Was Football" is currently available on YouTube. Look for a link in the shownotes at sparklingvintagelife.com/podcast under Episode 22.
And that's our show for today. If you have a heart that sometimes yearns for the misty memories of yesteryear, be sure to subscribe to my newsletter at sparklingvintagelife.com. Leave a review on Apple Podcasts or Stitcher or wherever you get your podcasts. And tune in again next time when I'll be back to discuss another aspect of A Spa
To celebrate the release of the Downton Abbey movie, Jennifer shares the top 7 reasons she loves Downton Abbey.
If you would prefer to read rather than listen, scroll down for a transcript of the episode.
Show notes:
The Highlanders preorder: Kindle edition
The Highlanders preorder: print edition
The 1928 Jewelry Company: Downton Abbey Collection
Transcript for Episode 21: 7 Reasons I Love Downton Abbey
It's September 16, 2019, as I record this, and as the Downton Abbey movie is scheduled to release later this week, I thought I'd share with you the seven reasons I love Downton Abbey. Downton Abbey is the epitome of a sparkling vintage life, and while it's not everyone's fine china cup of tea, it certainly is mine. However, if you're not a fan, you may feel free to skip this episode as it will simply annoy you.
I only have one bit of writing news to share this week, and that's that The Highlanders novella collection is now available for preorder on Amazon. I'll put a  link in the show notes. My own contribution, a novella called The Violinist, is set in 1915, which happens to fall in the time period of Downton Abbey. But that's just a coincidence. I promise.
I was a great fan of Downton Abbey from the beginning. For those who might not be familiar with it, it was a British television drama that aired in from 200X to 201X on PBS. Created by Julian Fellowes, it followed a similar pattern as a much older series called "Upstairs, Downstairs," chronicling the lives of wealthy British people living lives of luxury juxtaposed against the servants who toiled for them below stairs. I loved watching these ways of life that were so foreign to me, both the nobles' lives and the servants' lives. Like all the best TV, movies, and books, it gave me a chance to escape my own reality and dream a little, in this case for an hour a week.
In anticipation of the movie being released later this week, I've broken down my appreciation for Downton Abbey into seven reasons.
First of all, it was set in my favorite time period, the early twentieth century. From the first episode set in 1912 through the 1920s, it was an era filled with drama. One of the things I love about history is not only learning the facts about historical events, but learning how these events touched the lives of individual people and families. For example, long-ago events World War II or the Korean War seem so much more real and vivid to us when we hear how they affected our fathers, uncles, or grandfathers who fought in the war, or how our grandmothers coped on the homefront with rationing and shortages and war-bond drives. Well, in the same way, Downton Abbey lets me see historical events through the lens of one household. They got the ball rolling with the sinking of the Titanic in 1912, which kicked off Season One's storyline. We saw the impact World War I had on different characters in different walks of life. We watched the wild spirit of the 1920s roll in, and all along, the various technologies: electricity, the telephone, the radio, the phonograph. One of my favorite scenes was from Season One where the dowager countess, Lady Violet, declares she will never have electricity in her house because of the damaging rays. Well, some people actually felt that way, and some still do feel suspicious about every wave of new technology that comes along. So my number-one reason for loving Downton Abbey is the time period.
The stories! Downton Abbey is great storytelling, pure and simple. There are mysteries. There are murders and suspicious and inconvenient deaths (poor Mr. Pamuk). There are jilted brides, sibling rivalries, conflicts and betrayals and treacheries of all sorts, punctuated by sweet and tender moments, sometimes from characters you'd least suspect of being capable of sweet and tender. And there's romance and heartbreak and more romance and more heartbreak and more romance and even some happy endings. There's good character development, with characters who grow and change over the course of the series. So my second reason for loving Downton Abbey is the storytelling.
The costumes ! The costumes. The dresses. The hats. The sparkly headbands and slinky gloves and luxurious jewelry. I could watch the series with the sound off and just enjoy the costumes. Even the outfits I hated, I loved.
Good values. In Downton Abbey, a person's character wins out over their social status. In a world where rich people are often vilified like cartoon villains simply for being rich, and poor people are often considered virtuous just for being poor, Downton Abbey showed a world where rich people could be good and kind and generous, and the lower classes were not necessarily saintly just because they were poor. To be sure, some of the wealthy characters were disgusting human beings–hello, Larry Grey. And many of the below-stairs people were, of course, men and women of sterling character. But most of them were a mixed bag: clever Lady Mary and snobbish Lady Mary. Kind Lady Edith and revengeful Lady Edith. Treacherous Thomas and vulnerable Thomas. Most of the characters are multi-dimensional, which means they're human, like every one of us. We can relate to them. And multi-dimensional characters also point back to good storytelling. I appreciated the fact that, at Downton Abbey overall, a person's quality of character mattered more than their social status.
Good manners mattered. Downton Abbey shows a type of civility that our world sorely needs today. To express anger with words, not fists or guns. To wash your face, get dressed, fulfill your commitments and keep your promises, even when the world around you is shifting. That's what good manners are. When everyone knows what behavior is expected of them and what to expect from others, things tend to run more smoothly. Good manners aren't all about using the proper fork at dinner, although that, too, has its place. At their core, good manners about treating other people with respect and kindness, no matter who they are. Carson the butler was often joke-worthy in his insistence on a proper way to do everything. And yet there's something reassuring having clear ideas about right and wrong, proper and improper, good and bad. In today's world where many people think everything's relative and there are no absolutes, such ideas are comforting. So, reason number five is good manners.
Downton Abbey is a multi-generational family saga, meaning there are storylines for characters of all ages, from the elderly dowager countess to the youngest child. (The dowager countess, played by the incomparable Maggie Smith, could constitute a reason all on her own.) I love a series that has interesting and even romantic storylines for older characters as well as those in the bloom of youth.
Reason Number Seven: Top-notch production values. From the décor of the interiors to the English scenery, British accents, and great casting, and aforementioned fabulous costumes, Downton Abbey is a treat to watch.
So there you have it: seven reason I love Downton Abbey. I'll check back later, after I've seen the movie, to share my impressions of it.
Today's grace note is the 1928 Jewelry Company, and specifically their Downton Abbey Jewellery Collection. You've heard me mention the 1928 Jewelry Company before. They're not a sponsor, and I'm not an affiliate, but I do like their jewelry.
According to the company's website, the Downton Abbey Collection was inspired by the Edwardian and Art Deco jewelry worn during the time period of Downton Abbey. It was created in collaboration with 1928's designers and the shows costume design team in England through an exclusive licensing agreement. From the earrings and necklaces, down to the bracelets and hair accessories, the Downton Abbey Jewellery Collection features authentic details and motifs from the late Victorian and early Edwardian eras.
As I write this in September 2019, they're having a sale on their Downton Abbey collection. I don't know how long the sale will last, but here's a link to the company.
If you would be so kind to leave a review of this podcast at iTunes or wherever you get your podcasts, I would so appreciate it. It feels awkward sometimes to ask for a review, sort of like fishing for compliments, but truly, nothing raises the visibility of a podcast like a healthy number of good reviews. So in the interest of helping other like-minded vintage lovers find this podcast, I'm asking you to leave a review, if you please. Remember that you can find the show notes at sparklingvintagelife.com under episode 21. And while you're there, you can sign up for my newsletter and be notified whenever a new episode is available.
And that's it for today! I'll be back soon to discuss another aspect of A Sparkling Vintage Life.
Cue the bagpipes! The Highlanders are coming! Four historical-romance novellas, four authors, four fetching Scotsmen aiming to win your heart. And, yes, one of them is mine. 🙂
My story, "The Violinist," takes you to 1915 Idaho. Homesick lumberjack Callan MacTavish despairs of ever seeing his Scottish homeland again. With kindness and patience, music teacher Rose Marchmont reaches a part of Callan's heart he'd long ago locked away. She sees beyond his rough exterior to the artistic heart beneath. He longs for more than he can offer her, but she doesn't know about the secret trauma that keeps him from crossing the sea.
Coming this November–pre-order your copy today!
September 2019 New Releases
More in-depth descriptions of these books can be found on the ACFW Fiction Finder website.
Contemporary Romance:
Reunited in the Rockies
by
Mindy Obenhaus
— For widow Kayla Bradshaw, restoring a historic Colorado hotel means a better life for her and her soon-to-arrive baby. But she needs construction help from Jude Stephens, the love she lost through a misunderstanding. Working with Kayla, the police officer finds himself forgiving her—and longing to rebuild her shattered confidence. But can they trust each other enough to forge a future together? (Contemporary Romance from Love Inspired [Harlequin])
A Man to Trust by Carrie Turansky — After years spent helping manage her family's Christian bookstore, it's time for Adrie Chandler to give her own dream of playing her flute with a symphony orchestra a chance. But can she really trust the beloved shop to new manager Ross Peterson? The man is too handsome, too charming….and too much a reminder of another dream Adrie had to let go of – marriage. Yet Ross surprises her by knowing a thing or two about making sacrifices. Suddenly, Adrie is questioning what she really wants. And whether the dreams she once thought unlikely are within reach after all. (Contemporary Romance from Flowing Stream Books)
Fall Flip by Denise Weimer — The tragic death of Shelby Dodson's husband–her partner in a successful Home Network house flipping business–stole love, status, and career. Now a bungalow redesign thrusts Shelby into the company of a new contractor. Scott Matthews remembers high-and-mighty Shelby from high school, and her prissy, contemporary style goes against his down-to-earth grain. When the house reveals a mystery, will its dark secrets–and their own mistakes–cost them a second chance at love? (Contemporary Romance from Lighthouse Publishing of the Carolinas)
Listening to Love by Beth Wiseman — Lucas is Amish. Natalie's Englisch. They are best friends—and friends only. Despite what the gossips say. Besides, they couldn't be together even if they wanted to be. Lucas would never leave the Amish faith, and Natalie is pursuing a degree in veterinary medicine. But when a terrifying accident happens, Natalie and Lucas are forced to confront their true feelings and decide if they can stay true to themselves and each other. (Contemporary Romance from HarperCollins Christian Publishing)
General Contemporary:
The Christmas Portrait
by
Phyllis Clark Nichols
— A family facing their first holiday season without Mama finds a way to celebrate Christmas. (General Contemporary from Gilead Publishing)
Historical:
Memories of Glass
by
Melanie Dobson
— 1942. As war rips through the heart of Holland, childhood friends Josie van Rees and Eliese Linden partner with a few daring citizens to rescue Eliese's son and hundreds of other Jewish children who await deportation in a converted theater in Amsterdam. But amid their resistance work, Josie and Eliese's dangerous secrets could derail their friendship and their entire mission. When the enemy finds these women, only one will escape. Seventy-five years later, Ava Drake begins to suspect that her great-grandfather William Kingston was not the World War II hero he claimed to be. Her work as director of the prestigious Kingston Family Foundation leads her to Landon West's Ugandan coffee plantation, and Ava and Landon soon discover a connection between their families. As Landon's great-grandmother shares the broken pieces of her story, Ava must confront the greatest loss in her own life?and powerful members of the Kingston family who will do anything to keep the truth buried. (Historical from Tyndale Publishing)
Historical Romance:
Treasured Christmas Brides
by
Amanda Cabot
, Rebecca Germany, Cathy Marie Hake,
Colleen L. Reece
,
MaryLu Tyndall
, and
Michelle Ule
— Six historical Christmas romances prove life's most priceless gifts come not in the form of polished gold or silver—but from the vast riches of a loving heart. (Historical Romance from Barbour Publishing)
Thankful for the Cowboy by Mary Connealy — Hero Tom MacKinnon rides up driving a wagon with a second wagon trailing him. He and his sister want to be hired to build windmills. They'll ask for very little money and, in exchange heroine, Lauren Drummond, newly widowed mother of four nearly grown sons, will help them learn to survive in the Sandhills of Nebraska. What to grow, what to hunt, how to build a sod house.
Tom's windmills will save her ranch. Lauren needs three windmills on this drought year or her growing herd of cattle is going to die of thirst. She agrees to teach him the ways of the Sandhills, and to give him fifteen head of cattle. She's not ready to think of another man. But Tom changes her mind. His little sister and one of her sons find love together before Tom and Lauren do. (Historical Romance, Independently Published)
The Return of the King's Ranger by Angela K. Couch — The war is over…for everyone but him. The war for American freedom is over, and the British have gone back to England. Not knowing what has become of his family since he was forced into the Continental Army nine years earlier, Myles Cunningham wants to go home as well. He returns to the Mohawk Valley with the understanding that he is believed to have been shot for deserting—fiction that might be made real if anyone recognizes him as the son of a Tory and a King's Ranger. Everything is wonderful in the growing community along the Mohawk River, except Nora Reid is still alone. With her brother happily settled and both her younger sisters starting families of their own, Nora feels the weight of her twenty-four years. A long walk leads her to the overgrown rubble of the Cunningham homestead where a bearded stranger begins to awaken feelings she'd lost hope of ever experiencing. With secrets abounding—including whether Myles even cares for her—Nora must determine what she is ready to give up and how far she will go to secure his affections. She begins to break through his defenses, but Myles can't risk staying. Not if he loves her. (Historical Romance from White Rose Publishing [Pelican])
Christmas Next Door by Susan Page Davis and Vickie McDonough — Visit an Old West Texas town where a mysterious benefactor leaves gifts each Christmas, but also where four pairs of neighbors battle over hearsay, secrets, and mysteries. (Historical Romance from Barbour Publishing)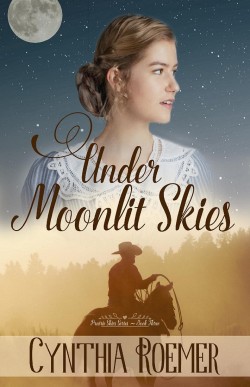 Under Moonlit Skies by Cynthia Roemer — Esther meets Stewart, her brother-in-law's ranch hand, when helping her sister recover from childbirth. Any interest she may have in the cowboy is hopeless, since she must return home to Cincinnati and the man her overbearing mother intends her to wed. till reeling from a hurtful relationship, Stew is reluctant to open his heart to Esther. But when he faces a life-threatening injury with Esther tending him, their bond deepens. Heartbroken when she leaves, he sets out after her and inadvertently stumbles across an illegal slave-trade operation, the knowledge of which puts him, as well as Esther and her family, in jeopardy. (Historical Romance from Mantle Rock Publishing)
Mail-Order Misfire by Davalynn Spencer — Preacher Bern Stidham is a peacemaker—when he's not carrying one on his hip. His little girl wants a helper for her widowed father and a mama for herself, so she writes for a mail-order bride. Without telling him. Recently widowed dressmaker Etta Collier is a half-step ahead of the banker who carries a lustful eye for her as well as the note on her home. When her pastor encourages her to answer an unusual letter from a little girl, hope opens an unexpected door. Running from one man's lecherous pursuit into the home of another she knows nothing about, Etta may have to risk everything to ease a little girl's loneliness and find a second chance at love. (Historical Romance, Independently Published)
The Witness Tree by Denise Weimer — Past betrayal has turned John Kliest's passion to his work as a builder and surveyor in the Moravian town of Salem, North Carolina. Now, to satisfy the elders' edict and fulfill his mission in Cherokee Territory, he needs a bride. But the one woman qualified to record the Cherokee language longs for a future with his younger brother. Clarissa Vogler's dream of a life with Daniel Kliest is shattered when she is chosen by lot to marry his older brother and venture into the uncharted frontier. Can she learn to love this stoic man who is now her husband? Her survival hinges on being able to trust him—but they both harbor secrets. (Historical Romance from Lighthouse Publishing of the Carolinas)
Romantic Suspense:
Don't Give Up On Me
by
Jodi Artzberger
— When Cragge Automotive Group's heiress, Amanda Cragge is left for dead, the only man she's ever loved finds her. As the threats continue, will she accept help from the man who left her eight years ago without explanation? When Ryker Scott returns to Otter Bay, he is brought face to face with his past. He thought he could handle coming back but he might have been wrong. As a trained Army Ranger, he's going to have to use his skills if he wants to keep the only woman he's ever loved alive.
Will their past become their future or will their futures be destroyed forever?(Romantic Suspense, Independently Published)
Breaking Point by Marji Laine — Ever since her father's death, Alynne Stone has had a series of strange "accidents." Police Lieutenant Jason Danvers believes her father was murdered. He tries to connect the attempts on Alynne's life, but things just don't add up. Even in a small town, the mere rumor of treasure can change lives, end friendships…maybe even kill? Still dealing with the pain of his own wife's death, he can't allow an innocent woman's life to be snuffed out on his watch. Especially one who shines as bright as Alynne. (Romantic Suspense, Write Integrity Press)
Fatal Strike by DiAnn Mills — FBI Agents Leah Riesel and Jon Colbert team up to track down a killer on the loose in Galveston, targeting law enforcement officials and using a fatal injection of snake venom to take them down. (Romantic Suspense, Tyndale House)
Thriller:
The Gryphon Heist
by
James R. Hannibal
— Talia Inger is a rookie CIA case officer assigned not to the Moscow desk as she had hoped but to the forgotten backwaters of Eastern Europe–a department only known as "Other." When she is tasked with helping a young, charming Moldovan executive secure his designs for a revolutionary defense technology, she figures she'll be back in DC within a few days. But that's before she knows where the designs are stored–and who's after them. With her shady civilian partner, Adam Tyler, Talia takes a deep dive into a world where only criminal minds and unlikely strategies will keep the Gryphon, a high-altitude data vault, hovering in the mesosphere. Even Tyler is more than he seems, and Talia begins to wonder: Is he helping her? Or using her access to CIA resources to pull off an epic heist for his own dark purposes? (Techno-thriller from Revell – A Division of Baker Publishing Group)
Sign up for my Reader Community