Monthly Archives:
July 2019
This "bonus" minisode tackles the topic of common courtesy, which is so much more than using the right salad fork. If we're ever going to solve the problem of hatred and violence in our world, we've got to start with treating each other with basic respect, kindness, and dignity.
If you prefer to read rather than listen, scroll down to find a transcript of this episode.
Show notes:
Civility by Stephen L. Carter
Transcript of Episode 18.5: Courtesy in a Violent World
This is a quick minisode–I'm calling it Episode 18.5–about the role of good manners in society. This is maybe a slightly more serious topic today than I normally talk about, but a few distressing things have happened lately in the news. I know distressing news is not unusual, and normally I don't watch a lot of news for that reason. But a couple stories have come across my newsfeed than broke my heart.
First, there was a brawl that broke out at that supposedly happiest place on Earth, Disneyland. Even worse, this brawl broke out in the Toontown section, which I understand is where the youngest children go. So who knows how many people  including some very young children had their visit ruined by having to be unwilling witnesses to this brawl that broke out among adults who were angry with each other and couldn't manage to settle their differences peacefully, without shouting and cursing and physical violence.
I was still reeling from that story when the second story hit. This one happened much closer to my home. It happened in a small town quite near to me, where two teenage girls beat a third teenage girl, allegedly with a baseball bat, and put her in the hospital. This is normally a quiet, almost sleepy place, and to have something like this happen here just … there are no words.
I'm not going to go into detail on either one of these stories, nor am I going t link to them. I don't want these kinds of topics on my page. The only reason I'm even bringing them up here today is that I feel they point to and are indicators of what can happen when people forget, or perhaps are never even taught, how to be civil to one another. Call it what you will–call it good manners or proper etiquette or civility or decency–those are all facets of the same thing. These acts of violence, as well as many others that take place here in America and all over the world, are symptoms. They're symptoms of people losing their ability to get along with each other for the good of the community.
Sometimes people are amused by or even ridicule my longing for a return to good manners in society today. After all, who cares which fork you use for your salad or whether or not to chew with your mouth closed. Well, they're right. It's not about the forks. It's not about the table manners. When you're talking violence, these things don't matter much. As many commenters have pointed out, people who do these sorts of things are steeped in dysfunction and violence and maybe mental illness. No amount of "please" and "thank you" can fix that.
But at its essence, above everything else, practicing good manners is simply a social lubricant that reduces the friction that occurs when people rub up against others or encounter people who rub them the wrong way. It's a balm for wounds to keep them small and avoid letting them blow up into bigger problems.
Manners help people of different viewpoints and backgrounds and experiences to get along when they're in the public square or at any type of gathering.  Mannerly behavior and civility give people a framework within which they can try to work out their differences and a standard of behavior to treat each other with respect and dignity, not to beat someone to a pulp because they said or did something someone else didn't like. At the very least, if differences cannot be resolved, good manners provide a way for each party to walk away, to maintain their own space, and to avoid interacting for their mutual benefit, if that's the only way to keep the peace.
I'm not talking about glossing over problems or putting a fake happy face on them. But I am talking about using what used to be called common courtesy or basic courtesy to allow us to overlook the petty grievance or unintended slight instead of taking offense, or to resolve it in a way that leaves both affected parties with their dignity intact before the situation devolves into a brawl. Civility also assures that others don't get drawn into the disagreement, either as unwilling witness like the innocent tourists trying to enjoy a day at Disneyland, or even those who are initially not involved but whose emotions are ginned up to the point where they take sides in the fight.
In his excellent book Civility, Stephen L. Carter writes, "Civility as a moral proposition begins with the assumption that humans matter, that we owe each other respect, and that treating each other well is a moral duty. Civility so understood often requires us to put aside our own interests and desires for the benfit of others–which, as the ancient philosopher Erasmus understood, is what civilization is all about."
In short, civility teaches us to discipline our desires for the sake of others.  In short, it's the Golden Rule: to treat others as we would want to be treated. To love one another, and love our neighbors as ourselves.
So, no, I'm not naïve enough to think a few charm-school lessons are going to solve the deeply rooted problem of violence and incivility in our world. But I'm not going to sit idly by, either. I'm going to do my part to restore dignity and grace to the extent that I can, within my sphere of influence, one person at a time. Won't you join me?
Sitting on the front porch, visiting with family and friends or just catching a cooling breeze, used to be a regular part of summertime life, before air conditioning and television sent us all scooting back indoors. Come and sit awhile and reminisce with Jennifer about the front porches of yesteryear. Maybe you'll even be inspired to dust off that old wicker rocker–the one that creaked so soothingly as you watched the fireflies in the dusk.
If you prefer to read rather than listen, scroll down to find a transcript of Episode 18.
Show notes:
NPR series on front-porch culture
God, Me, and Sweet Iced Tea by Rose Chandler Johnson
Jennifer's Fiction
Transcript of Episode 18: Front Porch Life
Hello, Sparklers! Welcome to A Sparkling Vintage Life, where we talk about all things vintage and celebrate the grace and charm of an earlier era. I'm your host, Jennifer Leo, and this is Episode number eighteen.
I'm so happy you've stopped by to spend a few minutes with me. It's the first week of July as I record this, so I'm wishing a slightly belated Happy Canada Day to our neighbors to the north, and a Happy Fourth of July to my American listeners.
Today I want to talk about front porches. And in this case you can translate "front porch" however you like. It could be a flight of cement stairs in the city, maybe a set of lawn chairs or a blanket on the ground in the front yard, a little balcony, or anything at all. For my purposes,I consider a front porch anything that (a) brings your family out of the house and (b) faces the street or the sidewalk or any place that potentially brings you into contact with your neighbors and people who are passing by.
Front-porch culture used to be a regular summer pastime in many parts of the US. Families would gather on the porch in the warm twilight and talk about their day, or maybe the adults would just sit and relax, watching the children play tag or chase fireflies on the front lawn. Mom or Grandma might bring out a pitcher of lemonade and tray of tall frosty glasses, or dishes of ice cream, maybe hand-cranked like we talked about recently, or something fun like popsicles. Maybe someone would bring out a guitar and strum gentle tunes (I got that idea from The Andy Griffith Show, set in that quintessential small town, Mayberry. I have a memory of Sheriff Andy bringing his guitar out on the porch in the warm North Carolina evening and singing some quiet song to Aunt Bee and Helen Crump in the moonlight. It's possible he only did it on one episode, but that vision stuck with me all these years).
Because front porches faced the street, people could greet their neighbors, who likely were also sitting out on their own front porches. Maybe they'd wave you over, or you'd wave them over, and you'd make room for them to sit and visit a while the kids played together. You'd at least wave or smile at people passing by. And there were people passing by, taking walks after dinner, catching a bit of fresh air before turning in for the night. If the porch had a roof, and it usually did, you would be shaded from the sun, and could even sit outside if it was raining.
People enjoyed their front porches even as the seasons changed, just adding sweaters as the cooler evenings of autumn settled in, until the autumn chill became downright cold and chased them back inside for the winter.
Porches were also the setting for many a romance. Those hard wooden porch swings and metal gliding sofas might have been less than comfortable to sit on, but you'd forget all that if the right person was sitting on them with you. Even my own novel, You're the Cream in My Coffee , set in the 1920s, features a romantic conversation set on a porch swing. As I understand it, concerned parents might switch the porch light on and off, or tap on the windowsill, to signal when it was time to say goodnight to one's beloved and come inside.
Whatever happened to front-porch culture? Well, several things. Air conditioning, for one. After World War II a steadily increasing number of households added air conditioning, which made staying inside a cool house more comfortable than venturing outside. And then television also kept people indoors. A radio could be heard through an open window, but a television actually needed to be watched. I suppose a television set could be brought out onto the porch and plugged in by a cord through the window, but that seems like a lot of trouble.
Also, sometime in the fifties and sixties, outdoor culture moved to the back of the house instead of the front. Many people, including my family, built patios and decks off the backs of their houses instead of the street side, and children played in the backyard instead of the front. While this certainly increased privacy and was perhaps a little safer than letting your children play in the street, it was also less neighborly. I suppose you could still wave at your neighbors if they were in their backyards, but quite probably there was now a fence separating you. It was no longer easy to just wave them over, and you weren't likely to wander over there without an invitation. Maybe the rapid rise of the automobile played a hand in moving outdoor culture to the back of the house instead of the front, because if you lived on a busy street it was no longer as pleasant to sit out front as it was when most of the traffic was pedestrian. I don't know if that's true, but it could be.
Another factor in the demise of front-porch culture, sadly,  is the rise in crime. Frankly, you can't safely sit out on your porch in areas where you're likely to get shot at, which is something that happens far too often in far too many parts of our country. Years ago, people out on their porches served as a deterrent to crime, sort of like an informal Neighborhood Watch. But that worked mostly with petty crime like break-ins and vandalism, not drive-by shootings and gang warfare.
Back in 2006, National Public Radio did a series about front-porch culture, connecting it with debate and democracy. As a transitional space between the privacy of the home and the public nature of the street, the porch was a sort of middle ground where people could become acquainted and enjoy good fellowship with one another and talk over the issues of the day or of the community. For a while there was even a Professional Porch Sitters Union, dedicated to bringing back the best of front-porch culture, but recently I wasn't able to find any current information about it, so I don't know if it still exists. I'll put a link to the NPR series in the show notes.
How can you bring back front-porch culture in your community? If you have a front porch, or a scrap of lawn or even a sidewalk, and if it's safe in your area to do so, go outside and sit there. Smile and wave at people who pass by. Have an extra chair or to so that if someone stops to talk, you can invite them to sit. If you live way out in the country, as I do, you may have to be a little more deliberate about actually inviting neighbors over to share your porch, as they aren't likely to even see or notice you otherwise. And if you live in an apartment building and don't have a porch? Maybe set up a few chairs on the common lawn area, or in a nearby park. In the end, porch-sitting is not so much a reality as a state of mind. A state of mind that's friendly, curious, and content to just sit for a spell, as the Mayberry people used to say, and watch the world go by.
How about you? Do you remember front porches? Do you have one? If so, do you ever use it? If you have memories of front-porch life, or even stories from your parents and grandparents, I'd love to hear them Leave a comment at sparklingvintagelife.com under Episode Eighteen, or send me an email at jenny@sparklingvintagelife.com
And I'll be back in a moment with today's grace note.
Today's grace note is a little book called God, Me, and Sweet Iced Tea by Rose Chandler Johnson. This is a devotional book. It could be used as a daily devotional or just for when you need a little encouragement. It seems tailor-made for early mornings on the porch. Rose Chandler Johnson has a friendly, warm writing style, and reading her book feels a little like a friend talking to a friend. I'll  put a link in the show notes.
I also want to remind you that you can subscribe to A Sparkling Vintage Life at Apple Podcasts or iTunes or just about any place that offers podcasts. That way you won't miss any episodes. If you'd be kind enough to leave a review, that will help raise the visibility of this little show so that like-minded kindred spirits can find it. And if you care to read my blog or subscribe to my email newsletter, or simply leave a comment, you can do that at sparklingvintagelife.com.
And that's it for today. Stop in again soon when we'll be discussing another aspect of A Sparkling Vintage Life.
July 2019 New Releases
More in-depth descriptions of these books can be found on the ACFW Fiction Finder website.
Contemporary Romance:
Hometown Hope by Laurel Blount — In the three years since her mother's death, widower Hoyt Bradley's daughter, Jess, hasn't spoken—until she suddenly begs him to save her favorite bookstore from closing. Hoyt is desperate to hear his daughter's voice again, but he and the bookstore's pretty owner, Anna Delaney, share a less-than-friendly past. Working together is complicated enough…but can they avoid falling in love? (Contemporary Romance from Love Inspired [Harlequin])
A Heart Surrendered by Joy K. Massenburge — Since her teens, pastor's daughter Sharonda Peterson devoted her life to church service and solitude after the one night she gave Carl Ray Everhart everything. Sobered by a near-death experience, prodigal Carl returns home from an acting and singing career to serve as the worship leader at Sheronda's church, and she finds that it takes every ounce of her resolve to resist his pursuits … not to mention memories that threaten to overturn the delicate balance she's created. Can she finally surrender the one thing she's tried all these years to protect: her heart? (Contemporary Romance from Harambee Press [Lighthouse Publishing of the Carolinas])
Starting Anew by Melanie D. Snitker — He's afraid to trust. She has a secret that could change everything between them. Will they let go of their fear, or allow it to rob them of their chance at happiness? (Contemporary Romance, Independently Published)
Historical:
Underestimating Miss Cecilia by Carolyn Miller — Can shy, sweet Cecilia overcome her family's prejudice to see a future with the recently returned prodigal son from next door? (Historical from Kregel Publications)
Benaiah: Might Man of God by PH Thompson — A novel of Biblical, historical fiction about Benaiah, one of King David's mighty men, examining the premise: What happens when the king's most obedient soldier is issued a wicked command? (Historical/Biblical from Word Alive Press)
Historical Romance:
Waltz with Destiny by Catherine Ulrich Brakefield — When the men and women of World War II marched off to war, they didn't know what lay ahead. All they knew was that upon their young and inexperienced shoulders rested the plight of the free world. (Historical Romance from CrossRiver Media Group)
Thimbles and Threads by Mary Davis, Grace Hitchcock, Suzanne Norquist, and Liz Tolsma — Enjoy four historical romances that celebrate the arts of sewing and quilting. When Tilly, a schoolteacher; Alice, a bridal shop owner; Sarah, a seamstress; and Melissa, a rag doll designer, put needle and thread to fabric, will their talents lead to the surprising gift of love? (Historical Romance from Barbour Publishing)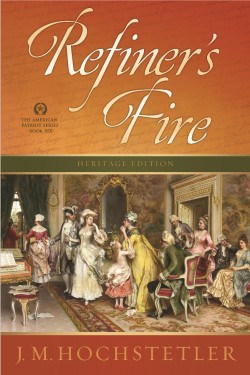 Refiner's Fire by J.M. Hochstetler —
Will the promise their hearts cling to finally find joyful fulfillment, or will war's refining fire separate them forever? (Historical Romance from Sheaf House Publishers)
Where Dandelions Bloom by Tara Johnson — To escape an arranged marriage, Cassie Kendrick enlists in the Union army as a man, taking the name Thomas Turner. On the battlefields of the Civil War, keeping her identity a secret is only the beginning of her problems, especially after she meets Gabriel Avery, a handsome young photographer. Anxious to make his mark on the world and to erase past guilt, Gabriel works with renowned photographer Matthew Brady to capture images from the front lines of the war. As Gabriel forges friendships along the way, he wonders what the courageous, unpredictable Thomas Turner is hiding. Battling betrayal, their own personal demons, and a country torn apart by war, can Cassie and Gabriel forgive themselves and trust their futures to the God who births hope and healing in the darkest places? (Historical Romance from Bethany House [Baker])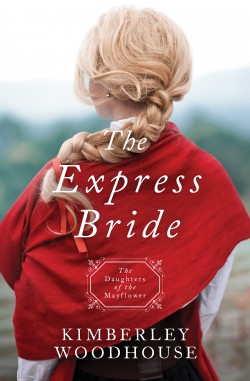 The Express Bride by Kimberly Woodhouse — Jacqueline Rivers manages a Pony Express station in 1860 Utah territory after her father's death. There are daily stresses placed on her in this unconventional role—and now a government official is asking her to sniff out counterfeiters. When Elijah Johnson passes through on the stage while on an exhausting quest to find his boss's heir, he doesn't want to leave the beguiling station manager. In fact, he may never leave when caught in the crossfire of the territory's criminal activities. Can she remain strong when secrets of the past and present are finally unearthed? (Historical Romance from Barbour Publishing)
Romantic Suspense:
Legacy Rejected by Robin Patchen — She's not giving up her home, no matter what threats come against her. Realtor Ginny Lamont's family has abandoned her, leaving her with nothing but a warning that she's in danger. But Ginny's built a home in New Hampshire. After a childhood of nomadic living, she's not running again, certainly not because of some nameless, baseless threat. Real estate developer Kade Powers is thrilled to go out with Nutfield's beautiful new real estate agent. But the prowler they surprise after their first date offers a glimpse into Ginny's past and the legacy of lies her parents left her with. She brings a mystery, one he's determined to help her solve. With Kade's help, Ginny searches for the truth of her parents' criminal activity while her enemies close in. When mobsters show up in her quaint New England town, will she find a way to bring them down, or will she lose the home—and the man—she's come to love? (Romantic Suspense, Independently Published)
Suspense:
Storm Rising by Ronie Kendig — Mentioned in the pages of the Old Testament but lost to history, the Book of the Wars has resurfaced, and its pages hold secrets–and dangers–never before seen on earth. Tasked with capturing the ancient text, former Navy SEAL Leif Metcalfe is once more given command of his own team. But their best efforts are ruined when a notorious Bulgarian operative known as Viorica snatches the volume right out from under them. Iskra "Viorica" Todorova is determined to use the book to secure the thing that matters most–freedom. But a series of strange storms erupts around the globe, and the coming dangers foretold in the text threaten crops, lives, and entire nations. Though both are haunted by secrets of their past and neither trusts the other, Leif and Iskra must form an uneasy alliance to thwart impending disaster. However, the truth hidden in centuries-old words could unleash a storm of their own destruction. (Suspense from Bethany House [Baker])
Speculative:
The Story Raider by Lindsay A. Franklin — Deceiving an empire is a treacherous game. Tanwen and the Corsyth weavers race to collect the strands of an ancient cure that might save Gryfelle. But Tanwen has a secret–Gryfelle isn't the only one afflicted by the weaver's curse. As Queen Braith struggles to assert her rule, a new arrival throws her tenuous claim to the Tirian throne into question. Braith's heart is turned upside down, and she's not sure she can trust anyone–least of all herself. The puppet master behind Gareth's rise to power has designs on Tanwen and the story weavers, and will stop at nothing to reclaim the throne. A plot to incite the angry peasants of Tir takes shape, and those dearest to Tanwen will be caught in the crossfire. As the fight for Tir consumes the realm, no one can remain innocent. (Speculative from Enclave Publishing)
Sign up for my Reader Community