This "bonus" minisode tackles the topic of common courtesy, which is so much more than using the right salad fork. If we're ever going to solve the problem of hatred and violence in our world, we've got to start with treating each other with basic respect, kindness, and dignity.
If you prefer to read rather than listen, scroll down to find a transcript of this episode.
Show notes:
Civility by Stephen L. Carter
Transcript of Episode 18.5: Courtesy in a Violent World
This is a quick minisode–I'm calling it Episode 18.5–about the role of good manners in society. This is maybe a slightly more serious topic today than I normally talk about, but a few distressing things have happened lately in the news. I know distressing news is not unusual, and normally I don't watch a lot of news for that reason. But a couple stories have come across my newsfeed than broke my heart.
First, there was a brawl that broke out at that supposedly happiest place on Earth, Disneyland. Even worse, this brawl broke out in the Toontown section, which I understand is where the youngest children go. So who knows how many people  including some very young children had their visit ruined by having to be unwilling witnesses to this brawl that broke out among adults who were angry with each other and couldn't manage to settle their differences peacefully, without shouting and cursing and physical violence.
I was still reeling from that story when the second story hit. This one happened much closer to my home. It happened in a small town quite near to me, where two teenage girls beat a third teenage girl, allegedly with a baseball bat, and put her in the hospital. This is normally a quiet, almost sleepy place, and to have something like this happen here just … there are no words.
I'm not going to go into detail on either one of these stories, nor am I going t link to them. I don't want these kinds of topics on my page. The only reason I'm even bringing them up here today is that I feel they point to and are indicators of what can happen when people forget, or perhaps are never even taught, how to be civil to one another. Call it what you will–call it good manners or proper etiquette or civility or decency–those are all facets of the same thing. These acts of violence, as well as many others that take place here in America and all over the world, are symptoms. They're symptoms of people losing their ability to get along with each other for the good of the community.
Sometimes people are amused by or even ridicule my longing for a return to good manners in society today. After all, who cares which fork you use for your salad or whether or not to chew with your mouth closed. Well, they're right. It's not about the forks. It's not about the table manners. When you're talking violence, these things don't matter much. As many commenters have pointed out, people who do these sorts of things are steeped in dysfunction and violence and maybe mental illness. No amount of "please" and "thank you" can fix that.
But at its essence, above everything else, practicing good manners is simply a social lubricant that reduces the friction that occurs when people rub up against others or encounter people who rub them the wrong way. It's a balm for wounds to keep them small and avoid letting them blow up into bigger problems.
Manners help people of different viewpoints and backgrounds and experiences to get along when they're in the public square or at any type of gathering.  Mannerly behavior and civility give people a framework within which they can try to work out their differences and a standard of behavior to treat each other with respect and dignity, not to beat someone to a pulp because they said or did something someone else didn't like. At the very least, if differences cannot be resolved, good manners provide a way for each party to walk away, to maintain their own space, and to avoid interacting for their mutual benefit, if that's the only way to keep the peace.
I'm not talking about glossing over problems or putting a fake happy face on them. But I am talking about using what used to be called common courtesy or basic courtesy to allow us to overlook the petty grievance or unintended slight instead of taking offense, or to resolve it in a way that leaves both affected parties with their dignity intact before the situation devolves into a brawl. Civility also assures that others don't get drawn into the disagreement, either as unwilling witness like the innocent tourists trying to enjoy a day at Disneyland, or even those who are initially not involved but whose emotions are ginned up to the point where they take sides in the fight.
In his excellent book Civility, Stephen L. Carter writes, "Civility as a moral proposition begins with the assumption that humans matter, that we owe each other respect, and that treating each other well is a moral duty. Civility so understood often requires us to put aside our own interests and desires for the benfit of others–which, as the ancient philosopher Erasmus understood, is what civilization is all about."
In short, civility teaches us to discipline our desires for the sake of others.  In short, it's the Golden Rule: to treat others as we would want to be treated. To love one another, and love our neighbors as ourselves.
So, no, I'm not naïve enough to think a few charm-school lessons are going to solve the deeply rooted problem of violence and incivility in our world. But I'm not going to sit idly by, either. I'm going to do my part to restore dignity and grace to the extent that I can, within my sphere of influence, one person at a time. Won't you join me?
Sitting on the front porch, visiting with family and friends or just catching a cooling breeze, used to be a regular part of summertime life, before air conditioning and television sent us all scooting back indoors. Come and sit awhile and reminisce with Jennifer about the front porches of yesteryear. Maybe you'll even be inspired to dust off that old wicker rocker–the one that creaked so soothingly as you watched the fireflies in the dusk.
If you prefer to read rather than listen, scroll down to find a transcript of Episode 18.
Show notes:
NPR series on front-porch culture
God, Me, and Sweet Iced Tea by Rose Chandler Johnson
Jennifer's Fiction
Transcript of Episode 18: Front Porch Life
Hello, Sparklers! Welcome to A Sparkling Vintage Life, where we talk about all things vintage and celebrate the grace and charm of an earlier era. I'm your host, Jennifer Leo, and this is Episode number eighteen.
I'm so happy you've stopped by to spend a few minutes with me. It's the first week of July as I record this, so I'm wishing a slightly belated Happy Canada Day to our neighbors to the north, and a Happy Fourth of July to my American listeners.
Today I want to talk about front porches. And in this case you can translate "front porch" however you like. It could be a flight of cement stairs in the city, maybe a set of lawn chairs or a blanket on the ground in the front yard, a little balcony, or anything at all. For my purposes,I consider a front porch anything that (a) brings your family out of the house and (b) faces the street or the sidewalk or any place that potentially brings you into contact with your neighbors and people who are passing by.
Front-porch culture used to be a regular summer pastime in many parts of the US. Families would gather on the porch in the warm twilight and talk about their day, or maybe the adults would just sit and relax, watching the children play tag or chase fireflies on the front lawn. Mom or Grandma might bring out a pitcher of lemonade and tray of tall frosty glasses, or dishes of ice cream, maybe hand-cranked like we talked about recently, or something fun like popsicles. Maybe someone would bring out a guitar and strum gentle tunes (I got that idea from The Andy Griffith Show, set in that quintessential small town, Mayberry. I have a memory of Sheriff Andy bringing his guitar out on the porch in the warm North Carolina evening and singing some quiet song to Aunt Bee and Helen Crump in the moonlight. It's possible he only did it on one episode, but that vision stuck with me all these years).
Because front porches faced the street, people could greet their neighbors, who likely were also sitting out on their own front porches. Maybe they'd wave you over, or you'd wave them over, and you'd make room for them to sit and visit a while the kids played together. You'd at least wave or smile at people passing by. And there were people passing by, taking walks after dinner, catching a bit of fresh air before turning in for the night. If the porch had a roof, and it usually did, you would be shaded from the sun, and could even sit outside if it was raining.
People enjoyed their front porches even as the seasons changed, just adding sweaters as the cooler evenings of autumn settled in, until the autumn chill became downright cold and chased them back inside for the winter.
Porches were also the setting for many a romance. Those hard wooden porch swings and metal gliding sofas might have been less than comfortable to sit on, but you'd forget all that if the right person was sitting on them with you. Even my own novel, You're the Cream in My Coffee , set in the 1920s, features a romantic conversation set on a porch swing. As I understand it, concerned parents might switch the porch light on and off, or tap on the windowsill, to signal when it was time to say goodnight to one's beloved and come inside.
Whatever happened to front-porch culture? Well, several things. Air conditioning, for one. After World War II a steadily increasing number of households added air conditioning, which made staying inside a cool house more comfortable than venturing outside. And then television also kept people indoors. A radio could be heard through an open window, but a television actually needed to be watched. I suppose a television set could be brought out onto the porch and plugged in by a cord through the window, but that seems like a lot of trouble.
Also, sometime in the fifties and sixties, outdoor culture moved to the back of the house instead of the front. Many people, including my family, built patios and decks off the backs of their houses instead of the street side, and children played in the backyard instead of the front. While this certainly increased privacy and was perhaps a little safer than letting your children play in the street, it was also less neighborly. I suppose you could still wave at your neighbors if they were in their backyards, but quite probably there was now a fence separating you. It was no longer easy to just wave them over, and you weren't likely to wander over there without an invitation. Maybe the rapid rise of the automobile played a hand in moving outdoor culture to the back of the house instead of the front, because if you lived on a busy street it was no longer as pleasant to sit out front as it was when most of the traffic was pedestrian. I don't know if that's true, but it could be.
Another factor in the demise of front-porch culture, sadly,  is the rise in crime. Frankly, you can't safely sit out on your porch in areas where you're likely to get shot at, which is something that happens far too often in far too many parts of our country. Years ago, people out on their porches served as a deterrent to crime, sort of like an informal Neighborhood Watch. But that worked mostly with petty crime like break-ins and vandalism, not drive-by shootings and gang warfare.
Back in 2006, National Public Radio did a series about front-porch culture, connecting it with debate and democracy. As a transitional space between the privacy of the home and the public nature of the street, the porch was a sort of middle ground where people could become acquainted and enjoy good fellowship with one another and talk over the issues of the day or of the community. For a while there was even a Professional Porch Sitters Union, dedicated to bringing back the best of front-porch culture, but recently I wasn't able to find any current information about it, so I don't know if it still exists. I'll put a link to the NPR series in the show notes.
How can you bring back front-porch culture in your community? If you have a front porch, or a scrap of lawn or even a sidewalk, and if it's safe in your area to do so, go outside and sit there. Smile and wave at people who pass by. Have an extra chair or to so that if someone stops to talk, you can invite them to sit. If you live way out in the country, as I do, you may have to be a little more deliberate about actually inviting neighbors over to share your porch, as they aren't likely to even see or notice you otherwise. And if you live in an apartment building and don't have a porch? Maybe set up a few chairs on the common lawn area, or in a nearby park. In the end, porch-sitting is not so much a reality as a state of mind. A state of mind that's friendly, curious, and content to just sit for a spell, as the Mayberry people used to say, and watch the world go by.
How about you? Do you remember front porches? Do you have one? If so, do you ever use it? If you have memories of front-porch life, or even stories from your parents and grandparents, I'd love to hear them Leave a comment at sparklingvintagelife.com under Episode Eighteen, or send me an email at jenny@sparklingvintagelife.com
And I'll be back in a moment with today's grace note.
Today's grace note is a little book called God, Me, and Sweet Iced Tea by Rose Chandler Johnson. This is a devotional book. It could be used as a daily devotional or just for when you need a little encouragement. It seems tailor-made for early mornings on the porch. Rose Chandler Johnson has a friendly, warm writing style, and reading her book feels a little like a friend talking to a friend. I'll  put a link in the show notes.
I also want to remind you that you can subscribe to A Sparkling Vintage Life at Apple Podcasts or iTunes or just about any place that offers podcasts. That way you won't miss any episodes. If you'd be kind enough to leave a review, that will help raise the visibility of this little show so that like-minded kindred spirits can find it. And if you care to read my blog or subscribe to my email newsletter, or simply leave a comment, you can do that at sparklingvintagelife.com.
And that's it for today. Stop in again soon when we'll be discussing another aspect of A Sparkling Vintage Life.
July 2019 New Releases
More in-depth descriptions of these books can be found on the ACFW Fiction Finder website.
Contemporary Romance:
Hometown Hope by Laurel Blount — In the three years since her mother's death, widower Hoyt Bradley's daughter, Jess, hasn't spoken—until she suddenly begs him to save her favorite bookstore from closing. Hoyt is desperate to hear his daughter's voice again, but he and the bookstore's pretty owner, Anna Delaney, share a less-than-friendly past. Working together is complicated enough…but can they avoid falling in love? (Contemporary Romance from Love Inspired [Harlequin])
A Heart Surrendered by Joy K. Massenburge — Since her teens, pastor's daughter Sharonda Peterson devoted her life to church service and solitude after the one night she gave Carl Ray Everhart everything. Sobered by a near-death experience, prodigal Carl returns home from an acting and singing career to serve as the worship leader at Sheronda's church, and she finds that it takes every ounce of her resolve to resist his pursuits … not to mention memories that threaten to overturn the delicate balance she's created. Can she finally surrender the one thing she's tried all these years to protect: her heart? (Contemporary Romance from Harambee Press [Lighthouse Publishing of the Carolinas])
Starting Anew by Melanie D. Snitker — He's afraid to trust. She has a secret that could change everything between them. Will they let go of their fear, or allow it to rob them of their chance at happiness? (Contemporary Romance, Independently Published)
Historical:
Underestimating Miss Cecilia by Carolyn Miller — Can shy, sweet Cecilia overcome her family's prejudice to see a future with the recently returned prodigal son from next door? (Historical from Kregel Publications)
Benaiah: Might Man of God by PH Thompson — A novel of Biblical, historical fiction about Benaiah, one of King David's mighty men, examining the premise: What happens when the king's most obedient soldier is issued a wicked command? (Historical/Biblical from Word Alive Press)
Historical Romance:
Waltz with Destiny by Catherine Ulrich Brakefield — When the men and women of World War II marched off to war, they didn't know what lay ahead. All they knew was that upon their young and inexperienced shoulders rested the plight of the free world. (Historical Romance from CrossRiver Media Group)
Thimbles and Threads by Mary Davis, Grace Hitchcock, Suzanne Norquist, and Liz Tolsma — Enjoy four historical romances that celebrate the arts of sewing and quilting. When Tilly, a schoolteacher; Alice, a bridal shop owner; Sarah, a seamstress; and Melissa, a rag doll designer, put needle and thread to fabric, will their talents lead to the surprising gift of love? (Historical Romance from Barbour Publishing)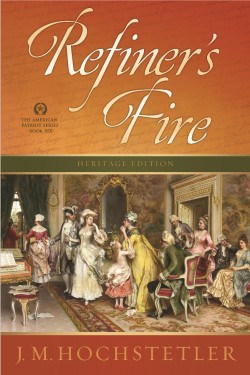 Refiner's Fire by J.M. Hochstetler —
Will the promise their hearts cling to finally find joyful fulfillment, or will war's refining fire separate them forever? (Historical Romance from Sheaf House Publishers)
Where Dandelions Bloom by Tara Johnson — To escape an arranged marriage, Cassie Kendrick enlists in the Union army as a man, taking the name Thomas Turner. On the battlefields of the Civil War, keeping her identity a secret is only the beginning of her problems, especially after she meets Gabriel Avery, a handsome young photographer. Anxious to make his mark on the world and to erase past guilt, Gabriel works with renowned photographer Matthew Brady to capture images from the front lines of the war. As Gabriel forges friendships along the way, he wonders what the courageous, unpredictable Thomas Turner is hiding. Battling betrayal, their own personal demons, and a country torn apart by war, can Cassie and Gabriel forgive themselves and trust their futures to the God who births hope and healing in the darkest places? (Historical Romance from Bethany House [Baker])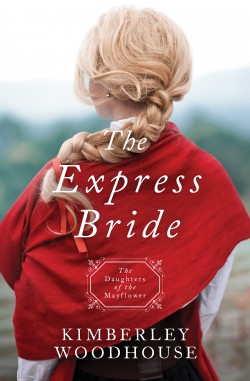 The Express Bride by Kimberly Woodhouse — Jacqueline Rivers manages a Pony Express station in 1860 Utah territory after her father's death. There are daily stresses placed on her in this unconventional role—and now a government official is asking her to sniff out counterfeiters. When Elijah Johnson passes through on the stage while on an exhausting quest to find his boss's heir, he doesn't want to leave the beguiling station manager. In fact, he may never leave when caught in the crossfire of the territory's criminal activities. Can she remain strong when secrets of the past and present are finally unearthed? (Historical Romance from Barbour Publishing)
Romantic Suspense:
Legacy Rejected by Robin Patchen — She's not giving up her home, no matter what threats come against her. Realtor Ginny Lamont's family has abandoned her, leaving her with nothing but a warning that she's in danger. But Ginny's built a home in New Hampshire. After a childhood of nomadic living, she's not running again, certainly not because of some nameless, baseless threat. Real estate developer Kade Powers is thrilled to go out with Nutfield's beautiful new real estate agent. But the prowler they surprise after their first date offers a glimpse into Ginny's past and the legacy of lies her parents left her with. She brings a mystery, one he's determined to help her solve. With Kade's help, Ginny searches for the truth of her parents' criminal activity while her enemies close in. When mobsters show up in her quaint New England town, will she find a way to bring them down, or will she lose the home—and the man—she's come to love? (Romantic Suspense, Independently Published)
Suspense:
Storm Rising by Ronie Kendig — Mentioned in the pages of the Old Testament but lost to history, the Book of the Wars has resurfaced, and its pages hold secrets–and dangers–never before seen on earth. Tasked with capturing the ancient text, former Navy SEAL Leif Metcalfe is once more given command of his own team. But their best efforts are ruined when a notorious Bulgarian operative known as Viorica snatches the volume right out from under them. Iskra "Viorica" Todorova is determined to use the book to secure the thing that matters most–freedom. But a series of strange storms erupts around the globe, and the coming dangers foretold in the text threaten crops, lives, and entire nations. Though both are haunted by secrets of their past and neither trusts the other, Leif and Iskra must form an uneasy alliance to thwart impending disaster. However, the truth hidden in centuries-old words could unleash a storm of their own destruction. (Suspense from Bethany House [Baker])
Speculative:
The Story Raider by Lindsay A. Franklin — Deceiving an empire is a treacherous game. Tanwen and the Corsyth weavers race to collect the strands of an ancient cure that might save Gryfelle. But Tanwen has a secret–Gryfelle isn't the only one afflicted by the weaver's curse. As Queen Braith struggles to assert her rule, a new arrival throws her tenuous claim to the Tirian throne into question. Braith's heart is turned upside down, and she's not sure she can trust anyone–least of all herself. The puppet master behind Gareth's rise to power has designs on Tanwen and the story weavers, and will stop at nothing to reclaim the throne. A plot to incite the angry peasants of Tir takes shape, and those dearest to Tanwen will be caught in the crossfire. As the fight for Tir consumes the realm, no one can remain innocent. (Speculative from Enclave Publishing)

It's June in North America, which means the thermometer's rising and strawberries are in season. Bring on the ice cream and join us at that most vintage celebration of summer, the ice cream social!
If you prefer to read rather than listen, scroll down to find a transcript.
Show Notes:
Links:
Home economist Laura MacFarlane worked closely with Mary Brooks Picken at the Woman's Institute for Domestic Arts and Sciences, which you may remember from Episode 2.
Listen to Episode 16: Time for Tea! for the discussion of curate's assistants at around 3:40..
Women's Christian Temperance Union (WCTU)
Jennifer Lamont Leo's fiction:
Transcript of Episode 17: An Ice Cream Social
Welcome to A Sparkling Vintage Life, where we talk about all things vintage and celebrate the grace and charm of an earlier era. I'm your host, Jennifer Leo, and this is Episode number seventeen.
Hello, Sparklers. I'm so happy you've stopped by to spend a few minutes with me. It's June 21, 2019, as I record this, which means summer has officially started, although apparently northern Idaho missed the memo and so I'm sitting here wrapped in a sweater. Nevertheless, summer is here, so this episode is the first of a short series on ways to enjoy a Sparkling Vintage summer. Today we're talking about that classic summertime treat, ice cream.
But first, I wanted to give a heartfelt thank-you to Sparkler Mamamanzke, who left a five-star review. She wrote: "A Sparkling Vintage Life takes me away. When I just want to escape the stresses of today, I enjoy listening to Ms. Leo. It's refreshing and clean. If only I were born in that era." That's how I hope every one of you feels while listening to the podcast. I want it to be a respite from the hustle and bustle of life, a little oasis of calm and a place to think about things that are true, good, and beautiful.
Also, on last week's episode about tea, I mentioned that multi-tiered tray called a curate's assistant. I mentioned that I didn't know where the term "curate's assistant" came from, but speculated that it had to do with church services, specifically Anglican, where a "curate" is the lowest form of the priesthood–the beginner level, as it were, assisting a priest or vicar. Sparkler Linda wrote in to say she'd recently heard that in the context of food, "to curate" means to put together certain foods for a particular meal or gathering. I guess it's sort of like curating an exhibit in a museum, or curating a wardrobe, where you carefully choose some items and leave out others to achieve a desired effect. So maybe that's where the term comes from. Thanks, Linda, for writing in.
And now on to our topic, which is ice cream. Writing in 1926, home economist Laura MacFarlane wrote, "No other variety of food appears to retain its popularity throughout the year with old and young alike as ice cream and its closely related desserts. But there is no time or season when these delicacies are so much appreciated nor so nearly "touch the spot" as when the mercury is creeping perilously near 100 degrees. Reinforced with a heaping dish of fresh-fruit ice cream, you will be prepared to baffle even the cruelest plans that Old Sol will take such delight in perpetrating [during high summer]."
In America, the first time we know of ice cream being served at a gathering was 1744, when Maryland governor Thomas Bladen served strawberry ice cream at a dinner party. Soon it became a favored dessert in the Capitol, with George Washington, Dolley Madison, and Alexander Hamilton's wife Betsy Hamilton all being particularly avid fans. In 1802, Thomas Jefferson served ice cream at an official White House dinner. He liked it so much that he learned to make it and even imported equipment to do so. At that time, ice cream was molded into shapes. I can't imagine the effort it took to make and serve ice cream in steamy Washington, D.C., or anywhere in the American South, in the days before refrigeration, But of course it was a treat for the wealthy, as they were the ones with the resources to build ice houses on their estates and plantations.
However, in the early nineteenth century, two African Americans–Mrs. Jeremiah Shedd and Mr. Augustus Jackson,–brought ice cream to the general population. Mrs. Shedd opened a catering business serving "frozen cream, sugar, and fruit" which became a sensation. And about twenty years after that, in 1832, Augustus Jackson, a White House chef, invented an efficient new way to manufacture ice cream using salt mixed in with the cream. Sadly, he never applied for a patent. Often called "The father of ice cream," Jackson moved to Philadelphia and experimented with more flavors and methods, and he distributed the ice cream in tin cans to places called "ice cream parlors." Ice cream parlors gained popularity throughout the late nineteenth and early twentieth centuries as family-friendly places where young people and ladies could safely gather. Then they got a huge boost during Prohibition, when the liquor business went underground and many saloons switched to serving ice cream rather than close their doors. Drug stores, too, opened ice cream and lunch counters to serve the weary shopper in need of refreshment.
Meanwhile, back in 1843 Nancy Johnson had invented a hand-cranked ice cream freezer, and she did patent it. This contraption meant that anybody with sufficient arm strength and patience could make ice cream at home. Ice-cream-churning was especially popular on farms with their ready access to fruit from the orchards and cream from the cows. The image of children taking turns cranking the ice cream on the back porch has become an iconic symbol of heartland America.
After the Civil War, large cities saw the advent of street vendors, or Hokey Pokey men, as they were called. These vendors, who were often Italian immigrants, were the forerunners of the Good Humor truck some of us may remember from childhood. The origin of the name "hokey-pokey" is a bit of a mystery. Some think it's a variation of the magic term, "hocus pocus." More likely, it's a corruption of the Italian "Oche poco," or "Oh, how little," referring to the price of the ice cream, which was cheap, and not the serving size. Lumps of ice cream were served in glass or wrapped in paper under sometimes questionable sanitation.
In 1897 another African American, Alfred L. Cralle, was issued a patent for the ice cream scoop, which allowed the scooper to dispense a uniform serving of ice cream using just one hand. Cralle's basic design is still widely in use today.  
Ice cream as America's favorite dessert got a big boost at the World's Fairs in Philadelphia in 1876 and Chicago in 1893, but it was at the Louisiana Purchase Exposition in St. Louis in 1904 where the ice cream cone was introduced to America, although the story of exactly which vendor should get the credit for introducing it is a matter of some debate. If you watch the old Judy Garland musical Meet Me in St. Louis, filmed in 1944, you'll see the family enjoying ice cream cones as they visit the Fair.
Another twentieth-century innovation is the ice cream sundae. Here, too, the exact birthplace of the sundae is a bit sketchy, with two towns–Ithaca, NY, and Two Rivers, Wisconsin–nearly coming to blows  over it with heated debates in the newspapers. A third town, Evanston, Illinois, doesn't claim to have come up with the sundae, but they do like to take credit for the name. Evanston was home to the Women's Christian Temperance Union, which opposed alcohol in all forms and championed the sundae as an alternative to alcoholic drinks. The story goes that religious hard-liners objected to the use of Sunday, the Lord's Day, for such a decadent concoction. So the spelling was changed to s-u-n-d-a-e to differentiate it from the day of the week. Again, much of this may be apocryphal. It may be, as one source reported, a simple matter of a misspelling on a shipment of the trademark tall, fluted glassware that sundaes are served in. No matter how it's spelled, sundaes and make-it-yourself sundae bars, with ice cream and all the fixin's, are standard fare at ice cream socials.
For some reason, gatherings around ice cream are called "socials." I suppose they could be called "ice cream parties" just as well, but "social" is the term that has stuck.
I remember attending ice cream socials at my church when I was a child, but they seem to have gone out of style except in pockets here and there. I understand there's a quite well-known one held every summer on Prince Edward Island, the home base of author Lucy Maud Montgomery and her beloved heroine, Anne of Green Gables. But, of course, an ice-cream social seems a particularly Anne Shirley-ish thing to do.
In the latter half of the nineteenth and early twentieth century, ice cream socials became a favorite form of entertainment. Churches, schools, and other nonprofit organizations, in particular, latched onto the ice cream social as a way to raise funds for a good cause. I think it's time to bring it back.
What do you need to put on an ice cream social? Well, ice cream, of course, and a way to keep it cold on a hot day. Bins of ice or portable freezers or access to a kitchen with a freezer is ideal. A variety of flavors would be good, as well as a variety of mix-ins: sprinkles, cut-up fruit, bits of candy, that sort of thing. Some jars of sauce to pour over top. Whipped cream. Maraschino cherries. Baked goods to accompany the  ice cream are nice. Shortbread, of course, for strawberry shortcake during berry season. Perhaps brownies, cake, or cookies. Bring plenty of bowls and spoons–you don't want to run out. For decorating ideas, visit Pinterest and do a search for "ice cream social" or "strawberry social." You'll be deluged with decorating ideas.
How about you? Are you fond of ice cream? Have you ever been to an ice cream social, or hosted one yourself? You can let me know in the comments.
Today's grace note is the movie I mentioned earlier, Meet Me in St. Louis, starring Judy Garland, It came out in 1944, which makes it seventy-five years old this year. If you enjoy dreamy, nostalgic images of early-twentieth-century Americana, this is the movie for you. Set in St. Louis, Missouri, in the year leading up to the 1904 Louisiana Purchase Exposition, the story centers around one prosperous family as they move through summer, fall, winter, and spring, and particularly one daughter of that family, Esther, as she meets and is courted by the young man who's just moved in next door. It's a musical containing several songs you might recognize, like "The Boy Next Door," "Have Yourself a Merry Little Christmas," and "The Trolley Song. Look for Meet Me in St. Louis when you've had it with twenty-first century life and are ready for an idyllic rose-tinted trip down Memory Lane.

Afternoon tea and conversation…the perfect combination! Come sit down, pour yourself a cuppa, and let's dish about the delight that is afternoon tea. If you'd prefer to read rather than listen, scroll down to find a transcript.
Show Notes: Brambleberry Cottage
Jennifer's fiction:
Transcript of Episode 16: Time for Tea! This is Episode number sixteen of the podcast, and today we're talking about tea and tea parties.
But first, a quick update on my writing. I'm closing in on finishing the novel set primarily in 1930s Hollywood. I should have that done in a few weeks. Then it will go to an editor, and then to my agent to see if he likes it and want to represent it to publishers. If he does, I'll leave it with him and start on my next book. If he chooses not to represent it, which could happen for any number of legitimate reasons, then I'm going to explore other options, like publishing it myself. I'm a little scared of self-publishing a novel, as the process seems daunting. But I did self-publish a short-story collection earlier this year, called Songbird and Other Stories, and that process went smoothly. The agent is already representing a different novel of mine, featuring the rise of a businesswoman from the ashes of the Great Depression, but that one has not found a buyer yet. I'm also still planning on producing large-print and audio editions of Songbird. So I've been pretty busy on the writing front.
And now on to today's topic, which is tea. A few days ago I went to afternoon tea with a dear friend. Our tea date has become a tradition that we try to follow at least once a year. This is not just your typical Starbucks run, although I love those get-togethers, too. Afternoon tea is special. My friend and I use the occasion to get all gussied up in our favorite dresses. We drive to Spokane, Wash., which is about ninety minutes away from where we live. Our preferred spot is called Brambleberry Cottage, which is an old house that's been turned into a tea cafe. Each room is beautifully decorated, and the staff is warm and friendly. You get to choose your tea from a long menu of types and flavors, and it comes to your table in little individual pots. The tables are decorated with antique linens and fine china, all different patterns and colors, and there's soft instrumental music playing. The food comes on a tall, multi-level tray.
I recently learned that the name for this three-tiered structure is a "curate's assistant." Unable to find a reason for this name, I have to assume it has something to do with church services, possibly the serving of communion.
Anyway, back to our tea, the food includes everything from little cucumber and chicken-salad sandwiches to scones and crumpets to desserts. There's something for everybody here, and the exact menu varies with the seasons and the cook's whims. These morsels are dainty in size, but there's plenty of them, and we always leave the table satisfied. But best of all is the conversation, the unhurried time to catch up one-on-one with my friend, both during tea and on the drives there and back. One time when the weather was too nasty to drive to Spokane, I invited my friend over to my house for tea. I pulled out my prettiest linens and china and made a variety of special things to eat, and of course I brewed tea. It was lovely and fun, but it was also a lot of work. I'm just as happy to travel to the tearoom and let them take care of us for a couple of hours.
I got to thinking about what it is that makes going out for afternoon tea so special. I decided on six reasons, in no particular order.
Reason #1: It's a time to dress up. In today's uber-casual world, and even more so I think in a rural area, it's hard to find reasons to dress up. It's also increasingly hard to find people who even like to do it. Many take pride in their extremely casual appearance, as though it's a badge of authenticity or down-to-earthness, or I-don-t-care-what-anyone-thinks-ism, or even mild rebellion. I like to dress up, and to spend time with people who also like to dress up. Afternoon tea gives me that excuse, if I need an excuse, which I don't always. I should add that I also love the feeling of changing back into casual clothes when I come home, so I get the joy of doing that, too., when I go out for tea.
Reason #2: It's a time to enjoy being a lady. You don't see a lot of men at the tearoom. Not that men aren't welcome there, and you do see the occasional male, but they always look slightly ill-at-ease among the delicate china and frippery. I'm not saying it's a good thing for men to be ill-at-ease. I'm just saying that it's nice once in a while to visit a place that's so over-the-top feminine. I also like that the setting brings out everyone's best manners. At home I may slouch and slurp my soup, but at the tearoom I sit up straight and mind my manners, and I'm reminded that I'm capable of being a more polite person.
Reason #3: Tea time is time off the clock. Once we're seated at our table admiring the gracious surroundings and sipping our tea, we have no worries about where we need to be and what time we need to be there. I deliberately schedule a generous amount of time for tea so we don't have to rush.
Reason #4: It's time with my friend. We don't see each other very often, and when we do, there are usually other people around: other friends, her family, my family. For just the two of us to go out and enjoy some deep, meaningful conversation in an unrushed way–that's really special to me. It's like we're saying to each other, You're worth spending time with. You deserve my attention, and I'm interested in your life and in what you have to say.
Reason #5 to love tea-time: It feels literally like a step back in time. From what I've read in old magazines and books, afternoon tea used to be observed a lot more regularly by women. There are recipes for tea cakes and patterns for tea gowns. Before World War II, our small-town newspaper used to report on tea parties: who hosted them and who the guests were, and who poured. It was considered an honor to pour. Often the guest of honor was given that duty.
I got curious about this, and about the etiquette of teatime in general. I learned that the time of day usually considered teatime is four o'clock, and it's meant to be a late-afternoon break between the strenuous hurry and preoccupation of the day and the formality of a later dinner, at least in traditional upper-class households. For middle- and lower-classes teatime was more often to be what in my house, growing up, was called an after-school snack.
If you're hosting tea in your home, the atmosphere is important. If it is winter, a fire in the fireplace and a few lighted candles are nice.  In the summer if the weather's nice, you might want to serve the tea outdoors, in which case it veers into the garden party, a concept which deserves its own episode, and will eventually get one. I also found out that there is considerable difference between "tea" and "a tea." The latter, "a tea," is a party and calls for, as one etiquette book put it, pretty decorations and one's best afternoon gown and white gloves. A tea will likely include from several friends to a whole community of women, such as a club tea or church tea. It might also be called a "reception." By contrast, an invitation that says, "come for a cup of tea on Tuesday" usually means a quiet corner, an intimate talk, and the restful atmosphere which teacups for two always suggest. Also, for those who may be wondering, "high tea" has nothing to do with status or level of formality or, heaven forbid, snootiness. A high tea is merely a more substantial tea that's more like a light supper, with heartier food but less than a full-on dinner party. In the olden days, high tea sometimes preceded a game of bridge or an informal dance.
For those of you wondering about the custom of raising one's pinkie finger while drinking from a delicate china cup, I've heard that the custom resulted from a princess, one of Queen Victoria's daughters, who'd broken her finger and was thus unable to bend it. As often happens, the ladies of the court imitated her, and the custom spread. A less colorful but more probable explanation is that the handles of most teacups, unlike the hefty mugs out of which we drink our coffee, do not accommodate all of our fingers. The pinkie is extended to balance the cup in the hand. Whatever the reason, most etiquette experts agree that obviously lifting one's pinkie while taking a sip is an affected and silly gesture.
The sixth and final reason I love afternoon tea is that it is rare. Not much happens in the way of tea parties anymore. Do little girls still have them? Maybe afternoon tea fell out of favor because so many women have careers outside the home now, so afternoon social events of any kind aren't really practical. Or maybe it's because we're so much more invested in spending time with our kids that a quiet, adult-centered activity like a fancy tea is out of the question, at least while the kids are young. Or maybe it's just too fancy, too formal, for most modern women's taste. But when I go to afternoon tea, I feel like I'm participating in a sisterhood that goes back thousands of years.
How about you? Do you enjoy the occasional afternoon tea? Or is that a little too much frou-frou for you?  You can let me know in the comments.
Today's grace note is another podcast. In keeping with today's topic, I'm recommending the "Tea and Tattle" podcast. This is a sublimely interesting podcast, hosted by the articulate and very British Miranda Mills, that's mainly about books and authors, but also about creative women in general, doing all sorts of interesting things. The conversations are fun to listen to, and I always learn a lot. You'll find the Tea and Tattle podcast at teaandtattlepodcast.com, or search for it on your favorite podcast host. If you have a topic you'd like me to cover or a question you'd like answered on A Sparkling Vintage Life, feel free to send me an email at jenny@sparklingvintagelife.com. Also, if you can take a few minutes to stop by iTunes or Stitcher or wherever you get your podcasts and leave a star rating, or even better write a quick review, that will help raise the visibility of this little show so that more of gentle souls like you can find it.
A special remembrance episode for all who've given their lives in the service of their country, including a reading of "In Flanders Fields." We will not forget!
If you'd prefer to read rather than listen, scroll down to find a transcript.
Show Notes:
"Taps" performed by Master Gunnery Sergeant Matthew Harding
Jennifer's fiction:
Transcript of Episode 15: Memorial Day
Welcome to A Sparkling Vintage Life, where we talk about all things vintage and celebrate the grace and charm of an earlier era. It's Memorial Day here in the United States, celebrated on the last Monday of May. Unlike Armed Forces Day, which celebrates all who currently serve in the Armed Forces, or Veterans' Day, which recognizes all veterans, Memorial Day honors those who have died in the course of serving their country in the armed forces.
Other countries have similar celebrations honoring their war dead. I'd love to hear about them. This episode focuses on the remembrance in the U.S.
Several men in my family tree have served I the military, but the only one I know of who died in a war was my grandfather's brother. He was Corporal John F. Lamont of Company F-132nd Infantry, and he was killed in action on October 9, 1918, in the Argonne. Those are just facts I discovered while researching the family history. I wish I knew more about John. Maybe over time I will be able to learn more. I would love to know what he was like, what he looked like, what kind of personality he had, how he enjoyed spending his time before his life was cruelly snuffed out.
Families and friends of the deceased have decorated graves since time immemorial, but Memorial Day–an official day to honor those who gave their lives in military service–dates from the 1860s, right after the American Civil War. There is some controversy over when and where the first official Memorial Day actually took place, with Columbus, Georgia; Columbus, Missouri; and Waterloo, New York being among the possible launch spots (newspaper misinformation is blamed for the confusion–'twas every thus). Whatever the origin, on April 26, 1866, the graves of Confederate casualties of the Civil War were decorated with flowers, hence the name Decoration Day. Some Southern women were generous enough to also place flowers on the graves of Union soldiers buried in that region. This gracious gesture made the news, and the custom spread northward.
While there were variations seen across different regions of the country and different towns and cities, a typical Decoration Day celebration including a gathering of the townspeople at the local cemetery, where flowers would be placed on the graves of deceased servicemen. Often these flowers were placed by young girls dressed in white with red and blue sashes. As each serviceman's name was called, a bouquet was placed on his or her grave. There might have been a church service, or a parade, and/or a potluck picnic. Almost certainly, sometime over the course of the day, a trumpeter would play Taps, that sweet, mournful bugle call. Overall Decoration Day was a solemn event without the joyous overtones of, say, the Fourth of July.
Today, people still visit cemeteries on Memorial Day. Sometimes there are still public ceremonies, but it seems more common these days to visit as family groups or individuals, and many people don't go at all.
One tradition that has endured is the wearing of poppies. In 1915, Lieutenant Colonel John McCrae, a physician with the Canadian Expeditionary Force who cared for many wounded during World War I, wrote the poem, "In Flanders Fields." He wrote it while seated in the back of an ambulance near the Battle of Ypres in the Flanders region of Belgium. Its opening lines refer to the fields of bright-red poppies that grew among the soldiers' graves in that area.
In 1918, inspired by the poem, YWCA worker Moina Mitchell attended a YWCA conference wearing a silk poppy pinned to her coat and distributed over two dozen more to others present. In 1920, the National American Legion adopted it as their official symbol of remembrance. Today crepe-paper poppies are sold by several patriotic groups as a means of raising donations to benefit disabled veterans.
In 1868, Decoration Day was moved from April to May 30, so that chilly Northerners would also have some flowers to place on graves. In time the name changed to Memorial Day and expanded to honor those killed in all wars, not just the Civil War. The date remained May 30 until 1971, when the it was changed to the last Monday of May in accordance with the federal Uniform Monday Holiday Act (although a handful of hardy Southerners still cling to April 26).
Though some may resist smudging a perfect spring weekend with somber thoughts, I think it's important to remember and to grieve. So many young men and women have given their lives for our freedom. This weekend, let's each take at least a few moments between barbecues and ball games to remember those who gave their lives for their country and honor the sacrifice they've made. Maybe buy a poppy to wear, or have your children make some out of red crepe paper. If you know of a particular soldier, sailor, or marine, perhaps someone in your family or town or circle of friends and acquaintances, tell their stories to your children. so that the memories will live on.
And thank you, Uncle John.
Today's grace note:
In Flanders Fields
by Lt. John McCrae
In Flanders fields the poppies blow
Between the crosses, row on row,
That mark our place; and in the sky
The larks, still bravely singing, fly
Scarce heard amid the guns below.
We are the Dead. Short days ago
We lived, felt dawn, saw sunset glow,
Loved and were loved, and now we lie,
In Flanders fields.
Take up our quarrel with the foe:
To you from failing hands we throw
The torch; be yours to hold it high.
If ye break faith with us who die
We shall not sleep, though poppies grow
In Flanders fields.
From formal concert choirs to belting out tunes around a campfire with friends and family, research shows that singing as a group is good for us! So why does it seem to have gone out of style? Why do families no longer gather around the piano, or friends break into drinking songs down at the local pub? Jennifer discusses new research into the physical, mental, and psychological benefits of singing as a group, and why we need to bring it back.
If you prefer to read rather than listen, scroll down to read a transcription.
Show Notes:
"The Surprising Health Benefits of Singing in a Choir" (article on Artistworks.com)
Some seventh-inning serenading at a Chicago White Sox game (hear "Na Na Hey Hey" at 1:44)
"Sweet Caroline" at Fenway Park and an even more fun rendition at Pitt.
Here's a link to the famous Coke commercial that has infected the brains of so many generations. You're welcome! 🙂
Jennifer's fiction:
Transcription of Episode 14: Is Choral Singing the New Prozac?

I've just come back from a community choir rehearsal. I say "choir" when technically the particular group I sing with calls itself a "chorale." I didn't know what the difference was, so I went to Webster's Dictionary, which defines a "choir" as an organized company of singers, a "chorus" as "an organized company of singers, especially who sing the choral parts of a work such as an opera, and a "chorale" as a synonym for "choir" or "chorus." Not very helpful. Maybe some of you listeners who are better educated I the fine points of musical terminology can clue me in. At any rate, I choose to call my group a 'choir" in casual conversation, because when I say "chorale", meaning the musical group, some people think I'm saying "corral," the place where you ride horses, and all sorts of misunderstandings ensue.
My community choir is rehearsing a lot these days, because we have a concert coming up in June. To be honest, I don't always like going to rehearsal. Often I resent having to make space for it in my schedule, and I have to drag myself to the practice venue, and only my highly developed sense of personal responsibility spurs me on. Once I'm there, though, and once I've warmed up and am singing, my cares melt away, until the only thing I really care about is mastering that tricky passage that seems next to impossible, or counting the measure correctly. And when we do it right, when the conductor stops casting the evil eye toward my section and heaving deep sighs indicative of great pain and suffering, when he actually looks pleased, when all the parts come together, it feels glorious. I leave rehearsal tired in a different way. Physically tired, mentally fatigued, but somehow buoyed up in my spirit.
It turns out, there are actual scientific reasons for this. An article posted at Artistworks.com says recent research bears this out.  
According to the article, which I'll link to in the show notes, humans bond best when we are making music with each other.
Studies show that our physical health is improved by singing: lower blood pressure, increased blood oxygen saturation, elevated immunity, stronger respiration, and less stuttering. Singing and other forms of music-making also produces measurable changes in the brain!
When we sing, we breathe deeply, as in meditation, with the same good effects like improvements in mood, decrease in stress, depression and anxiety.  These effects are even more enhanced in a group setting, compared to singing alone. In other words, singing alone is good, singing with others is even better.
Turns out humans like to have a sense of belonging to something bigger than ourselves, to be part of a larger community. We get that feeling when we sing in a group. And research shows that this deliberate synchronizing with others makes us feel more altruistic, more generous, more ethical, more helpful toward others, and more willing to respectfully listen to  others' points of view. This is starting to sound a lot like "I'd like to teach the world to sing in perfect harmony"–extra points to those of you who are old enough to remember that iconic Coke commercial of old.
No less than the noted researcher and author Daniel Pink writes, "Exercise is one of the few activities in life that is indisputably good for us. Choral singing might be the new exercise." Pink goes on to cite the following: "Choral singing calms the heart and boosts endorphin levels. It improves lung function. It increases pain thresholds and reduces the need for pain medication."  Similar effects have been found in athletes who must synchronize efforts and their sense of timing, like dancers and rowers.
So, no wonder choir rehearsal makes me feel good … well, most of the time. But with all that good stuff coming out of singing together as a group, why has group singing mostly fallen out of favor nowadays? For example, lots of the older novels I like to read mention families gathering together around a piano to sing, just for fun, or people going caroling at Christmas, or singing folk songs on a hayride or around a bonfire.  Workers used to sing together to make the long days pass more quickly. Thus we have a whole treasury of folk songs centered around the railroad, the mine, the forest, the farm … even the prison yard. Maybe today's professions don't lend themselves to singing as much as the professions of yore. There are no software-coding songs that I know of.
 Schools had songs, and sports teams had songs. Outside of singing the National Anthem, and maybe "Take Me Out to the Ball Game" at the seventh-inning stretch, or "Sweet Caroline" or "Na-na-hey-hey," do sports fans sing anymore?
Some writers have put forth theories about why we don't sing together anymore. One is that we've turned from a culture of participation to a culture of performance. We pay to watch professionals perform and keep our own mouths shut. A hundred years or more ago, people also paid to watch professionals perform. Singers like Enrico Caruso and Jenny Lind drew crowds. But listening to the pros didn't stop people from also gathering around the piano at home. So why does it stop us now, if it does stop it? Even some of our churches have given in to this nowadays, disbanding the traditional choir and sitting back to listen to the worship band perform instead of singing together as a congregation.
The rise of streaming music has also meant a splintering of what we listen to. There is no common body of songs that everybody knows, like the Top 40 of my youth. I remember driving on a highway late one night with my brother and his wife. To pass the time, we sang as many pop songs as we could think of, the ones we liked and even the ones we hated, and we laughed and laughed. Today, with everybody tuned to their own individual downloads, I don't think people today have a common songbook like that. Do they? It's hard to sing together if you don't all know the words.
For whatever reason, group singing seems to have fallen out of favor. Members of community choirs like my own tend to be older, looking, as one wag put it, like a bunch of cotton swabs on stage with all that white hair. As these music-lovers die out, who will take their place? My sense is that, to the younger generation, singing as a group is nerdy and uncool. And that makes me sad. People who feel that way are missing out on all those great physical and mental health benefits mentioned earlier, and the sheer joy of learning new music or pulling out old favorites and singing them together. They're missing out, and that makes me sad. It makes me want to teach the world to sing. In perfect harmony. I'd like to buy the world a Coke. And keep it company.
Why don't you try group singing sometime soon? Start small, maybe with your family, in the car on a long trip. In church, open your mouth and actually sing the hymns with gusto–don't sit back and let the worship band do all the heavy lifting.  
Today's grace note is a book I've been enjoying called The Chilbury Ladies' Choir by Jennifer Ryan. It's historical fiction set in England during World War II. With most of the men away fighting in the war, it's decided that the choir of the local church should be disbanded. The women in the choir rebel at this, and choose to carry on singing, resurrecting themselves as the Chilbury Ladies' Choir. While most of the novel focuses on the individual stories of the women involved, the common bond of the choir sustains and encourages them during difficult times. If you like books like Lilac Girls and The Nightingale, this might be a good one for you. Unlike many novels set during wartime, this one is not depressing or gloomy, but more about courage and camaraderie. Of course I'll put a link the show notes, which can be found at sparklingvintagelife.com/podcast. You can also leave a comment there.  
If you have a topic you'd like me to cover or a question you'd like answered on A Sparkling Vintage Life, feel free to send me an email at jenny@sparklingvintagelife.com. Also, if you can take a few minutes to stop by iTunes or Stitcher or wherever you get your podcasts and leave a star rating, or even better write a quick review, that will help raise the visibility of this little show so that more of gentle souls like you can find it.
From Miracle Morning to Before Breakfast, morning rituals and routines are a hot topic these days. Join Jennifer as she discusses her own preference for mornings and looks at the daily rituals of some notable people of the past. 
If you prefer to read rather than listen, scroll down to find a transcript.
Show Notes:
You're the Cream in My Coffee eBook is FREE May 13 through May 17, 2019: https://www.amazon.com/Youre-Cream-Coffee-Roaring-Twenties-ebook/dp/B01JD9XJ3S
Mason Currey's books:
Daily Rituals: https://www.amazon.com/Daily-Rituals-How-Artists-Work-ebook/dp/B009Y4I4OM
Daily Rituals: Women Who Work: https://www.amazon.com/Daily-Rituals-Women-at-Work-ebook/dp/B07FLNRYNR
Miracle Morning by Hal Elrod https://www.amazon.com/Miracle-Morning-Not-So-Obvious-Guaranteed-Transform-ebook/dp/B00AKKS278
Before Breakfast podcast by Laura Vanderkam https://lauravanderkam.com/before-breakfast-podcast/
Jennifer's fiction:
Transcript of Episode 13: Joy in the Morning
Welcome to A Sparkling Vintage Life, where we talk about all things vintage and celebrate the grace and charm of an earlier era. I'm your host, Jennifer Leo, and it's May 12, 2019, as I record this.
This is Episode number thirteen of the podcast–a baker's dozen.
It's full-on spring here in North Idaho, and I've been enjoying sitting on the deck in the morning with my coffee, overlooking the mountains. My early-morning deck-sitting has inspired me to focus this week's episode on the unique and special value of mornings. More on that in a minute.
First I wanted to let you know that my first novel, YOU'RE THE CREAM IN MY COFFEE eBook edition will be FREE this week on Amazon, May 13 through 17, 2019. You're the Cream in My Coffee is the first book in the Roaring Twenties series, a clean, sweet romance set in 1920s Chicago. Small-town girl Marjorie Corrigan travels to Chicago and thinks she sees her first love, believed killed in the Great War, standing alive and well in a train station. Of course she needs to find out whether it's really him, and if so, why he never came home. Meanwhile, she has a fiance waiting for her to come home as the ticking time bomb of their wedding looms. If that sounds like your kind of story, I encourage you to download it for FREE this week on Amazon. I'll put a link in the show notes.
And now on to today's topic about mornings. In case you haven't noticed, the topic of mornings, especially morning routines and rituals meant to maximize productivity, is having a moment. It's quite trendy these days for people to talk about how they make the most of their mornings, describing all the things they do after waking up to set themselves up to have a productive day. From Hal Elrod's book Miracle Morning to Laura Vanderkam's podcast Before Breakfast, it seems like everyone who's anyone has something to share about the value of morning. but this is really nothing new. As the old adage goes, An ounce of morning is worth a pound of afternoon, in terms of getting things done.
I love mornings. I love to get up early, watching the sun come up, if possible. There's something about morning that's fresh and clean. I feel well-rested after a good night's sleep, and my energy is as high as it will be all day. I also feel a tremendous sense of optimism early in the morning, like anything's possible. Psalm 30:35 tells us that weeping lasts for a night, but joy comes in the morning. I have found this to be true. Problems that loom large in the middle of the night seems somehow diminished in the light of day.
I generally wake up around five a.m. and putter around for an hour, reading and writing in my journal. If I want to have a peaceful morning I find it helpful not to plunge into email and social media first thing, but it's hard to resist that temptation sometimes. Another key is that, while I like to wake up early, I do not like to socialize early, nor do I like to get dressed and leave the house right away. I like to float around in solitude and ease into my day. After I've been up around an hour or so, my husband and I meet up for coffee on the deck in summer or in front of the pellet stove in winter. By then I'm awake enough to be suitable company. We talk about everything under the sun, and we have our daily devotional and prayer time together. After that I do my morning routine of house chores and exercise and then settle down at my desk. I try to reserve mornings for creative work, when I'm still fresh and rested. After lunch my energy flags, and I find that's the best time to do more administrative or marketing tasks, or to run errands or see friends. But mornings are for writing and creativity, and I really try to protect that time, because once it's gone, it's gone. By evening time, I might have a second burst of creativity, but more often I'm mostly brain dead and will need a full night's sleep to recharge.
Because I like to look back at how people in the past lived their lives, and I know you do too, I looked around for how others have spent their mornings and found the work of Mason Currey. Using biographies, autobiographies, diaries and letters, Mr. Currey studied the daily lives of creative people–artists, writers, musicians, inventors, scientists–through the ages, looking for clues to how they spent their time. A surprising number of these productive individuals were morning people. I of course was most interested in the writers. Octavia Butler, for example, finds 3 or 4 o'clock in the morning the best time to write. Like me, she started writing early because she was working a day job and found she was too tired to write in the evenings, but after sleep she was ready to write.
The famous playwright Lillian Hellman lived on a farm. She got up and 5 and helped with milking cows or cleaning the barn, then she had breakfast and got to her writing work.
Margaret Bourke-White was a pioneering photojournalist in the mid-20th century. In her autobiography she noted "I am a morning writer. The world is all fresh and new then, and made for the imagination. I keep an odd schedule that would be possibly only for someone with no family demands–to bed at eight, up at four."
In the early 20th century, Edith Wharton wrote fiction each morning while still in bed, writing longhand on sheets of paper that she dropped onto the floor for her secretary to retrieve and type up. A visitor recalled that she wrote with "her writing board perilously furnished with an inkpot on her knee, the dog of the moment under her left elbow on the bed strewn with correspondence, newspapers and books." Mason Currey notes, "Wharton always worked in the morning, and houseguests were expected to entertain themselves until 11 a.m. or noon, when the hostess would emerge from her private quarters, ready to go for a walk or work in the garden."
And one of this podcaster's favorite people, the doyenne of etiquette, Emily Post, woke at 6:30 a.m. and, while still in bed, set immediately to work. Her son remembered, quote, "She had improvised an arrangement which enabled her to get her own breakfast as early as she wished and while remaining in bed. A thermos of hot coffee, another small one of cream, butter in an iced container, zwieback and the dark buckwheat honey she loved were placed on a tray on her bedsitde table every night. She would breakfast and then, remaining in bed, write, edit copy, and plan her correspondence. .. No telephone calls, no visitors, no household interruptions were permitted to break in on her working time. After twelve she rose, dressed, and was ready and hungry for luncheon punctually at one."
And the well-known Southern writer Eudora Welty also liked to write first thing, usually still in her nightgown.
For those creatives who were also parents, many of them got up early to get some work in before their children were awake. Others hit the desk as soon as the children left for school. Either way, they made the most of the limited time they had available.
Of course, not all of us are cut out to be morning people. A sizeable segment of the population are night owls, preferring to work late into the night and to sleep in late.
"In the morning sow your seed, and at evening withhold not your hand, for you do not know which will prosper, this or that, or whether both alike will be good." (Ecc. 11:6). In a note about this verse Pastor John MacArthur reminds us, "The world is full of things over which one has no control, including the purposes of God. There is no virtue in wishful wondering, but there's hope for those who get busy and do their work." And I'll add, whether you do it in the morning or evening or middle of the day. As for me, I'll take the morning.
How about you? When do you prefer to do your most important tasks? Are an early-morning lark or a late-night owl? Drop by the show notes, or visit me on Facebook and leave a comment.
If you have a question you'd like me to answer or a topic you'd like me to address on A Sparkling Vintage Life, feel free to send me an email at jenny@sparklingvintagelife.com. Also, if you can take a few minutes to stop by iTunes or Stitcher or wherever you get your podcasts and leave a star rating, or even better write a quick review, that will help raise the visibility of this little show so that more of our kindred spirits can find it. And I'll be back in a minute with today's grace note.
Today's grace note is the work of Mason Currey, whom I mentioned earlier. Specifically his two books, Daily Rituals and Women Who Work. Daily Rituals describes the working habits of 161 inspired—and inspiring—minds, among them, novelists, poets, playwrights, painters, philosophers, scientists, and mathematicians, who describe how they subtly maneuver the many (self-inflicted) obstacles and (self-imposed) daily rituals to get done the work they love to do, whether by waking early or staying up late; whether by self-medicating with doughnuts or bathing, drinking vast quantities of coffee, or taking long daily walks.
The second volume: Daily Rituals: Women Who Work, covers similar territory but specifically focused on women. Mr. Currey found that often the male achievers in his first book benefited from the support of wives or assistants who carried the burden of making daily life run smoothly so he was free to do his work. Women generally were the ones who provided that support for others, making sure that everyone gets fed and has clean shirts to wear and So the working lives of women creatives looked different enough from the men's lives to warrant a second book. I'll put links to both these books in the show notes, and hope you enjoy them as much as I did.
And that's our show for this week. Have a lovely day, and tune in next week when I'll discuss another aspect of A Sparkling Vintage Life.
We have a winner! In the recent giveaway on the Sparkling Vintage Life podcast, the winner of the beautiful rose pin (pictured above) from 1928 Jewelry Company is Jenny Manzke! (I'm afraid mispronounced the name in the podcast…my deepest apologies!) Thank you to Jenny and to everyone who entered the drawing. There will be another giveaway soon, so stay tuned in to the podcast. Meanwhile, subscribe to my newsletter at right so you know when the next one's coming up!