Cue the bagpipes! The Highlanders are coming! Four historical-romance novellas, four authors, four fetching Scotsmen aiming to win your heart. And, yes, one of them is mine. 🙂
My story, "The Violinist," takes you to 1915 Idaho. Homesick lumberjack Callan MacTavish despairs of ever seeing his Scottish homeland again. With kindness and patience, music teacher Rose Marchmont reaches a part of Callan's heart he'd long ago locked away. She sees beyond his rough exterior to the artistic heart beneath. He longs for more than he can offer her, but she doesn't know about the secret trauma that keeps him from crossing the sea.
Coming this November–pre-order your copy today!
September 2019 New Releases
More in-depth descriptions of these books can be found on the ACFW Fiction Finder website.
Contemporary Romance:
Reunited in the Rockies
by
Mindy Obenhaus
— For widow Kayla Bradshaw, restoring a historic Colorado hotel means a better life for her and her soon-to-arrive baby. But she needs construction help from Jude Stephens, the love she lost through a misunderstanding. Working with Kayla, the police officer finds himself forgiving her—and longing to rebuild her shattered confidence. But can they trust each other enough to forge a future together? (Contemporary Romance from Love Inspired [Harlequin])
A Man to Trust by Carrie Turansky — After years spent helping manage her family's Christian bookstore, it's time for Adrie Chandler to give her own dream of playing her flute with a symphony orchestra a chance. But can she really trust the beloved shop to new manager Ross Peterson? The man is too handsome, too charming….and too much a reminder of another dream Adrie had to let go of – marriage. Yet Ross surprises her by knowing a thing or two about making sacrifices. Suddenly, Adrie is questioning what she really wants. And whether the dreams she once thought unlikely are within reach after all. (Contemporary Romance from Flowing Stream Books)
Fall Flip by Denise Weimer — The tragic death of Shelby Dodson's husband–her partner in a successful Home Network house flipping business–stole love, status, and career. Now a bungalow redesign thrusts Shelby into the company of a new contractor. Scott Matthews remembers high-and-mighty Shelby from high school, and her prissy, contemporary style goes against his down-to-earth grain. When the house reveals a mystery, will its dark secrets–and their own mistakes–cost them a second chance at love? (Contemporary Romance from Lighthouse Publishing of the Carolinas)
Listening to Love by Beth Wiseman — Lucas is Amish. Natalie's Englisch. They are best friends—and friends only. Despite what the gossips say. Besides, they couldn't be together even if they wanted to be. Lucas would never leave the Amish faith, and Natalie is pursuing a degree in veterinary medicine. But when a terrifying accident happens, Natalie and Lucas are forced to confront their true feelings and decide if they can stay true to themselves and each other. (Contemporary Romance from HarperCollins Christian Publishing)
General Contemporary:
The Christmas Portrait
by
Phyllis Clark Nichols
— A family facing their first holiday season without Mama finds a way to celebrate Christmas. (General Contemporary from Gilead Publishing)
Historical:
Memories of Glass
by
Melanie Dobson
— 1942. As war rips through the heart of Holland, childhood friends Josie van Rees and Eliese Linden partner with a few daring citizens to rescue Eliese's son and hundreds of other Jewish children who await deportation in a converted theater in Amsterdam. But amid their resistance work, Josie and Eliese's dangerous secrets could derail their friendship and their entire mission. When the enemy finds these women, only one will escape. Seventy-five years later, Ava Drake begins to suspect that her great-grandfather William Kingston was not the World War II hero he claimed to be. Her work as director of the prestigious Kingston Family Foundation leads her to Landon West's Ugandan coffee plantation, and Ava and Landon soon discover a connection between their families. As Landon's great-grandmother shares the broken pieces of her story, Ava must confront the greatest loss in her own life?and powerful members of the Kingston family who will do anything to keep the truth buried. (Historical from Tyndale Publishing)
Historical Romance:
Treasured Christmas Brides
by
Amanda Cabot
, Rebecca Germany, Cathy Marie Hake,
Colleen L. Reece
,
MaryLu Tyndall
, and
Michelle Ule
— Six historical Christmas romances prove life's most priceless gifts come not in the form of polished gold or silver—but from the vast riches of a loving heart. (Historical Romance from Barbour Publishing)
Thankful for the Cowboy by Mary Connealy — Hero Tom MacKinnon rides up driving a wagon with a second wagon trailing him. He and his sister want to be hired to build windmills. They'll ask for very little money and, in exchange heroine, Lauren Drummond, newly widowed mother of four nearly grown sons, will help them learn to survive in the Sandhills of Nebraska. What to grow, what to hunt, how to build a sod house.
Tom's windmills will save her ranch. Lauren needs three windmills on this drought year or her growing herd of cattle is going to die of thirst. She agrees to teach him the ways of the Sandhills, and to give him fifteen head of cattle. She's not ready to think of another man. But Tom changes her mind. His little sister and one of her sons find love together before Tom and Lauren do. (Historical Romance, Independently Published)
The Return of the King's Ranger by Angela K. Couch — The war is over…for everyone but him. The war for American freedom is over, and the British have gone back to England. Not knowing what has become of his family since he was forced into the Continental Army nine years earlier, Myles Cunningham wants to go home as well. He returns to the Mohawk Valley with the understanding that he is believed to have been shot for deserting—fiction that might be made real if anyone recognizes him as the son of a Tory and a King's Ranger. Everything is wonderful in the growing community along the Mohawk River, except Nora Reid is still alone. With her brother happily settled and both her younger sisters starting families of their own, Nora feels the weight of her twenty-four years. A long walk leads her to the overgrown rubble of the Cunningham homestead where a bearded stranger begins to awaken feelings she'd lost hope of ever experiencing. With secrets abounding—including whether Myles even cares for her—Nora must determine what she is ready to give up and how far she will go to secure his affections. She begins to break through his defenses, but Myles can't risk staying. Not if he loves her. (Historical Romance from White Rose Publishing [Pelican])
Christmas Next Door by Susan Page Davis and Vickie McDonough — Visit an Old West Texas town where a mysterious benefactor leaves gifts each Christmas, but also where four pairs of neighbors battle over hearsay, secrets, and mysteries. (Historical Romance from Barbour Publishing)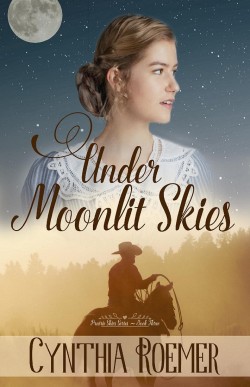 Under Moonlit Skies by Cynthia Roemer — Esther meets Stewart, her brother-in-law's ranch hand, when helping her sister recover from childbirth. Any interest she may have in the cowboy is hopeless, since she must return home to Cincinnati and the man her overbearing mother intends her to wed. till reeling from a hurtful relationship, Stew is reluctant to open his heart to Esther. But when he faces a life-threatening injury with Esther tending him, their bond deepens. Heartbroken when she leaves, he sets out after her and inadvertently stumbles across an illegal slave-trade operation, the knowledge of which puts him, as well as Esther and her family, in jeopardy. (Historical Romance from Mantle Rock Publishing)
Mail-Order Misfire by Davalynn Spencer — Preacher Bern Stidham is a peacemaker—when he's not carrying one on his hip. His little girl wants a helper for her widowed father and a mama for herself, so she writes for a mail-order bride. Without telling him. Recently widowed dressmaker Etta Collier is a half-step ahead of the banker who carries a lustful eye for her as well as the note on her home. When her pastor encourages her to answer an unusual letter from a little girl, hope opens an unexpected door. Running from one man's lecherous pursuit into the home of another she knows nothing about, Etta may have to risk everything to ease a little girl's loneliness and find a second chance at love. (Historical Romance, Independently Published)
The Witness Tree by Denise Weimer — Past betrayal has turned John Kliest's passion to his work as a builder and surveyor in the Moravian town of Salem, North Carolina. Now, to satisfy the elders' edict and fulfill his mission in Cherokee Territory, he needs a bride. But the one woman qualified to record the Cherokee language longs for a future with his younger brother. Clarissa Vogler's dream of a life with Daniel Kliest is shattered when she is chosen by lot to marry his older brother and venture into the uncharted frontier. Can she learn to love this stoic man who is now her husband? Her survival hinges on being able to trust him—but they both harbor secrets. (Historical Romance from Lighthouse Publishing of the Carolinas)
Romantic Suspense:
Don't Give Up On Me
by
Jodi Artzberger
— When Cragge Automotive Group's heiress, Amanda Cragge is left for dead, the only man she's ever loved finds her. As the threats continue, will she accept help from the man who left her eight years ago without explanation? When Ryker Scott returns to Otter Bay, he is brought face to face with his past. He thought he could handle coming back but he might have been wrong. As a trained Army Ranger, he's going to have to use his skills if he wants to keep the only woman he's ever loved alive.
Will their past become their future or will their futures be destroyed forever?(Romantic Suspense, Independently Published)
Breaking Point by Marji Laine — Ever since her father's death, Alynne Stone has had a series of strange "accidents." Police Lieutenant Jason Danvers believes her father was murdered. He tries to connect the attempts on Alynne's life, but things just don't add up. Even in a small town, the mere rumor of treasure can change lives, end friendships…maybe even kill? Still dealing with the pain of his own wife's death, he can't allow an innocent woman's life to be snuffed out on his watch. Especially one who shines as bright as Alynne. (Romantic Suspense, Write Integrity Press)
Fatal Strike by DiAnn Mills — FBI Agents Leah Riesel and Jon Colbert team up to track down a killer on the loose in Galveston, targeting law enforcement officials and using a fatal injection of snake venom to take them down. (Romantic Suspense, Tyndale House)
Thriller:
The Gryphon Heist
by
James R. Hannibal
— Talia Inger is a rookie CIA case officer assigned not to the Moscow desk as she had hoped but to the forgotten backwaters of Eastern Europe–a department only known as "Other." When she is tasked with helping a young, charming Moldovan executive secure his designs for a revolutionary defense technology, she figures she'll be back in DC within a few days. But that's before she knows where the designs are stored–and who's after them. With her shady civilian partner, Adam Tyler, Talia takes a deep dive into a world where only criminal minds and unlikely strategies will keep the Gryphon, a high-altitude data vault, hovering in the mesosphere. Even Tyler is more than he seems, and Talia begins to wonder: Is he helping her? Or using her access to CIA resources to pull off an epic heist for his own dark purposes? (Techno-thriller from Revell – A Division of Baker Publishing Group)
As we celebrate back-to-school time, join Jennifer Leo as she looks back at the life and times of college women in decades past, including Literary Snippets from Lucy Maud Montgomery and more.
If you prefer to read rather than listen, scroll down to find a transcript of this episode.
Show notes:
Jennifer's novels:
Ain't Misbehavin'
Transcript for Episode 20: Here Come the Co-eds! College Women of Yesteryear
As it's back-to-school time, I thought it would be fun to talk about college…specifically, what college was like for women in our favorite time period of the early- to mid-20th century.
But first, a brief update on my writing life. I've just returned from a wonderful three-day writing retreat in Post Falls, Idaho, only about an hour's drive from my home. I went with several other members of my monthly critique group and it turned out to be a time that was both refreshing and productive. We alternated lots of writing on our own with time spent together, cementing our friendships. For the most part we spent our days writing, interspersed with a nap here or a hike there, and then gathered at mealtimes and watched movies together in the evening. If you enjoy writing, I highly recommend taking a writing retreat, either on your own or with other like-minded writers who are serious about getting stuff done. I think the same could be said about just about any art, from painting to quilting to scrapbooking. Time away can be refreshing as well as productive. Since I live in a quiet household anyway and have few interruptions other than those I impose on myself, I don't know why I'm so much more productive on retreat, but there it is.
In other news, my historical-romance novella "The Violinist" will be published in November in a collection called The Highlanders. As the title indicates, each novella in the collection features a Scotsman. I took my Scotsman and I brought him to North Idaho as a logger in 1915. The other authors in the collection are J'Nell Cieselski, Naomi Musch, and Janet Grunst. I hope you'll watch for The Highlanders and give it a read and a review. When it's time for a sneak peek at the cover, I'll post it in the show notes over at sparklingvintagelife.com under Episode 20.
My 1930s standalone novel, Moondrop Miracle, alas, has not yet been able to find a home with a publishing house. However, I believe in this story so much that I'm now planning to indie-publish it through my own company, Mountain Majesty Media. I'm making some final tweaks and it will go to an editor this fall, and I'll also be auditioning cover designers soon. If all goes as planned, expect to see Moondrop Miracle in early 2020. And I'm still writing the first draft of the yet-untitled novel set in Hollywood in the 1930s. I took a break from it to get Moondrop Miracle ready to go to the editor, then I'll be back at it. And finally, I'm polishing up a proposal for yet another novel, this one set around the capsizing of the Eastland excursion boat in the Chicago River in 1915. The working title of that one is currently, very unimaginatively, Eastland. If you have a better idea, let me know. The proposal and sample chapters will soon go to my agent to see if any traditional publishers might be interested in publishing it. I'm still open to entertaining a traditional publishing deal even though independent publishing is seeming more and more attractive on multiple levels.
And if you happen to be in the area, I'll be speaking at the Idaho Writer's League Annual Conference in Sandpoint, Idaho, on September 20 and 21, 2019.
So that's what's been going on with me. Now on to our topic, which is what college was like for women, several generations ago.
I've had great fun researching this topic. For the most part, I enjoyed my college years. There were some bad things that happened during that time, to be sure, but there were very good things too.  So you need to know that my opinion of college is colored by my own overall positive experience, but I have very little firsthand or even secondhand knowledge of what college life is like today and how it compares. Those of you who are in college now or have kids in college would obviously know more about that than I do.
Another thing I want to say up front is that I no longer think college is right for everyone, especially in this day and age when so many alternatives are available.  Of course, for certain careers one needs to credentials and the contacts that only college can provide. But I think nowadays specialized training, trade school or apprenticeships or online learning or other ways to prepare to earn a living are just as valid and often more practical, depending on a person's life ambition. I'm also a strong proponent for self-education and lifelong learning no matter what path a person's formal education takes. So don't take this nostalgic look back at vintage college life and turn it into a blanket endorsement of college for everyone, because it isn't.
All that said, let's promenade back to peek at college women's experience in the early 20th century. As I said, I had so much fun researching college life in that era. Sometimes it sounded like one chafing-dish party after another. Chafing-dish parties were all the rage in women's dorms in the 1910s. Here's some of what I unearthed.
First, rather than "college woman," you'd be more likely to hear "college girl" or even "co-ed," which was short for "co-educational." Prior to the early 20th century, most colleges were segregated by gender. The majority were men's colleges, plus a smaller number of women's colleges. Women were more likely to attend finishing school, if they were from wealthy families, or to either get married or get a job straight out of high school if they weren't. I'm planning to say more about finishing schools in a future episode of this podcast, so we'll table that topic for now.
But back to colleges. In the late 19th and at the turn of the 20th century we had the land grant colleges which were now opening up coeducationally. It was still much rarer for women to attend college, and rarer still for them to attend colleges right alongside the men, the land-grant colleges notwithstanding. So when the first co-educational colleges came along, the female students themselves were called "co-eds" while male students were called "students." You'd see magazine articles written about "Fashions for the Co-Ed" or "Study Tips for the Co-Ed." In some places, female college students were still called co-eds right up into the 1960s, although by the early '80s when I graduated the term was no longer in use anywhere. We were all just "college students."
I looked up some old student manuals to see what college life was like. It was interesting to see what was deemed important. For example, a women's college in the American Southeast in 1927 devoted an entire section on the use of electric lights. Students had to be in their rooms with doors closed and lights out at 10:30 p.m., except on Saturdays 11:30 p.m. However, they were allowed two "light cuts" a week when they could keep their light on until midnight for studying. I'm wondering if electricity was so relatively expensive at that time that it had to be carefully regulated.
That same 1927 manual prohibited walking on the roofs of the buildings, making me wonder if that was a thing. It also prohibited smoking within a radius of ten miles of the college. First offense earned a reprimand. Second offense earned suspension. I have no problem with prohibiting smoking, especially these days when we know how harmful it is to our health, but the ten-mile radius seems a bit excessive, as does the punishment, especially because they didn't have the Surgeon General's Warning about tobacco back then. Interestingly, this particular college was located in Virginia, heart of tobacco-growing country.
Students were also only allowed to go for walks in groups, and the size of the group determined where they could go. For example, two or more students together could walk to certain places, while only six or more could walk other places. And the destinations were very specific: from this farm to that person's house, or through Dr. So-and-so's gate as far as the bend in the stream.
Needless to say, gentlemen callers were highly restricted at this college in that era. Men were allowed to call at the college on Saturday evenings between 7:30 and 10:30 and on Sunday afternoons from 3:00-5:45 and 8:30-10:00. Apparently they had to find something else to do with themselves between 6 and 8.
Chaperones were in high demand. "There are no evening engagements off campus unchaperoned," the manual intones, "for safety, to protect students from being misjudged and to safeguard the social good of the college." A list of approved chaperones was supplied. I think an entire future episode on chaperones, what they were, and what became of them is warranted, don't you?
At this school in 1927, students wore white blouses and dark skirts to classes, but they had to change into a dress for dinner. They could, if they wanted, give the impression of a dress by wearing a white skirt with their white blouse, or a dark blouse with their dark skirt, but no wearing a white blouse and dark skirt to dinner. That was daytime wear. Also, "girls costumed in knickers or trousers for hiking do not use the front hall after 6 p.m."
At another school several years later, in 1935, students were prohibited from dancing in public places, although presumably they could do so at private functions. They needed written permission from their parents to ride in an automobile. Their use of electric lights was not so restricted, but if they brought a radio from home they had to register it with the dean's office, pay an extra fee for it, and have it taken away if they played it too loud.
It would be interesting to see how these rules and regulations compare to the types of activities that are permitted and not permitted on campuses today.
Finally, it's been a while since I've brought you a Literary Snippet, so I want to close out this episode with a few insightful literary snippets about college life fifty or a hundred years ago.
In Anne of Green Gables by Lucy Maud Montgomery, published in 1912, Anne Shirley earns her teaching credential at Queen's, a school that's close enough to home that she can go home every weekend. Then in Anne of Avonlea she begins her first teaching job. At the end of Anne of Avonlea, she's preparing to go to Redmond College to further her education. Before she goes, she meets her neighbor, Mr. Harrison.
"I s'pose you'll be starting off for college in a fortnight's time?" [said] Mr. Harrison. "Well, we're going to miss you an awful lot, Emily and me."
"Yes, I'm going. I'm very glad with my head…and very sorry with my heart."
"I s'pose you'll be scooping up all the honors that are lying round loose at Redmond."
"I may try for one or two of them," confessed Anne, "but I don't care so much for things like that as I did two years ago. What I want to get out of my college course is some knowledge of the best way of living life and doing the most and best with it. I want to learn to understand and help other people and myself."
Mr. Harrison nodded.
"That's the idea exactly. That's what college ought to be for, instead of for turning out a lot of B.A.'s so chock full of book-learning and vanity that there ain't room for anything else. You're all right. College won't be able to do you much harm, I reckon." (excerpt from Anne of Avonlea by L. M. Montgomery)
In the next book, Anne of the Island, Anne goes off to Redmond. Her love interest, Gilbert Blythe, is also going to Redmond, although they aren't yet an item at this point. In a conversation the night before they leave, he says, "You look tired, Anne."
"I am tired, and worse than that, I'm disgruntled. I'm tired because I've been packing my trunk and sewing all day. But I'm disgruntled because six women have been here to say goodbye to me, and every one of the six managed to say something that seemed to take the color right out of life and leave it as gray and dismal and cheerless as a November morning."
"Spiteful old cats!" was Gilbert's elegant comment.
"Oh, no, they weren't," said Anne seriously. "That is just the trouble. If they had been spiteful cats I wouldn't have minded them. But they are all nice, kind, motherly souls who like me and whom I like it, and that is why what they said had such undue weight with me. They let me see they thought I was crazy going to Redmond and trying to take a B.A., and ever since I've been wondering if I am. Mrs. Peter Sloane sighed and said she hoped my strength would hold out till I got through; and at once I saw myself a hopeless victim of nervous prostration at the end of my third year; Mrs. Eben Wright said it must cost an awful lot to put in four years at Redmond and I felt all over me that it was unpardonable in me to squander Marilla's money and my own on such a folly; Mrs. Jasper Bell said she hoped I wouldn't let college spoil me, as it did some people; and I felt in my bones that the end of my four Redmond years would see me a most insufferable creature, thinking I knew it all, and looking down on everything and everybody in Avonlea; Mrs. Elisha Wright said she understood that Redmond girls, especially those who belonged to Kingsport, were 'dreadful dressy and stuck-up,' and she guessed I wouldn't feel much at home among them; and I saw myself a snubbed, dowdy, humiliated country girl shuffling through Redmond's classic halls in coppertoned boots.
Anne ended with a laugh and a sigh commingled. With her sensitive nature all disapproval had weight, even the disapproval of those for whose opinions she had scant respect. For the time being life was savorless, and ambition had gone out like a snuffed candle." (excerpt from Anne of the Island by L. M. Montgomery).
So that passage gives you some idea of the various ways people thought about college education for women in those days. Those were several of the common objections people had to women going to college.
After they arrive at Redmond, Anne speaks to her friend and fellow "freshette," Priscilla. In the book a "freshette" is a female first-year student, the female equivalent of a freshman. They talk about how overwhelmed and insignificant they feel as newcomers to campus. Anne says, "I suppose the trouble is we can't forgive big Redmond for not being little Queen's… When we left Queen's we knew everybody and had a place of our own. I suppose we have been unconsciously expecting to take life up at Redmond just where we left off at Queen's, and now we feel as if the ground has slipped from under our feet. I'm thankful that neither Mrs. Lynde nor Mrs. Elisha Wright know, or ever will know, my state of mind at present. They would exult in saying, 'I told you so,' and be convinced it was the beginning of the end. Whereas it is just the end of the beginning." (excerpt from Anne of the Island by L. M. Montgomery)
And then finally, after a few weeks, Anne gets fully into the swing of student life a Redmond. "For the next three weeks Anne and Priscilla continued to feel as strangers in a strange land. Then, suddenly, everything seemed to fall into focus–Redmond, professors, classes, students, studies, social doings. Life became homogeneous again, instead of being made up of detached fragments. The Freshmen, instead of being a collection of unrelated individuals, found themselves a class, with a class spirit, a class yell, class interests, class antipathies and class ambitions. They won the day in the annual "Arts Rush" against the Sophomores, and thereby gained the respect of all the classes, and an enormous, confidence-giving opinion of themselves. For three years the Sophomores had won in the "rush." That the victory of this year perched upon the Freshmen's banner was attributed to the strategic generalship of Gilbert Blythe, who marshaled the campaign and originated certain new tactics, which demoralized the Sophs and swept the Freshmen to triumph." (excerpt from Anne of the Island by L. M. Montgomery)
She goes on to describe many other fun doings of college life in that era.
Another delightful book that describes the college experience is Daddy Long-Legs by Jean Webster, published in 1912. Daddy Long-Legs is an epistolary novel, meaning it's written in the form of letters. In it, an orphan named Jerusha Abbott has been sponsored by an anonymous benefactor to go to college, under the stipulation that she write to him regularly, keeping him informed of her progress.
So in her letters, when she first gets to college, she says:
The Letters of Miss Jerusha Abbott to Mr. Daddy-Long-Legs Smith [she calls him Daddy Long-Legs because she doesn't know who he is, but she saw him from a distance once and knows he is tall].
Dear Kind-Trustee-Who-Sends-Orphans-to-College,
Here I am! I travelled yesterday for four hours in a train. It's a funny sensation, isn't it? I never rode in one before.
College is the biggest, most bewildering place—I get lost whenever I leave my room. I will write you a description later when I'm feeling less muddled; also I will tell you about my lessons. Classes don't begin until Monday morning, and this is Saturday night. But I wanted to write a letter first just to get acquainted.
To Mr. Daddy-Long-Legs
1st October
Dear Daddy-Long-Legs,
I love college and I love you for sending me—I'm very, very happy, and so excited every moment of the time that I can scarcely sleep. You can't imagine how different it is from the John Grier Home. I never dreamed there was such a place in the world. I'm feeling sorry for everybody who isn't a girl and who can't come here; I am sure the college you attended when you were a boy couldn't have been so nice.
My room is up in a tower that used to be the contagious ward before they built the new infirmary. There are three other girls on the same floor of the tower—a Senior who wears spectacles and is always asking us please to be a little more quiet, and two Freshmen named Sallie McBride and Julia Rutledge Pendleton. Sallie has red hair and a turn-up nose and is quite friendly; Julia comes from one of the first families in New York and hasn't noticed me yet. They room together and the Senior and I have singles. Usually Freshmen can't get singles; they are very scarce, but I got one without even asking. I suppose the registrar didn't think it would be right to ask a properly brought-up girl to room with a foundling. You see there are advantages!
My room is on the north-west corner with two windows and a view. After you've lived in a ward for eighteen years with twenty room-mates, it is restful to be alone. This is the first chance I've ever had to get acquainted with Jerusha Abbott. I think I'm going to like her.
Do you think you are?
Later…They are organizing the Freshman basket-ball team and there's just a chance that I shall get in it. I'm little, of course, but terribly quick and wiry and tough. While the others are hopping about in the air, I can dodge under their feet and grab the ball. It's loads of fun practicing—out in the athletic field in the afternoon with the trees all yellow and red and the air full of the smell of burning leaves, and everybody laughing and shouting. These are the happiest girls I ever saw—and I am the happiest of all!
There's much more to read about Jerusha Abbott and her college experience, including the fact that she changes her name from Jerusha to Judy, because she'd like to fit in better. So I do recommend, if you've never read it, Daddy Long-Legs by Jean Webster.
My final college-related literary snippet is from Campus Melody by Anne Emery. Published in 1955, Campus Melody tells the story of Jean Burnaby, who has received a scholarship to attend Overton College to study piano. I love the description of the campus:
"Jean's room was in Houghton House, the oldest of four women's dormitories at Overton College. An old brick building with high ceilings and Victorian woodwork, the floors slippery with age, the stairs grooved and creaking, it had the prettiest setting of any of the dorms, overlooking the new library, the older campus buildings, and the curve of the Ohio River, beyond which lay the Kentucky hills.
Jean loved everything about the college and her room, including the pink-and-blue curtains she had dreaded. They had turned out to be a dusty aqua with accents of coral and brown in impressionistic squares. The bedspreads were brown corduroy, and Melissa had contributed six lounging pillows covered in coral. Twin bookcases flanked twin study desks with coral blotters, set in the bay window, and each girl thought the other's collection of books looked fascinating. Jean and Melissa spent the first week together listening to orientation lectures, filling out questionnaires, attending discussions on possible careers and courses of study. They had gone to two parties for freshman girls, had bought two record albums at the Campus Book and Record Shop, had had one of the famous milk shakes at the Sweet Shop, the favorite village hangout for students, and finally stood in line with two hundred other freshman girls in the big gymnasium to register for classes."
At first all goes swimmingly for Jean. She has an active social life and keeps up with her classes. At first. Then she runs afoul of the housemother of her dorm, a stately lady with lavender-tinted gray hair. Jean and Melissa come in late one night.
"The girls ran up the flight of steps to the first floor as fast as their failing wind would permit and found themselves breathless and gasping, facing the housemother who had their cards in her hand.
"You didn't sign out," she said with a smile which was meant to be kind and patient. "That is our first rule, my dears."
"I'm sorry," said Jean, trying to think of an excuse and unable to. "I'm afraid we forgot."
"Being sorry doesn't help matters much, does it?" Mrs. Buxton smiled cheerily. "I am responsible to your parents for your morals, your conduct, and your study habits. And the only way I can cope with such a heavy responsibility is to have careful attention to the rules. Because," she said happily, with a gleam of inspiration, "minor infractions lead to major infractions. We must not weaken the foundation lest the walls crumble."
"We'll remember next time," Jean mumbled, feeling like kindergartner.
"I'm sure you will," Mrs. Buxton agreed amiably. "We're not surprised that freshmen find it hard to get used to our ways," she went on, as if freshmen had had no upbringing before coming to Overton, "but we do feel that the sooner everyone is accustomed to cooperation, the happier life will be for everyone. Don't you agree?"
Melissa had regained her breath. "We agree entirely, Mrs. Buxton," she said obligingly. "Thank you so much. Good night."
Mrs. Buxton looked pleased, if puzzled, at the thanks, and Jean wondered, giggling with Melissa as they climbed to the third floor, if it was hypocritical to agree with someone you disliked about rules you didn't believe in. And what else could you do?"
Well, soon Jean is given a rush by the big man on campus, and adventure ensues from there. If you feel like a fluffy, lightweight read that will nonetheless immerse you in another place, time, and way of looking at the world, look for Campus Melody by Anne Emery.
Today's grace note is a copy of my own book, Songbird and Other Stories. This is a collection of four short stories set in the Roaring Twenties, mostly in Chicago and one in northern Idaho. These stories feature characters from my Roaring Twenties series, so if you haven't read that series, this is a great way to get introduced to those characters and to the types of books they are. They're clean and wholesome and fun. I hope you would like them very much. So, to enter in a drawing for a copy of Songbird and Other Stories, simply go to sparklingvintagelife.com/podcast, click on episode 20 and leave a comment. In the comment I would like you to share a favorite memory from your schooldays. It could be college, high school, or elementary school. Just one memory you remember fondly from your schooldays. And in about a week or ten days, I will choose a name at random from those who have commented and you will have your choice of a print book, a large-print book, or an e-book copy of Songbird and Other Stories.
And that's it for our show today. I hope you've enjoyed this little stroll across the college campus of yesteryear. If you have a favorite memory from your college days that you'd like to share, or a favorite novel set on a college campus that you'd like to recommend, feel free to leave a comment at sparklingvintagelife.com/podcast under Episode 20.
If you're wilting in the hot summer weather, here are some time-tested ways to keep your cool. Visit http://www.sparklingvintagelife.com/podcast for show notes and other information.
If you prefer to read rather than listen, scroll down for a transcript.
Show notes:
Here's a link to Episode 17 about porch life.
Winter Solstice by Rosamunde Pilcher
Transcript #19: Heat Wave! 31 Vintage Ways to Beat the Heat
Welcome to A Sparkling Vintage Life, where we talk about all things vintage and celebrate the grace and charm of an earlier era. I'm your host, Jennifer Leo, and this is Episode number nineteen.
I'm sorry I've been away for a couple of weeks. I've been fighting quite a bad summer cold. You might still hear it in my voice, but I'm well on my way to being mended. Summer colds always feel like a bit of an insult. We sort of expect to get colds in the depths of winter, but in summer when the sun's out and the weather's warm and we want to be out doing things, getting a cold seems particularly out of place.
It's been an extra-hot summer in many parts of the United States and the northern hemisphere, so today I thought we'd talk about some good old-fashioned methods for keeping cool. Of course we have air-conditioning now, but did you know that widespread air-conditioning has been available for less than 100 years? In some areas, considerably less. And some of us don't like to depend on air conditioning if we can help it.  So here are some tips I've found in my research of old books and magazines of ways our ancestors beat the heat.
You get a head start if you've designed your home to help you stay cool. This is understandably more common in the steamy South than elsewhere.
Traditional southern porches are shady and cool. We talked about porches a couple of episodes ago. If you want your porch to be a refuge in hot weather, you want a deep eave or roof, and preferably near shady trees.  You also want high ceilings in your home, because heat rises, and you want to ventilate with tall windows and wide, airy hallways.
Of course few of us can actually design our homes to stay cool, nor would we want to if we live in a climate that's only hot a few weeks out of the year. There are plenty of temporary things you can do to cool down your home.
Turn off lights and electric appliances you aren't using
Roll up heavy rugs and replace heavy curtains with lighter ones, maybe muslin or cotton.
Close blinds to darken the room. You can also dampen the curtains to cool the breeze as it passes through.
Cover dark, heavy furniture with lightweight slipcovers
Put away decorative objects and clutter. Clear, smooth surfaces feel cooler than busy ones.
Plants and ferns that cast shadow and shade
Bowl of ice in front of an electric fan.
Replace sheets with cotton sheets. On really hot nights, put the sheets in the freezer before putting them on the bed.
Use linen rinse water or linen spray, esp. lavender or orange blossom.
For cooling down yourself:
Cool shower or bath
Hot shower or bath
Include Epsom salts, herbs, dried flowers, milk, essential oils in your bath water.
Run wrists under cold water, cold wet cloth on back of neck
Witch hazel or other toner.
Don't use talcum powder for health reasons, but use cornstarch or arrowroot powder instead.
Blotter paper.
Whether to use moisturizer or not: Humid? Skip it, or maybe just use in areas that really need it.
Dry? Definitely use it.
Put skin-care products in the fridge.
Also put metal jewelry in the fridge.
Pin up hair to get it off your neck.
Avoid blow-drying or curling irons, or use them at night.
Dressing to Stay Cool:
Skirts are cooler than pants, and loose-legged pants are cooler than tight ones.
Loose clothing in general is cooler than tight clothing.
Lighter colors, and natural fabrics that breathe.
Sandals and strappy shoes rather than heavy ones.
Accessories: brimmed hats, sunglasses, paper fans
Hydrate regularly, and water is best. Fruit in water.
Avoid salt, alcohol, caffeine, and fatty foods
Eat lightly: salads, fruits, vegetables.
Read "cold" books: Winter Solstice by Rosamund Pilcher, Dr. Zhivago, Call of the Wild, favorite Christmas stories.
Serene vs. frenetic schedule. Move slowly and gracefully rather than dart around.
How about you? What are some of your favorite time-tested ways to beat the heat? You can let me know in the comments at sparklingvintagelife.com/podcast under Episode 19.
Today's Grace Note is Sea Breeze Astringent. I was addicted to this stuff when I was a teenager and had terribly oily and acne-prone skin. But as an adult I'd moved on to different products as my skin became less oily. I still liked to use it as an after-bath splash, though. It worked the same as witch hazel or rubbing alcohol, but smelled nicer. It was heavy on the menthol, which is a fragrance I happen to like. What I didn't know was that the original Sea Breeze formula I'd known and loved, which had been around since 1908 as a remedy for cuts and scrapes, had been discontinued. Apparently it was considered TOO strong. It actually stung people. Wimps. Well, the good news, for me anyway, is that the original formula is back on the market. So if you shop for Sea Breeze now, you'll have your choice of Original Formula or Sensitive Skin formula. Sea Breeze is not a sponsor of this show and I don't get anything for recommending it, and I am not a dermatologist, nor a medical professional of any type. So be forewarned. I just remember liking it a lot, especially in summer, and thought you might, too, since we're talking about ways to beat the heat. Just keep in mind that it is very strong, and if your skin tends to react badly to alcohol-based products, you'll probably want to steer clear and stick with good old witch hazel.
And that's our show for today. Tune in again next time when I'll be discussing another aspect of A Sparkling Vintage Life.
August 2019 New Releases
More in-depth descriptions of these books can be found on the ACFW Fiction Finder website.
Contemporary Romance:
The Butterfly Recluse by Therese Heckenkamp — Lila finds solace in her sheltered world by raising butterflies and surrounding herself with their gentle beauty. They're all she needs—until a motorcycle-riding stranger roars up her driveway, invading her safe haven, throwing her life off-kilter, and forcing her to question everything. What exactly is he after, and what is he not telling her? In one intense night of desperation and revelation, Lila must confront her darkest fears—and hopefully discover that with faith and courage, shattered dreams can be restored, damaged hearts can love again, and broken wings can heal . . . maybe even fly. (Contemporary Romance from Ivory Tower Press)
A Glitter of Gold by Liz Johnson — Anne Norris moved to Savannah, Georgia, for a fresh start. Now her pirate-tour business is flagging and paying the rent requires more than wishful thinking. When she discovers evidence of a shipwreck off the coast of Tybee Island, she knows it could be just the boon she needs to stay afloat. She takes her findings to local museum director Carter Hale for confirmation, but things do not go as planned. Carter is fascinated with the wreck, the discovery of which could open the door to his dream job at a prestigious museum. But convincing Anne to help him fill in the missing pieces of the puzzle is no easy task. And working with Carter means that Anne will have to do the one thing she swore she'd never do again: trust a man. (Contemporary Romance from Revell-A Division of Baker Publishing Group)
Hometown Healing by Jennifer Slattery — She's home again, but not for long… Unless this cowboy recaptures her heart Returning home with a baby in tow, Paige Cordell's determined her stay is only temporary. But to earn enough money to leave, she needs a job—and her only option is working at her first love's dinner theater. With attraction once again unfurling between her and Jed Gilbertson, can the man who once broke her heart convince her to stay for good? (Contemporary Romance from Love Inspired [Harlequin])
General Contemporary/Women's Fiction:
Grace in Deep Waters by Christine Dillon — William Macdonald is at the pinnacle of his career. Pastor of a growing megachurch and host of a successful national radio programme. Clever and respected, he's a man with everything, including a secret. His wife has left him and he can't risk anyone finding out. Blanche Macdonald is struggling. Her once rock-solid marriage is showing cracks. She promised to love her husband for better or for worse, but does loving always mean staying? Blanche desires to put God first. Not William. Not her daughter. Not herself. When is a marriage over? When do you stand and fight? (Women's Fiction, Independently Published)
When Mountains Sing by Stacy Monson — Mikayla Gordon loves nothing more than sleeping under the stars, reeling in the "big one," and long hikes in the wilderness. A medical crisis reveals a 30-year-old secret that turns everything she's known and believed upside down, unraveling her dreams and her identity. In search of answers, she follows a trail from Minnesota to Colorado and discovers more unwelcome secrets even as she falls in love with the majestic beauty of the Rocky Mountains, and a wilderness camp leader who shares the greatest secret of all. Knowing her life can never go back to what it was, she must make decisions that will impact far more than just her future. (Contemporary from His Image Publications)
All In by L. K. Simonds — Cami Taylor: a blackjack dealer, a bestselling author, and a fraud. Cami's boyfriend, Joel, loves her in spite of her flaws. He wants to marry her, buy a house on Long Island, and raise a family–a life that's a million miles from Cami's idea of happiness. Her therapist suggests compromise and trust, but Cami bolts like a deer. She breaks off the relationship and launches on a new quest for happiness, not knowing that a nasty surprise waits around the corner. What follows is a fight to the death. Who will be the one left standing? (Contemporary from Morgan James Fiction)
Historical:
Finding Lady Enderly by Joanna Davidson Politano — A rag girl accepts an invitation to become the lady she's always dreamed of being, but some dreams turn out to be nightmares. (Historical from Revel – A Division of Baker Publishing Group)
Historical Romance:
Lady and the Lawman by Crystal L. Barnes, Vickie McDonough, Annette OHare, and Kathleen Y'Barbo — Four historic stories of lawmen and the ladies who love them. (Historical Romance from Barbour Publishing)
The Farmer's Daughter by Mary Davis, Kelly Eileen Hake, Tracie J. Peterson, Jill Stengl, and Susan May Warren — Enjoy five historical novels by some of Christian fiction's bestselling authors. Meet daughters of prairie farms from Montana south to Kansas who find love in the midst of turbulent life changes. Marty's nieces are kidnapped. Rosalind's town is overrun by a railroad company. Amy's jealousy comes between her and her twin. Beulah's answer is needed to a marriage proposal. Lilly's choice puts her at odd with her neighbors. Into each of their lives rides a man who may only make their situations worse. (Historical Romance from Barbour Publishing)
The Cowboys by Sandra Merville Hart, Cindy Ervin Huff, Jennifer Uhlarik, and Linda W. Yezak — Taming the West–one heart at a time. Healing Heart: A physically scarred cowboy finds solace with a ranch girl who is hiding from her past. Becoming Brave: A cattle drover wants to get his boss's heard safely through Indian Territory…as soon he figures out why a bloodstained woman is holding a gun on him. Trails End: Waiting for his boss's cattle to sell, a cowboy takes a kitchen job at a restaurant where the beautiful and prickly owner adds spice to his workday. Loving a Harvey Girl: To improve the local preacher's opinion of career women, a Harvey Girl makes it her mission to redeem a wayward cowboy, but finds herself longing for a husband, hearth, and home. (Historical Romance from Lighthouse Publishing of the Carolinas)
Lost in the Storm by Tamera Lynn Kraft — Lavena, a journalist during the Civil War, wants to become a war correspondent. She finally gets her chance, but there's a catch. She has to get an interview from a war hero who has refused to tell his story to every other journalist, and she has to accomplish this impossible task in a month or she'll lose her job. Captain Cage, the war hero, has a secret that will destroy his military career and reputation. Now, a new journalist wants him to reveal what he's been hiding. He'd prefer to ignore her, but from the moment she came into camp, he can't get her out of his mind. Leading up to the turbulent Battles for the city of Chattanooga, will Lavena and Cage find the courage to love and forgive, or will they be swept away by their past mistakes that don't want to stay buried? (Historical Romance from Mt Zion Ridge Press)
Love's Allegiance by Linda Shenton Matchett — Inspired by the biblical love story of Rebekkah and Isaac, Love's Allegiance explores the struggles and sacrifices of those whose beliefs were at odds with a world at war. (Historical Romance from Shortwave Press)
The Brightest Hope by Naomi Musch — Five years after the Great War, Holly Allen is a well-adjusted war widow with a knack for running the family press. She's over the days of waiting for a white knight to ride in and sweep her away from her cares. Besides, if Hugh Phelps is a knight, he's certainly a black one—with his prison record, personal demons, and the ghosts of war that haunt him. When Holly hires Hugh, despite her reservations, it isn't long before she sees the man he could really be, and as Hugh finds his niche at Allen's Printing, he finds his lady boss equally appealing. Despite the attraction, however, Holly won't let herself fall for a faithless man, and Hugh isn't on gracious terms with God. Then, just when new beginnings seem possible, old heartaches from the war come calling. Now it might only be in letting go of everything dear that they both discover what real love is. (Historical Romance, Independently Published)
Annabelle's Joy by Betty Thomason Owens — She's waited too long. When Tom proposed last year, Annabelle wasn't ready to open her heart to another man. Pain still held a thin crust around it. Time has healed her heart, but with a new woman in town, one who clearly has her sights set on Tom, does it matter if Annabelle's heart is ready to love again? Folks in town are keeping a close eye on their pharmacist, hoping to be the first to hear the good news. He's been courting the widow Cross for nigh on two years now. Annabelle Cross better wake up and put her dancing shoes on. Mr. Tom is prime real estate. (Historical Romance from Write Integrity Press)
Mystery/Cozy Mystery:
Hidden Secrets by Janet Sketchley — When an online vendetta against the Green Dory Inn escalates to physical threats, a cryptic message about a tunnel points to the property's original owner, a notorious Prohibition-era sea captain rumoured to have left hidden wealth. (Mystery, Independently Published)
Murder at Rendsburg Resort by C. L. Wells — Trapped in a remote resort with a killer on the loose, the body count piling up, and no one else to save them, mystery writer Jill Pemberton must help find the killer before they claim their next victim. (Cozy Mystery, Independently Published)
Romantic Suspense:
Two Steps Forward by Luana Ehrlich — When CIA operative Titus Ray has an unexpected encounter with a Jihadi terrorist while he and Nikki are on their honeymoon in Morocco, he assumes it's a coincidence, but when they travel to Israel for the second half of their honeymoon and encounter him again, he takes action, which takes him to Baghdad to prevent the assassination of a high-profile government official. (Romantic Suspense, Independently Published)
Edge of Truth by Kimberly Rose Johnson — The DEA sends two of its best agents, Kara Nelson and Jeff Clark, to Central Oregon, to shut down a major drug ring. Kara and Jeff usually work alone, but Operation Trail Ride throws them undercover together in a way neither of them expected. A notorious Miami drug lord wants Kara dead. Can these agents pull off the greatest acting job of their lives—and manage the sparks flying between them? Or will they die trying? (Romantic Suspense, Independently Published)
Speculative:
Redemption by Jacques R. Pye — Sterling Newman and Armena Sandal face death as they struggle to help the Alesandrans and the Kirilleans combat a force seeking the destruction of both worlds. (Speculative, Independently Published)
Young Adult:
Shards of Light by Susan Miura — Sometimes the pieces of a shattered dream can transform into something extraordinary. (Young Adult from Vinspire Publishing)
This "bonus" minisode tackles the topic of common courtesy, which is so much more than using the right salad fork. If we're ever going to solve the problem of hatred and violence in our world, we've got to start with treating each other with basic respect, kindness, and dignity.
If you prefer to read rather than listen, scroll down to find a transcript of this episode.
Show notes:
Civility by Stephen L. Carter
Transcript of Episode 18.5: Courtesy in a Violent World
This is a quick minisode–I'm calling it Episode 18.5–about the role of good manners in society. This is maybe a slightly more serious topic today than I normally talk about, but a few distressing things have happened lately in the news. I know distressing news is not unusual, and normally I don't watch a lot of news for that reason. But a couple stories have come across my newsfeed than broke my heart.
First, there was a brawl that broke out at that supposedly happiest place on Earth, Disneyland. Even worse, this brawl broke out in the Toontown section, which I understand is where the youngest children go. So who knows how many people  including some very young children had their visit ruined by having to be unwilling witnesses to this brawl that broke out among adults who were angry with each other and couldn't manage to settle their differences peacefully, without shouting and cursing and physical violence.
I was still reeling from that story when the second story hit. This one happened much closer to my home. It happened in a small town quite near to me, where two teenage girls beat a third teenage girl, allegedly with a baseball bat, and put her in the hospital. This is normally a quiet, almost sleepy place, and to have something like this happen here just … there are no words.
I'm not going to go into detail on either one of these stories, nor am I going t link to them. I don't want these kinds of topics on my page. The only reason I'm even bringing them up here today is that I feel they point to and are indicators of what can happen when people forget, or perhaps are never even taught, how to be civil to one another. Call it what you will–call it good manners or proper etiquette or civility or decency–those are all facets of the same thing. These acts of violence, as well as many others that take place here in America and all over the world, are symptoms. They're symptoms of people losing their ability to get along with each other for the good of the community.
Sometimes people are amused by or even ridicule my longing for a return to good manners in society today. After all, who cares which fork you use for your salad or whether or not to chew with your mouth closed. Well, they're right. It's not about the forks. It's not about the table manners. When you're talking violence, these things don't matter much. As many commenters have pointed out, people who do these sorts of things are steeped in dysfunction and violence and maybe mental illness. No amount of "please" and "thank you" can fix that.
But at its essence, above everything else, practicing good manners is simply a social lubricant that reduces the friction that occurs when people rub up against others or encounter people who rub them the wrong way. It's a balm for wounds to keep them small and avoid letting them blow up into bigger problems.
Manners help people of different viewpoints and backgrounds and experiences to get along when they're in the public square or at any type of gathering.  Mannerly behavior and civility give people a framework within which they can try to work out their differences and a standard of behavior to treat each other with respect and dignity, not to beat someone to a pulp because they said or did something someone else didn't like. At the very least, if differences cannot be resolved, good manners provide a way for each party to walk away, to maintain their own space, and to avoid interacting for their mutual benefit, if that's the only way to keep the peace.
I'm not talking about glossing over problems or putting a fake happy face on them. But I am talking about using what used to be called common courtesy or basic courtesy to allow us to overlook the petty grievance or unintended slight instead of taking offense, or to resolve it in a way that leaves both affected parties with their dignity intact before the situation devolves into a brawl. Civility also assures that others don't get drawn into the disagreement, either as unwilling witness like the innocent tourists trying to enjoy a day at Disneyland, or even those who are initially not involved but whose emotions are ginned up to the point where they take sides in the fight.
In his excellent book Civility, Stephen L. Carter writes, "Civility as a moral proposition begins with the assumption that humans matter, that we owe each other respect, and that treating each other well is a moral duty. Civility so understood often requires us to put aside our own interests and desires for the benfit of others–which, as the ancient philosopher Erasmus understood, is what civilization is all about."
In short, civility teaches us to discipline our desires for the sake of others.  In short, it's the Golden Rule: to treat others as we would want to be treated. To love one another, and love our neighbors as ourselves.
So, no, I'm not naïve enough to think a few charm-school lessons are going to solve the deeply rooted problem of violence and incivility in our world. But I'm not going to sit idly by, either. I'm going to do my part to restore dignity and grace to the extent that I can, within my sphere of influence, one person at a time. Won't you join me?
Sitting on the front porch, visiting with family and friends or just catching a cooling breeze, used to be a regular part of summertime life, before air conditioning and television sent us all scooting back indoors. Come and sit awhile and reminisce with Jennifer about the front porches of yesteryear. Maybe you'll even be inspired to dust off that old wicker rocker–the one that creaked so soothingly as you watched the fireflies in the dusk.
If you prefer to read rather than listen, scroll down to find a transcript of Episode 18.
Show notes:
NPR series on front-porch culture
God, Me, and Sweet Iced Tea by Rose Chandler Johnson
Jennifer's Fiction
Transcript of Episode 18: Front Porch Life
Hello, Sparklers! Welcome to A Sparkling Vintage Life, where we talk about all things vintage and celebrate the grace and charm of an earlier era. I'm your host, Jennifer Leo, and this is Episode number eighteen.
I'm so happy you've stopped by to spend a few minutes with me. It's the first week of July as I record this, so I'm wishing a slightly belated Happy Canada Day to our neighbors to the north, and a Happy Fourth of July to my American listeners.
Today I want to talk about front porches. And in this case you can translate "front porch" however you like. It could be a flight of cement stairs in the city, maybe a set of lawn chairs or a blanket on the ground in the front yard, a little balcony, or anything at all. For my purposes,I consider a front porch anything that (a) brings your family out of the house and (b) faces the street or the sidewalk or any place that potentially brings you into contact with your neighbors and people who are passing by.
Front-porch culture used to be a regular summer pastime in many parts of the US. Families would gather on the porch in the warm twilight and talk about their day, or maybe the adults would just sit and relax, watching the children play tag or chase fireflies on the front lawn. Mom or Grandma might bring out a pitcher of lemonade and tray of tall frosty glasses, or dishes of ice cream, maybe hand-cranked like we talked about recently, or something fun like popsicles. Maybe someone would bring out a guitar and strum gentle tunes (I got that idea from The Andy Griffith Show, set in that quintessential small town, Mayberry. I have a memory of Sheriff Andy bringing his guitar out on the porch in the warm North Carolina evening and singing some quiet song to Aunt Bee and Helen Crump in the moonlight. It's possible he only did it on one episode, but that vision stuck with me all these years).
Because front porches faced the street, people could greet their neighbors, who likely were also sitting out on their own front porches. Maybe they'd wave you over, or you'd wave them over, and you'd make room for them to sit and visit a while the kids played together. You'd at least wave or smile at people passing by. And there were people passing by, taking walks after dinner, catching a bit of fresh air before turning in for the night. If the porch had a roof, and it usually did, you would be shaded from the sun, and could even sit outside if it was raining.
People enjoyed their front porches even as the seasons changed, just adding sweaters as the cooler evenings of autumn settled in, until the autumn chill became downright cold and chased them back inside for the winter.
Porches were also the setting for many a romance. Those hard wooden porch swings and metal gliding sofas might have been less than comfortable to sit on, but you'd forget all that if the right person was sitting on them with you. Even my own novel, You're the Cream in My Coffee , set in the 1920s, features a romantic conversation set on a porch swing. As I understand it, concerned parents might switch the porch light on and off, or tap on the windowsill, to signal when it was time to say goodnight to one's beloved and come inside.
Whatever happened to front-porch culture? Well, several things. Air conditioning, for one. After World War II a steadily increasing number of households added air conditioning, which made staying inside a cool house more comfortable than venturing outside. And then television also kept people indoors. A radio could be heard through an open window, but a television actually needed to be watched. I suppose a television set could be brought out onto the porch and plugged in by a cord through the window, but that seems like a lot of trouble.
Also, sometime in the fifties and sixties, outdoor culture moved to the back of the house instead of the front. Many people, including my family, built patios and decks off the backs of their houses instead of the street side, and children played in the backyard instead of the front. While this certainly increased privacy and was perhaps a little safer than letting your children play in the street, it was also less neighborly. I suppose you could still wave at your neighbors if they were in their backyards, but quite probably there was now a fence separating you. It was no longer easy to just wave them over, and you weren't likely to wander over there without an invitation. Maybe the rapid rise of the automobile played a hand in moving outdoor culture to the back of the house instead of the front, because if you lived on a busy street it was no longer as pleasant to sit out front as it was when most of the traffic was pedestrian. I don't know if that's true, but it could be.
Another factor in the demise of front-porch culture, sadly,  is the rise in crime. Frankly, you can't safely sit out on your porch in areas where you're likely to get shot at, which is something that happens far too often in far too many parts of our country. Years ago, people out on their porches served as a deterrent to crime, sort of like an informal Neighborhood Watch. But that worked mostly with petty crime like break-ins and vandalism, not drive-by shootings and gang warfare.
Back in 2006, National Public Radio did a series about front-porch culture, connecting it with debate and democracy. As a transitional space between the privacy of the home and the public nature of the street, the porch was a sort of middle ground where people could become acquainted and enjoy good fellowship with one another and talk over the issues of the day or of the community. For a while there was even a Professional Porch Sitters Union, dedicated to bringing back the best of front-porch culture, but recently I wasn't able to find any current information about it, so I don't know if it still exists. I'll put a link to the NPR series in the show notes.
How can you bring back front-porch culture in your community? If you have a front porch, or a scrap of lawn or even a sidewalk, and if it's safe in your area to do so, go outside and sit there. Smile and wave at people who pass by. Have an extra chair or to so that if someone stops to talk, you can invite them to sit. If you live way out in the country, as I do, you may have to be a little more deliberate about actually inviting neighbors over to share your porch, as they aren't likely to even see or notice you otherwise. And if you live in an apartment building and don't have a porch? Maybe set up a few chairs on the common lawn area, or in a nearby park. In the end, porch-sitting is not so much a reality as a state of mind. A state of mind that's friendly, curious, and content to just sit for a spell, as the Mayberry people used to say, and watch the world go by.
How about you? Do you remember front porches? Do you have one? If so, do you ever use it? If you have memories of front-porch life, or even stories from your parents and grandparents, I'd love to hear them Leave a comment at sparklingvintagelife.com under Episode Eighteen, or send me an email at jenny@sparklingvintagelife.com
And I'll be back in a moment with today's grace note.
Today's grace note is a little book called God, Me, and Sweet Iced Tea by Rose Chandler Johnson. This is a devotional book. It could be used as a daily devotional or just for when you need a little encouragement. It seems tailor-made for early mornings on the porch. Rose Chandler Johnson has a friendly, warm writing style, and reading her book feels a little like a friend talking to a friend. I'll  put a link in the show notes.
I also want to remind you that you can subscribe to A Sparkling Vintage Life at Apple Podcasts or iTunes or just about any place that offers podcasts. That way you won't miss any episodes. If you'd be kind enough to leave a review, that will help raise the visibility of this little show so that like-minded kindred spirits can find it. And if you care to read my blog or subscribe to my email newsletter, or simply leave a comment, you can do that at sparklingvintagelife.com.
And that's it for today. Stop in again soon when we'll be discussing another aspect of A Sparkling Vintage Life.
July 2019 New Releases
More in-depth descriptions of these books can be found on the ACFW Fiction Finder website.
Contemporary Romance:
Hometown Hope by Laurel Blount — In the three years since her mother's death, widower Hoyt Bradley's daughter, Jess, hasn't spoken—until she suddenly begs him to save her favorite bookstore from closing. Hoyt is desperate to hear his daughter's voice again, but he and the bookstore's pretty owner, Anna Delaney, share a less-than-friendly past. Working together is complicated enough…but can they avoid falling in love? (Contemporary Romance from Love Inspired [Harlequin])
A Heart Surrendered by Joy K. Massenburge — Since her teens, pastor's daughter Sharonda Peterson devoted her life to church service and solitude after the one night she gave Carl Ray Everhart everything. Sobered by a near-death experience, prodigal Carl returns home from an acting and singing career to serve as the worship leader at Sheronda's church, and she finds that it takes every ounce of her resolve to resist his pursuits … not to mention memories that threaten to overturn the delicate balance she's created. Can she finally surrender the one thing she's tried all these years to protect: her heart? (Contemporary Romance from Harambee Press [Lighthouse Publishing of the Carolinas])
Starting Anew by Melanie D. Snitker — He's afraid to trust. She has a secret that could change everything between them. Will they let go of their fear, or allow it to rob them of their chance at happiness? (Contemporary Romance, Independently Published)
Historical:
Underestimating Miss Cecilia by Carolyn Miller — Can shy, sweet Cecilia overcome her family's prejudice to see a future with the recently returned prodigal son from next door? (Historical from Kregel Publications)
Benaiah: Might Man of God by PH Thompson — A novel of Biblical, historical fiction about Benaiah, one of King David's mighty men, examining the premise: What happens when the king's most obedient soldier is issued a wicked command? (Historical/Biblical from Word Alive Press)
Historical Romance:
Waltz with Destiny by Catherine Ulrich Brakefield — When the men and women of World War II marched off to war, they didn't know what lay ahead. All they knew was that upon their young and inexperienced shoulders rested the plight of the free world. (Historical Romance from CrossRiver Media Group)
Thimbles and Threads by Mary Davis, Grace Hitchcock, Suzanne Norquist, and Liz Tolsma — Enjoy four historical romances that celebrate the arts of sewing and quilting. When Tilly, a schoolteacher; Alice, a bridal shop owner; Sarah, a seamstress; and Melissa, a rag doll designer, put needle and thread to fabric, will their talents lead to the surprising gift of love? (Historical Romance from Barbour Publishing)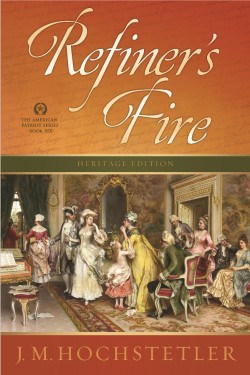 Refiner's Fire by J.M. Hochstetler —
Will the promise their hearts cling to finally find joyful fulfillment, or will war's refining fire separate them forever? (Historical Romance from Sheaf House Publishers)
Where Dandelions Bloom by Tara Johnson — To escape an arranged marriage, Cassie Kendrick enlists in the Union army as a man, taking the name Thomas Turner. On the battlefields of the Civil War, keeping her identity a secret is only the beginning of her problems, especially after she meets Gabriel Avery, a handsome young photographer. Anxious to make his mark on the world and to erase past guilt, Gabriel works with renowned photographer Matthew Brady to capture images from the front lines of the war. As Gabriel forges friendships along the way, he wonders what the courageous, unpredictable Thomas Turner is hiding. Battling betrayal, their own personal demons, and a country torn apart by war, can Cassie and Gabriel forgive themselves and trust their futures to the God who births hope and healing in the darkest places? (Historical Romance from Bethany House [Baker])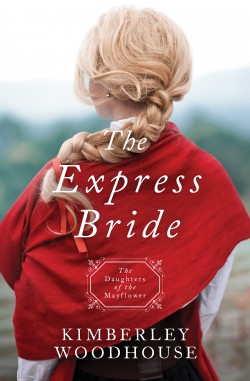 The Express Bride by Kimberly Woodhouse — Jacqueline Rivers manages a Pony Express station in 1860 Utah territory after her father's death. There are daily stresses placed on her in this unconventional role—and now a government official is asking her to sniff out counterfeiters. When Elijah Johnson passes through on the stage while on an exhausting quest to find his boss's heir, he doesn't want to leave the beguiling station manager. In fact, he may never leave when caught in the crossfire of the territory's criminal activities. Can she remain strong when secrets of the past and present are finally unearthed? (Historical Romance from Barbour Publishing)
Romantic Suspense:
Legacy Rejected by Robin Patchen — She's not giving up her home, no matter what threats come against her. Realtor Ginny Lamont's family has abandoned her, leaving her with nothing but a warning that she's in danger. But Ginny's built a home in New Hampshire. After a childhood of nomadic living, she's not running again, certainly not because of some nameless, baseless threat. Real estate developer Kade Powers is thrilled to go out with Nutfield's beautiful new real estate agent. But the prowler they surprise after their first date offers a glimpse into Ginny's past and the legacy of lies her parents left her with. She brings a mystery, one he's determined to help her solve. With Kade's help, Ginny searches for the truth of her parents' criminal activity while her enemies close in. When mobsters show up in her quaint New England town, will she find a way to bring them down, or will she lose the home—and the man—she's come to love? (Romantic Suspense, Independently Published)
Suspense:
Storm Rising by Ronie Kendig — Mentioned in the pages of the Old Testament but lost to history, the Book of the Wars has resurfaced, and its pages hold secrets–and dangers–never before seen on earth. Tasked with capturing the ancient text, former Navy SEAL Leif Metcalfe is once more given command of his own team. But their best efforts are ruined when a notorious Bulgarian operative known as Viorica snatches the volume right out from under them. Iskra "Viorica" Todorova is determined to use the book to secure the thing that matters most–freedom. But a series of strange storms erupts around the globe, and the coming dangers foretold in the text threaten crops, lives, and entire nations. Though both are haunted by secrets of their past and neither trusts the other, Leif and Iskra must form an uneasy alliance to thwart impending disaster. However, the truth hidden in centuries-old words could unleash a storm of their own destruction. (Suspense from Bethany House [Baker])
Speculative:
The Story Raider by Lindsay A. Franklin — Deceiving an empire is a treacherous game. Tanwen and the Corsyth weavers race to collect the strands of an ancient cure that might save Gryfelle. But Tanwen has a secret–Gryfelle isn't the only one afflicted by the weaver's curse. As Queen Braith struggles to assert her rule, a new arrival throws her tenuous claim to the Tirian throne into question. Braith's heart is turned upside down, and she's not sure she can trust anyone–least of all herself. The puppet master behind Gareth's rise to power has designs on Tanwen and the story weavers, and will stop at nothing to reclaim the throne. A plot to incite the angry peasants of Tir takes shape, and those dearest to Tanwen will be caught in the crossfire. As the fight for Tir consumes the realm, no one can remain innocent. (Speculative from Enclave Publishing)

It's June in North America, which means the thermometer's rising and strawberries are in season. Bring on the ice cream and join us at that most vintage celebration of summer, the ice cream social!
If you prefer to read rather than listen, scroll down to find a transcript.
Show Notes:
Links:
Home economist Laura MacFarlane worked closely with Mary Brooks Picken at the Woman's Institute for Domestic Arts and Sciences, which you may remember from Episode 2.
Listen to Episode 16: Time for Tea! for the discussion of curate's assistants at around 3:40..
Women's Christian Temperance Union (WCTU)
Jennifer Lamont Leo's fiction:
Transcript of Episode 17: An Ice Cream Social
Welcome to A Sparkling Vintage Life, where we talk about all things vintage and celebrate the grace and charm of an earlier era. I'm your host, Jennifer Leo, and this is Episode number seventeen.
Hello, Sparklers. I'm so happy you've stopped by to spend a few minutes with me. It's June 21, 2019, as I record this, which means summer has officially started, although apparently northern Idaho missed the memo and so I'm sitting here wrapped in a sweater. Nevertheless, summer is here, so this episode is the first of a short series on ways to enjoy a Sparkling Vintage summer. Today we're talking about that classic summertime treat, ice cream.
But first, I wanted to give a heartfelt thank-you to Sparkler Mamamanzke, who left a five-star review. She wrote: "A Sparkling Vintage Life takes me away. When I just want to escape the stresses of today, I enjoy listening to Ms. Leo. It's refreshing and clean. If only I were born in that era." That's how I hope every one of you feels while listening to the podcast. I want it to be a respite from the hustle and bustle of life, a little oasis of calm and a place to think about things that are true, good, and beautiful.
Also, on last week's episode about tea, I mentioned that multi-tiered tray called a curate's assistant. I mentioned that I didn't know where the term "curate's assistant" came from, but speculated that it had to do with church services, specifically Anglican, where a "curate" is the lowest form of the priesthood–the beginner level, as it were, assisting a priest or vicar. Sparkler Linda wrote in to say she'd recently heard that in the context of food, "to curate" means to put together certain foods for a particular meal or gathering. I guess it's sort of like curating an exhibit in a museum, or curating a wardrobe, where you carefully choose some items and leave out others to achieve a desired effect. So maybe that's where the term comes from. Thanks, Linda, for writing in.
And now on to our topic, which is ice cream. Writing in 1926, home economist Laura MacFarlane wrote, "No other variety of food appears to retain its popularity throughout the year with old and young alike as ice cream and its closely related desserts. But there is no time or season when these delicacies are so much appreciated nor so nearly "touch the spot" as when the mercury is creeping perilously near 100 degrees. Reinforced with a heaping dish of fresh-fruit ice cream, you will be prepared to baffle even the cruelest plans that Old Sol will take such delight in perpetrating [during high summer]."
In America, the first time we know of ice cream being served at a gathering was 1744, when Maryland governor Thomas Bladen served strawberry ice cream at a dinner party. Soon it became a favored dessert in the Capitol, with George Washington, Dolley Madison, and Alexander Hamilton's wife Betsy Hamilton all being particularly avid fans. In 1802, Thomas Jefferson served ice cream at an official White House dinner. He liked it so much that he learned to make it and even imported equipment to do so. At that time, ice cream was molded into shapes. I can't imagine the effort it took to make and serve ice cream in steamy Washington, D.C., or anywhere in the American South, in the days before refrigeration, But of course it was a treat for the wealthy, as they were the ones with the resources to build ice houses on their estates and plantations.
However, in the early nineteenth century, two African Americans–Mrs. Jeremiah Shedd and Mr. Augustus Jackson,–brought ice cream to the general population. Mrs. Shedd opened a catering business serving "frozen cream, sugar, and fruit" which became a sensation. And about twenty years after that, in 1832, Augustus Jackson, a White House chef, invented an efficient new way to manufacture ice cream using salt mixed in with the cream. Sadly, he never applied for a patent. Often called "The father of ice cream," Jackson moved to Philadelphia and experimented with more flavors and methods, and he distributed the ice cream in tin cans to places called "ice cream parlors." Ice cream parlors gained popularity throughout the late nineteenth and early twentieth centuries as family-friendly places where young people and ladies could safely gather. Then they got a huge boost during Prohibition, when the liquor business went underground and many saloons switched to serving ice cream rather than close their doors. Drug stores, too, opened ice cream and lunch counters to serve the weary shopper in need of refreshment.
Meanwhile, back in 1843 Nancy Johnson had invented a hand-cranked ice cream freezer, and she did patent it. This contraption meant that anybody with sufficient arm strength and patience could make ice cream at home. Ice-cream-churning was especially popular on farms with their ready access to fruit from the orchards and cream from the cows. The image of children taking turns cranking the ice cream on the back porch has become an iconic symbol of heartland America.
After the Civil War, large cities saw the advent of street vendors, or Hokey Pokey men, as they were called. These vendors, who were often Italian immigrants, were the forerunners of the Good Humor truck some of us may remember from childhood. The origin of the name "hokey-pokey" is a bit of a mystery. Some think it's a variation of the magic term, "hocus pocus." More likely, it's a corruption of the Italian "Oche poco," or "Oh, how little," referring to the price of the ice cream, which was cheap, and not the serving size. Lumps of ice cream were served in glass or wrapped in paper under sometimes questionable sanitation.
In 1897 another African American, Alfred L. Cralle, was issued a patent for the ice cream scoop, which allowed the scooper to dispense a uniform serving of ice cream using just one hand. Cralle's basic design is still widely in use today.  
Ice cream as America's favorite dessert got a big boost at the World's Fairs in Philadelphia in 1876 and Chicago in 1893, but it was at the Louisiana Purchase Exposition in St. Louis in 1904 where the ice cream cone was introduced to America, although the story of exactly which vendor should get the credit for introducing it is a matter of some debate. If you watch the old Judy Garland musical Meet Me in St. Louis, filmed in 1944, you'll see the family enjoying ice cream cones as they visit the Fair.
Another twentieth-century innovation is the ice cream sundae. Here, too, the exact birthplace of the sundae is a bit sketchy, with two towns–Ithaca, NY, and Two Rivers, Wisconsin–nearly coming to blows  over it with heated debates in the newspapers. A third town, Evanston, Illinois, doesn't claim to have come up with the sundae, but they do like to take credit for the name. Evanston was home to the Women's Christian Temperance Union, which opposed alcohol in all forms and championed the sundae as an alternative to alcoholic drinks. The story goes that religious hard-liners objected to the use of Sunday, the Lord's Day, for such a decadent concoction. So the spelling was changed to s-u-n-d-a-e to differentiate it from the day of the week. Again, much of this may be apocryphal. It may be, as one source reported, a simple matter of a misspelling on a shipment of the trademark tall, fluted glassware that sundaes are served in. No matter how it's spelled, sundaes and make-it-yourself sundae bars, with ice cream and all the fixin's, are standard fare at ice cream socials.
For some reason, gatherings around ice cream are called "socials." I suppose they could be called "ice cream parties" just as well, but "social" is the term that has stuck.
I remember attending ice cream socials at my church when I was a child, but they seem to have gone out of style except in pockets here and there. I understand there's a quite well-known one held every summer on Prince Edward Island, the home base of author Lucy Maud Montgomery and her beloved heroine, Anne of Green Gables. But, of course, an ice-cream social seems a particularly Anne Shirley-ish thing to do.
In the latter half of the nineteenth and early twentieth century, ice cream socials became a favorite form of entertainment. Churches, schools, and other nonprofit organizations, in particular, latched onto the ice cream social as a way to raise funds for a good cause. I think it's time to bring it back.
What do you need to put on an ice cream social? Well, ice cream, of course, and a way to keep it cold on a hot day. Bins of ice or portable freezers or access to a kitchen with a freezer is ideal. A variety of flavors would be good, as well as a variety of mix-ins: sprinkles, cut-up fruit, bits of candy, that sort of thing. Some jars of sauce to pour over top. Whipped cream. Maraschino cherries. Baked goods to accompany the  ice cream are nice. Shortbread, of course, for strawberry shortcake during berry season. Perhaps brownies, cake, or cookies. Bring plenty of bowls and spoons–you don't want to run out. For decorating ideas, visit Pinterest and do a search for "ice cream social" or "strawberry social." You'll be deluged with decorating ideas.
How about you? Are you fond of ice cream? Have you ever been to an ice cream social, or hosted one yourself? You can let me know in the comments.
Today's grace note is the movie I mentioned earlier, Meet Me in St. Louis, starring Judy Garland, It came out in 1944, which makes it seventy-five years old this year. If you enjoy dreamy, nostalgic images of early-twentieth-century Americana, this is the movie for you. Set in St. Louis, Missouri, in the year leading up to the 1904 Louisiana Purchase Exposition, the story centers around one prosperous family as they move through summer, fall, winter, and spring, and particularly one daughter of that family, Esther, as she meets and is courted by the young man who's just moved in next door. It's a musical containing several songs you might recognize, like "The Boy Next Door," "Have Yourself a Merry Little Christmas," and "The Trolley Song. Look for Meet Me in St. Louis when you've had it with twenty-first century life and are ready for an idyllic rose-tinted trip down Memory Lane.